Argan Oil: You're Rubbing What Into Your Skin?
Some natural oils offer multiple benefits to the skin like argan oil. Learn how this potent oil can help your skin today.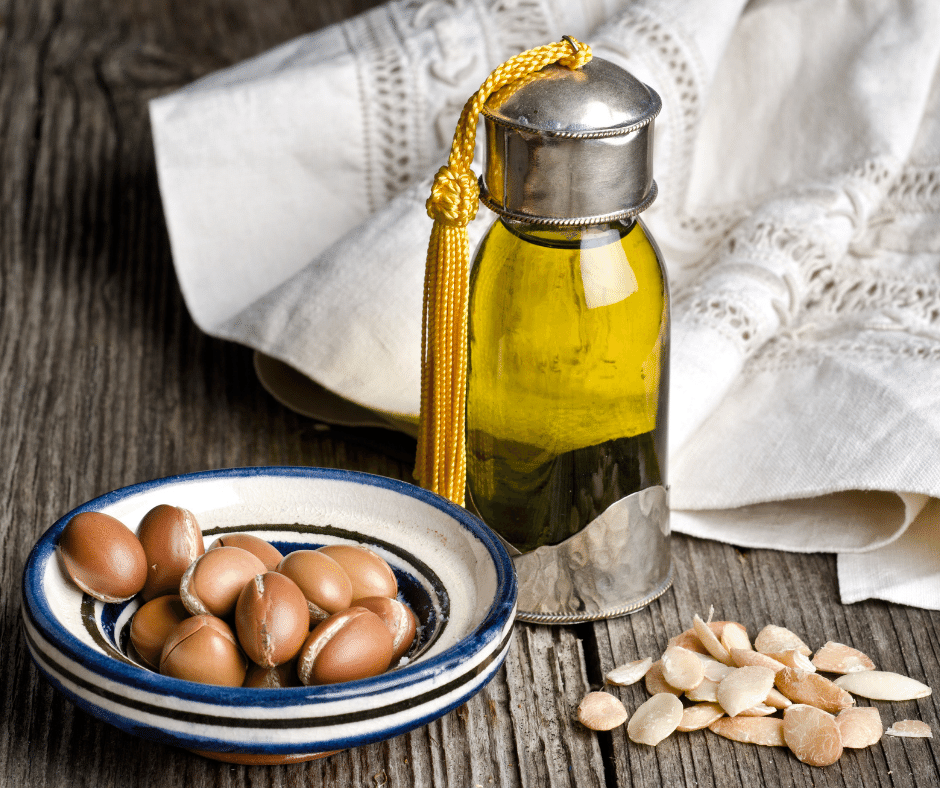 Chances are, you've never heard of argan oil. But if you're one of those people who is always looking for the latest and greatest in skincare products, you may want to pay attention. This 'miracle oil' has been all the rage lately, and with good reason.
Argan oil is derived from the fruit of the argan tree, which is native to Morocco with multiple benefits. While the benefits of this oil are many, today we're going to focus on how it can improve your skin.
What is Argan Oil
The beneficial properties of Argan oil are not limited to your skin. It can also be used topically or ingested orally, providing multiple health benefits for the skin, hair, and nails as well!

Antioxidant Rich
The most prominent use case is its ability to protect against sun damage by providing antioxidant protection against free radicals to prevent photodamage such as wrinkles but even more importantly it has been found that when applied consistently over time this powerful combination will boost collagen production- resulting in beautiful and glowing looking skin.
Argan Oil History
In Morocco, women have used the oil as a way to prevent sun damage and hyperpigmentation. With rich antioxidants, this powerful UV protectant can help prevent damaging sun rays. Additionally, a 2013 study in PubMed suggested long-term use of this rich oil may even fight against skin cancer.
Argan Oil for Skin
Argan oil is full of vitamins and antioxidants that are essential for healthy skin. Vitamin E, for example, is known for its ability to reduce the appearance of scars and wrinkles. It can also help protect your skin from damage caused by free radicals. The fatty acids in argan oil can also help to moisturize your skin making it softer and smoother.
All Skin Types
Argan oil can be used to treat a variety of skin concerns, including acne, eczema, dryness, and inflammation. It is even gentle enough to be used on sensitive skin.
When applied to the skin, argan oil absorbs quickly and will not leave your skin feeling greasy or oily. You can use it as a standalone product or add a few drops to your favorite moisturizer or serum to increase the efficacy of your products.
Regenerative and Healing
Argan oil can also heal cuts and skin wounds, including skin infections, and is antibacterial and antifungal.
Argan Oil for Acne
When used twice daily, the application of this oil has been shown to heal acne over the course of about four weeks. The sebum-regulating properties of argan oil make this a viable option for those who may not respond well to other treatment options that may have more side effects.
However, not all types of acne will benefit from argan oil treatment. It is best to speak with your skin therapist or esthetician.
Anti Aging
A recent 2015 study on PubMed suggested an improvement in skin elasticity in women who combine oral supplementation of argan oil and topical application to the skin. It's important to note participants were post-menopausal women that consumed oral supplements with topical application and the results showed anti-aging improvement with increased skin elasticity.
Stretch Marks
Some evidence also suggests this multipotent oil may even help stretch marks. It may in fact help with skin elasticity in general making this worth a try if you do have any stretch marks.
Word Of Caution
If you have nut allergies there is an indication that you could be more prone to have sensitivities to argan oil. Always perform a patch test to see if there are any adverse reactions such as itching, hives or rashes.

Argan Oil as Oral Supplement
Most people can tolerate argan oils well but be sure to consult with your healthcare worker before starting. Some people report nausea, diarrhea, or other negative stomach reactions when taken orally.  
When used in combination this powerful oil has been found to treat various skin conditions and provide powerful antioxidant protections.
We may find in research that this oil has even more healing abilities than we currently know about with ongoing research. Stay tuned as we bring you more information on this powerhouse rock star.

Side Effects of Argan Oil
Now that we've talked about all of the amazing benefits of argan oil, you may be wondering if there are any drawbacks.
The good news is that there are no known side effects of using this product on your skin. In fact, argan oil is so gentle that it can even be used on babies!
However, if you have nut allergies, you should exercise caution when using products that contain argan oil. As always, it's best to do a patch test on a small area of skin before applying any new product to your face.
Final Verdict
So there you have it! Our brief peek into argan oil and why it's becoming one of the most popular ingredients in skincare products today. Will you be adding this 'miracle oil' to your beauty regimen?

Follow us on GottaGuide.com, Twitter, Facebook, and Pinterest, Quora for our latest articles on all things skincare and beauty. When you follow us on Quora we have an open platform to ask your beauty and skincare questions.
References
Villareal, Myra O et al. "Activation of MITF by Argan Oil Leads to the Inhibition of the Tyrosinase and Dopachrome Tautomerase Expressions in B16 Murine Melanoma Cells." Evidence-based complementary and alternative medicine : eCAM vol. 2013 (2013): 340107. doi:10.1155/2013/340107
Boucetta, Kenza Qiraouani et al. "The effect of dietary and/or cosmetic argan oil on postmenopausal skin elasticity." Clinical interventions in aging vol. 10 339-49. 30 Jan. 2015, doi:10.2147/CIA.S71684
Follow us on GottaGuide.com, Twitter, Facebook, and Pinterest, Quora for our latest articles on all things skincare and beauty. When you follow us in Quora we have an open platform to ask your beauty questions.
Check out Best Skin Care Products for Over 50
PAID ENDORSEMENT DISCLOSURE: As a staff of licensed aestheticians we review products based on their merit based on our professional expertise. This is not a replacement for your own skin therapist's advice for your skin or any medical claim or endorsement. We encourage you to seek medical care when appropriate. To support our website activities, we may receive monetary compensation or another form of recompense for our endorsement, recommendation, testimonials, and/or links to any products or services from this website as part of the Amazon Associate program or another Affiliate program. We Thank you in advance for your patronage.