A New Anti-Aging Superhero: Best Bakuchiol Oil
Click here to learn what Bakuchiol oils are and how to use them. Find the best bakuchiol oils for your skin here.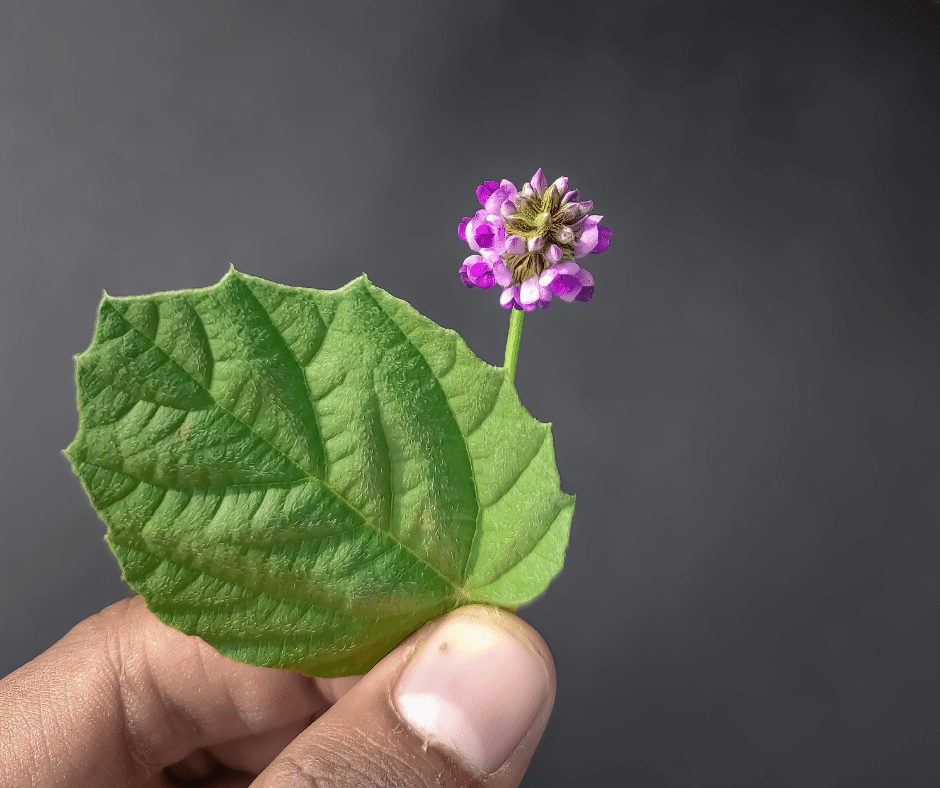 Tired of hearing about retinol? Have you had a retinol reaction? Well, there's a new anti-aging superhero in town, and its name is bakuchiol oil. This natural plant-based ingredient has been used for centuries in traditional Chinese and Ayurvedic medicine to treat a variety of skin conditions. In recent years, it has gained popularity in the Western world for its ability to fight wrinkles and improve uneven skin tone. Here's everything you need to know about this new skincare superstar.
Bakuchiol Oil Benefits
Bakuchiol oil is rich in antioxidants and anti-inflammatory properties that make it an ideal solution for sensitive skin types. This oil can help to reduce redness and calm inflammation, while also helping to repair damage caused by environmental stressors like pollution and UV exposure. Bakuchiol oil is also effective in treating acne and preventing future breakouts by regulating sebum production and unclogging pores. In addition, other bakuchiol oil skin benefits can help to brighten the skin and improve the overall tone and texture.
What is Bakuchiol Oil?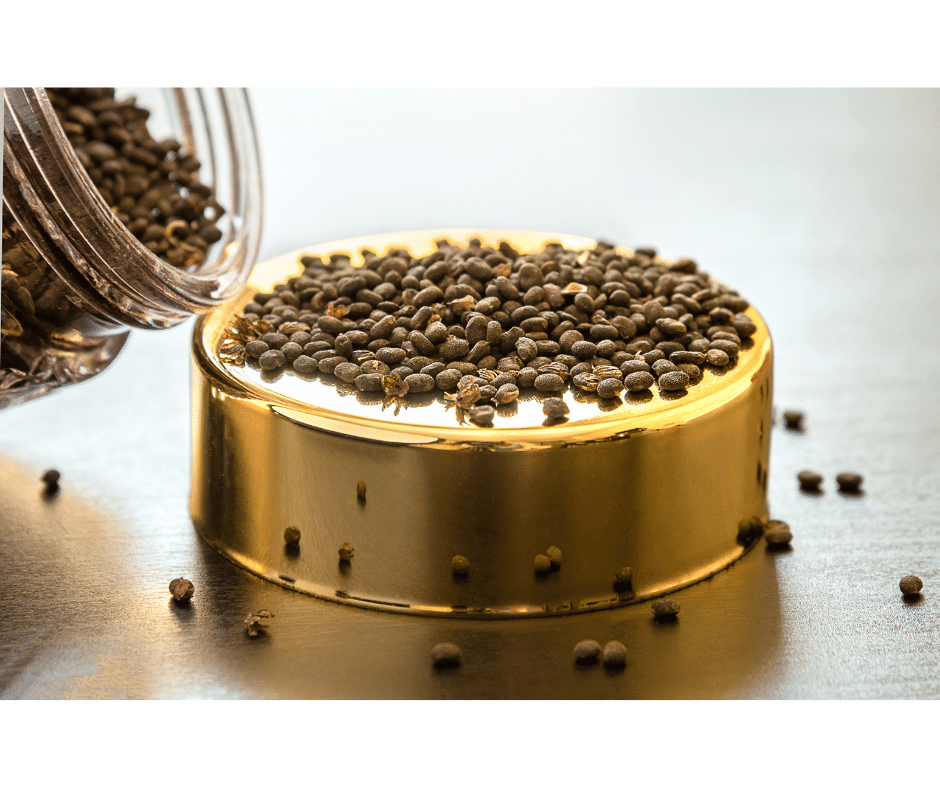 Bakuchiol oil is derived from the seeds and leaves of the psoralea corylifolia plant, which is native to India and Pakistan. It has a light, earthy scent and is reddish-brown. This oil is rich in antioxidants and anti-inflammatory properties, which makes it an excellent addition to most skincare routines.
Promoted as a natural alternative to retinol, bakuchiol helps seal in hydration while helping to reduce the appearance of fine lines/wrinkles and also increasing skin elasticity. This ingredient clinically shows a 20% reduction in deep wrinkles as well as improve skin texture and improve uneven skin tone!
How to Use Bakuchiol Oil
Bakuchiol oil can be used alone or added to your favorite skincare products. If you're using the oil on its own, simply apply a few drops to clean skin in the morning and night. You can also add a few drops of bakuchiol oil to your moisturizer, foundation, or serum to boost its benefits.
For best results, look for products that contain bakuchiol oil with other natural ingredients like hyaluronic acid, niacinamide, peptides, stem cells and vitamin C or E. Use a daily broad spectrum sunscreen to protect against UV damage.
If you're looking for a natural solution for stimulating collagen production for aging skin, sensitive skin or dry skin look no further than bakuchiol oil. This powerful, natural ingredient can help to soothe inflammation, reduce redness, unclog pores, and brighten uneven skin tones.
Acne Prone Skin
Bakuchiol oil is also an excellent choice for those with acne-prone skin as it helps to regulate sebum production and prevent future breakouts. Add a few drops of bakuchiol oil to your favorite skincare products or work up to use it twice daily for best results especially for sensitive prone skin.
Antioxidant Rich Essence
Bakuchiol oil is derived from the seeds and leaves of the Psoralea corylifolia plant, which is native to India and China. The oil has been used for centuries in traditional Chinese medicine to treat a variety of skin conditions and repair damaged skin cells. Today, bakuchiol oil is gaining popularity as a natural alternative to retinol, a common anti-aging ingredient that can be harsh on sensitive skin.
Bakuchiol Products
There are many natural skincare products on the market today like Bakuchiol retinol alternative moisturizer. Many are designed for sensitive skin and dry skin. You can also find a Bakuchiol serum geared for your skin type or a night cream with many Bakuchiol products. Any skin type is bound to find a product with Bakuchiol that can help create healthy skin. Using these natural extracts can keep skin smooth, and help create glowing skin by helping gently exfoliate the skin texture.
This natural retinol alternative does not appear to thin skin as some retinols can do, particularly for those with fair skin. You might also look for bakuchiol products with a gentle retinol serum, a low concentration of retinol, that combines the effect of Bakuchiol particularly if you have inflamed acne skin or want a formula to be a bit stronger for anti aging benefits.
If you are using a night cream chances are it may have retinol in it so be sure to wear daily sunscreen. Because Bakuchiol also initiates cell turnover daily use of sunscreen should also be used with any product that contains Bakuchiol.
Sensitive Skin and Dry Skin Type
If you have sensitive skin, you know that finding products that won't irritate your skin can be a challenge. Many products on the market today contain harsh chemicals that can damage sensitive skin, causing redness, dryness, and even breakouts. That's why more and more people are turning to natural solutions, like bakuchiol oil, to soothe and protect their sensitive skin.
We are participants of the Amazon Associates Program. We may earn a commission from a qualified purchase from our reviews at not additional cost to you.
Best for Sensitive and Dry Skin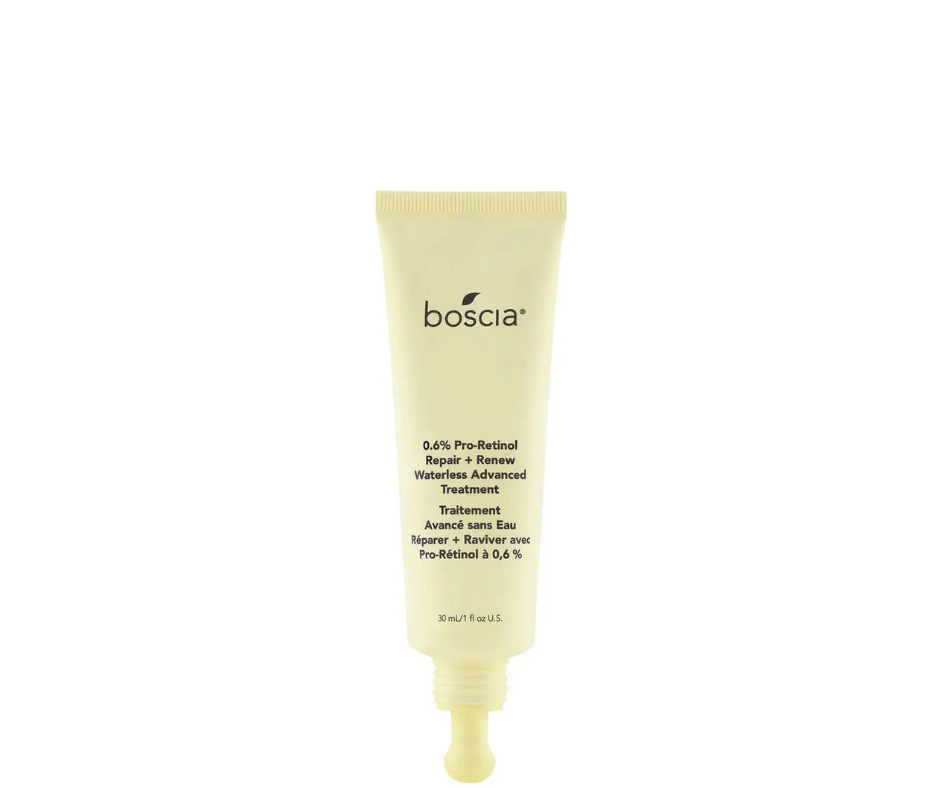 This 0.6% pro-retinol blend consisting of retinyl sunflower seedate and .5% bakuchiol by Boscia is a perfect hybrid between traditional prescription medications with harsh side effects, like irritation or redness; however this formula does not contain any irritating chemicals that could be found in some other forms such of Retinoic Acid (RA).
This revolutionary formula has been crafted to reduce the appearance on fine lines & wrinkles while reducing dark spots and hyperpigmentation without causing discomfort at all. With Aloe to gently moisturize and calm sensitive skin help this formula gain merit for sensitive skin.
Find more products from Boscia at the Dermstore.
Watch this Youtube video for more information on Boscia Pro Retinol Repair & Renew Waterless Advanced Treatment.
Oily Skin Types
If you have oily skin Bakuchiol can help your skin as well. Bakuchiol is a natural alternative to retinol that can help improve skin tone and texture. It can also reduce acne, hyperpigmentation or sensitive-skin reactions for those with skin issues that may want safer alternatives than chemical treatments like a Retinoic Acid cream.  When combining Bakuchiol as a retinol alternative with ingredients like niacinamide or Rosehip Seed Oil which help to regulate sebum (oil) production, oily skin can also benefit.
Rosehip and Bakuchiol may also benefit skin types with heavier oil production as Rosehip has high linoleic acid that can balance oil and give the skin barrier the efa's (essential fatty acids) that are necessary for oil regulating production. Rosehip is also anti inflammatory which are very beneficial to oily and acne skin types. Because Rosehip oil also contains retinoids- this makes it a fabulous addition in bakuchiol skincare products for those with oily skin.
Best for Oily Skin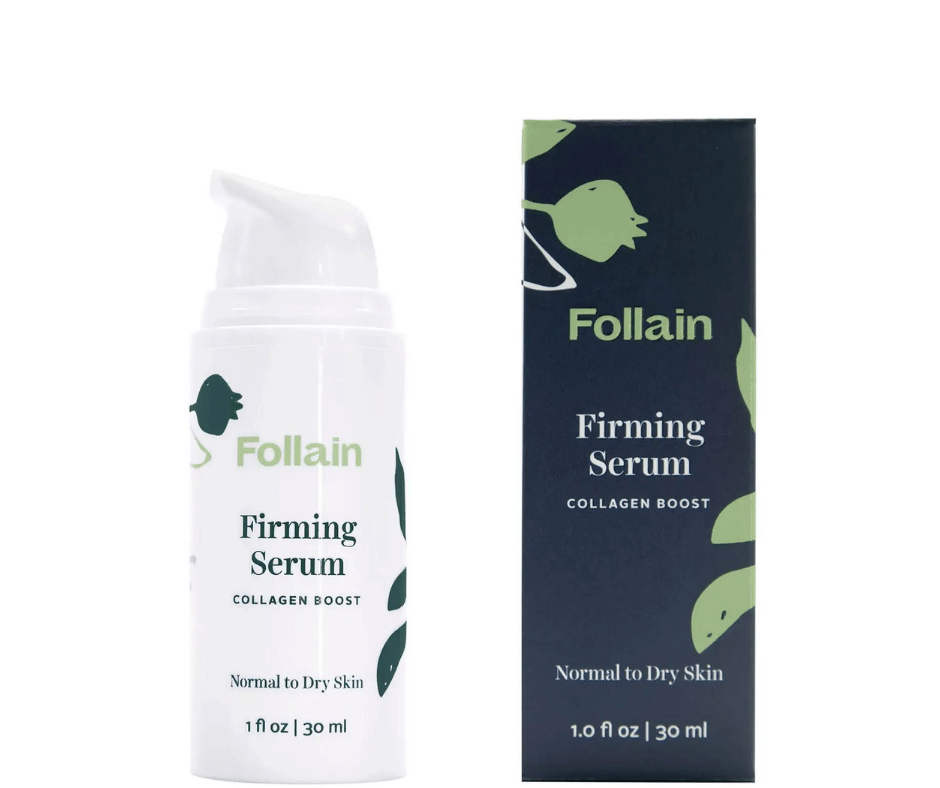 Follain Firming Serum would make a great addition to those who are oily/combination prone but want the firming action of Bakuchiol as it contains rosehip oil, niacinamide and bakuchiol. If you are acne prone look for products that also contain exfoliating acids like salicylic or lactic acid.
Click for more products from Follain at the Dermstore.
Best for Mature Skin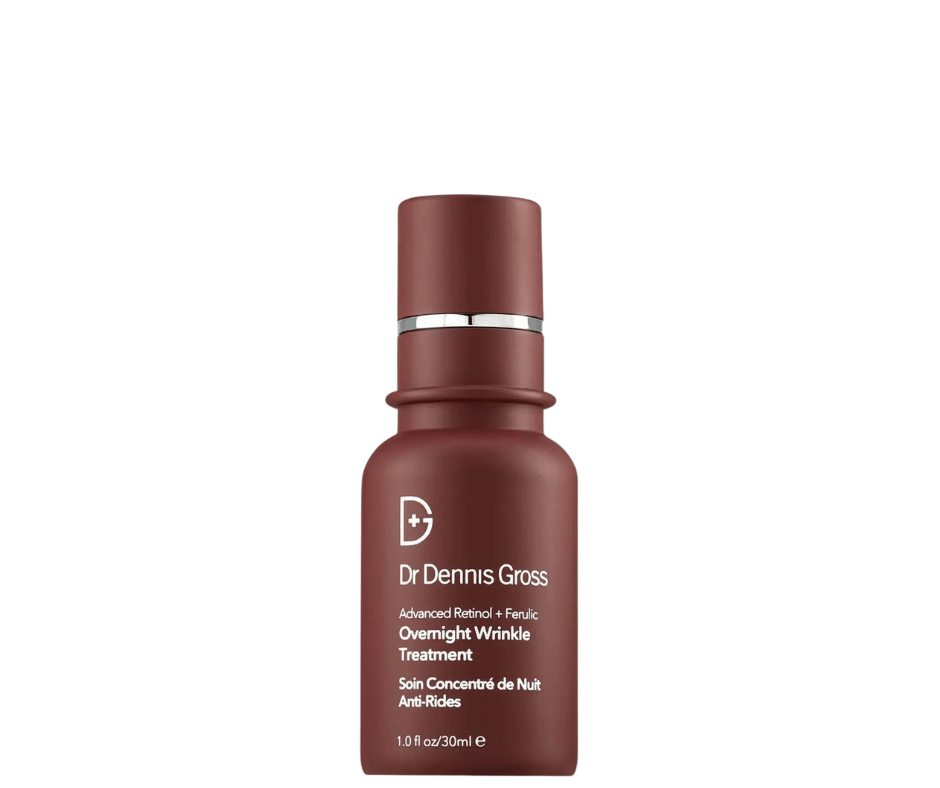 Target deep wrinkles and an uneven complexion with the Advanced Retinol + Ferulic Overnight Wrinkle Treatment from Dr. Dennis Gross Skincare formulated for nighttime use, this advanced wrinkle treatment builds skin proteins to visibly lift your face while you sleep! A fusion of retinoic acid & soothing botanical strengtheners repairs damage done during day so it's fresh when we wake up again in morning; plus they help replenish lost moisture levels too by fixing what happens when there isn't enough hydration present - sealing out excess water molecules. Be sure to follow your morning skincare routine with a broad spectrum sunscreen.
Visit here for more products from Dr. Dennis Gross from the Dermstore.
Uneven Skin Tone & Collagen Production
One of the main benefits of using Bakuchiol is in the improvement of skin tone, especially to those who may have discolorations or hyperpigmentation. Studies suggest this natural ingredient may be very beneficial for skin with dark spots. It's also beneficial for those with darker skin tones. When looking for a Bakuchiol treatment to help with skin discoloration it is often helpful to find products that improve skin health as skin discoloration is associated with cellular damage often caused by the sun. Other causes of hyperpigmentation can include certain medications and hormonal imbalance. These influences would need to be addressed with your doctor.
Adding a potent antioxidant like Bakuchiol to your skincare routine can benefit future damage.
Best for Uneven Skin Tone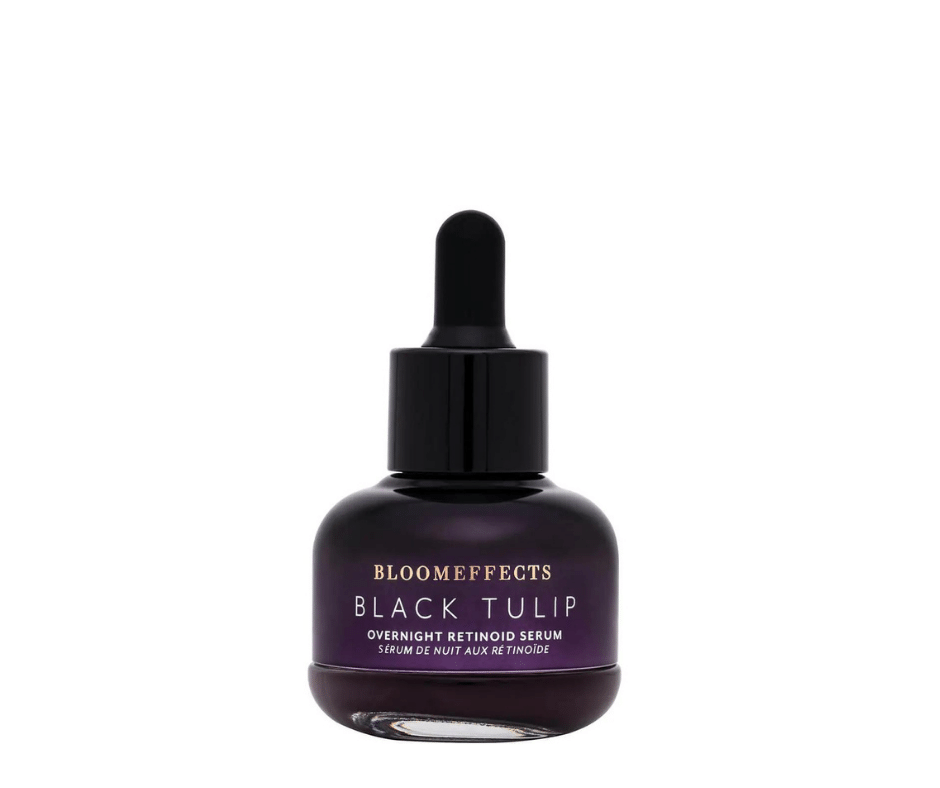 This Bakuchiol oil blend by Bloomeffects, Black Tuplic Overnight Retinoid Serum contains a low dose retinol and Bakuchiol with other ingredients to improve the skin. This deeply moisturizing serum contains niacinamide for balancing the skin and even out skin tone. Granactive retinoid, clinically shown to reduce fine lines & wrinkles by 60% at 14 days,  Clinically shown to reduce visual age spots by 50% at 28 days. This contains, Bakuchiol oil, hemp seed oil complex, lingonberry stem cell complex, Hyaluronic Acid, Vitamin E, Aloe, and Olive Oil. This oil serum also contains Saponaria Pumila Stem Cells which are a natural way to improve skin's firmness and elasticity while protecting against UV rays. The clinical study found that by day 28 people had seen an increase of over 14% elasticity. The sea fennel stem cells are a bio- marine sourced extract rich in vitamins A+C that help balance out skin coloration and tone while boosting the production of elastin, and collagen. Lactic and malic acids are alpha hydroxy acids that also increase cellular renewal by gently exfoliating dead skin cells to reveal brighter skin through promoting healthy cell renewal! Be sure to use a broad spectrum sunscreen when using this product.
Visit Bloomeffects for more product options form Dermstore.
Best Bakuchiol Eye Cream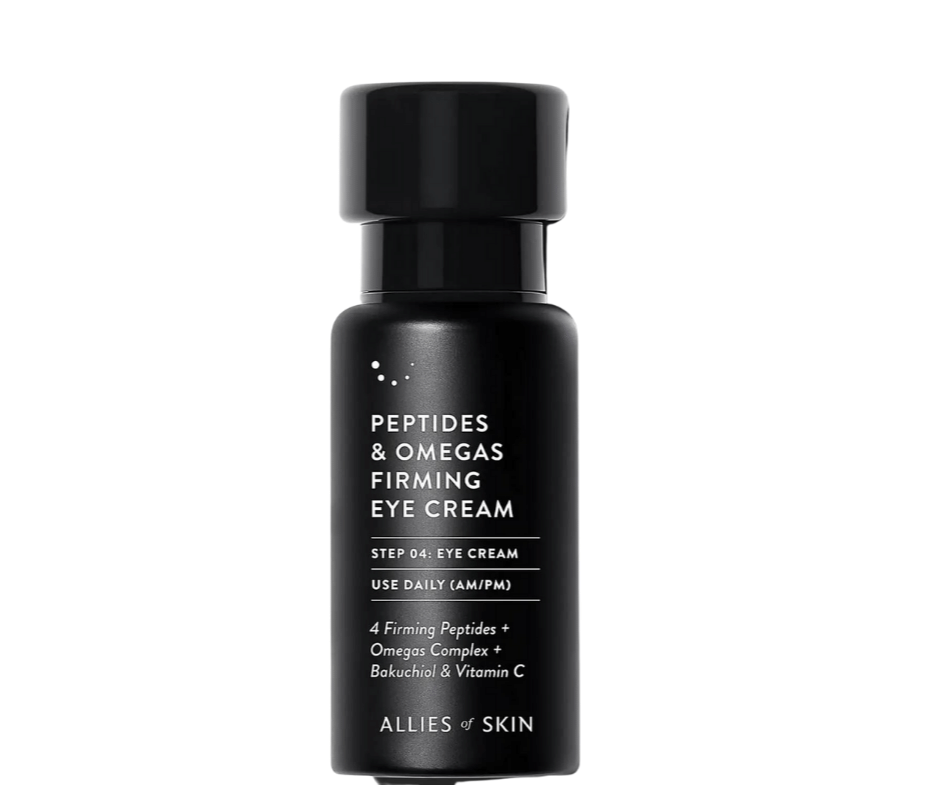 The Allies of Skin Peptides & Omegas Firming Eye Cream is the ultimate daily eye cream that firms, brightens and depuffs with multiple peptides. It boosts recovery for worn-out skin while hydrating to reduce fine lines or wrinkles and erases signs from fatigue like dark circles under your eyes. Look more awake than ever before with brightened eyes with softer fine lines and wrinkles with the peptides in this formula!
Visit Allies of skin from the Dermstore for more product options
Best Bakuchiol Oils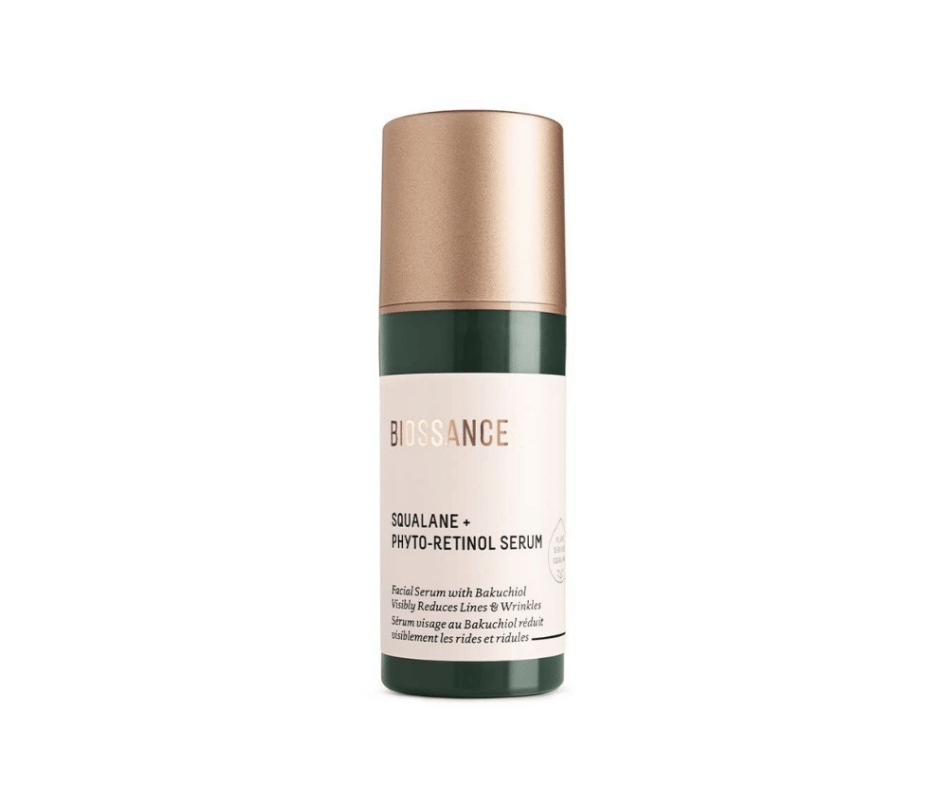 The Biossance Squalane Phyto Retinol Serum makes our best bakuchiol oil formulas thanks to it's botanical blend of powerful ingredients. This olive squalane booster serum is great for for those needing a bakuchiol product that has powerful moisturizing, hydrating ingredients that fight premature aging caused by the sun. This clean beauty line formula helps to fight and reduce the appearance of fine lines and wrinkles using retinol alternatives like Bakuchiol. This non toxic formula can help fight free radical damage boosting collagen for healthier skin. This natural alternative to retinoids contains a dual phase bakuchiol serum that stimulates collagen production while visibly improving the skin tone. A fragrance free formula for those with sensitivities to fragrances.
Visit the Biossance store on Amazon for more product options.
Best Bakuchiol Treatment Oils
If you're looking for the best natural alternative ingredient that can help fight wrinkles and improve skin tone, then look no further than bakuchiol oil. These best bakuchiol retinol alternative moisturizers found in this article have received rave reviews from dermatologists and beauty editors alike for its ability to deliver results without harsh side effects. This new skincare superstar has a proven formula no matter what skin type you have. Add this facial oil into your skincare routine.
How Does Bakuchiol Oil Work?
Bakuchiol oil works by stimulating collagen production and increasing cell turnover. This means that it not only helps to reduce the appearance of fine lines and wrinkles but also helps to promote even skin tone. Additionally, bakuchiol oil is non-comedogenic, meaning that it won't clog pores or cause breakouts. In fact, its anti-inflammatory properties make it an excellent choice for those with acne-prone skin. Beneficial for all skin types, this retinol alternative ingredient can be added to any skin care routine.
Is Bakuchiol Oil Right for Me?
If you're looking for an alternative to retinol, then bakuchiol oil may be right option for you. Unlike retinol, bakuchiol oil is gentle enough for use on sensitive skin types. However, it's important to note that bakuchiol oil takes longer to work than retinol; you may not see results for several weeks or even months after starting to use it.
Final Verdict
If you're looking for a natural ingredient that can help fight wrinkles, improve skin tone, and is gentler on the skin then retinol, look no further than bakuchiol oil. This new skincare superstar ingredient has received rave reviews from board certified dermatologists, beauty editors and estheticians alike for its ability to deliver results without the harsh side effects often found in retinol treatments. If you want rejuvenated skin with increased collagen production, what are you waiting for? Incorporate bakuchiol facial oil into your skincare routine today!
Click any of the images here to be directed to order your new skincare product today!
If you enjoyed this article read this The Best Bakuchiol Moisturizers for Younger Looking, Radiant Skin.
Follow us on GottaGuide.com, Twitter, Facebook, and Pinterest, Quora for our latest articles on all things skincare and beauty. When you follow us on Quora we have an open platform to ask your beauty and skincare questions!
PAID ENDORSEMENT DISCLOSURE: As a staff of licensed aestheticians we review products based on their merit and our professional expertise. This is not a replacement for your own skin therapist's advice for your skin or any medical claim or endorsement. We encourage you to seek medical care when appropriate. To support our website activities, we may receive monetary compensation or another form of recompense for our endorsement, recommendation, testimonials, and/or links to any products or services from this website as an Amazon Associate or other affililiate program with no additional costs for you.