Get Your Bang for the Buck with The Best Korean Vitamin C Serum
If you want brightening, collagen inducing Vitamin C serums, Korean formulas can give the kinds of skin improvements you're looking for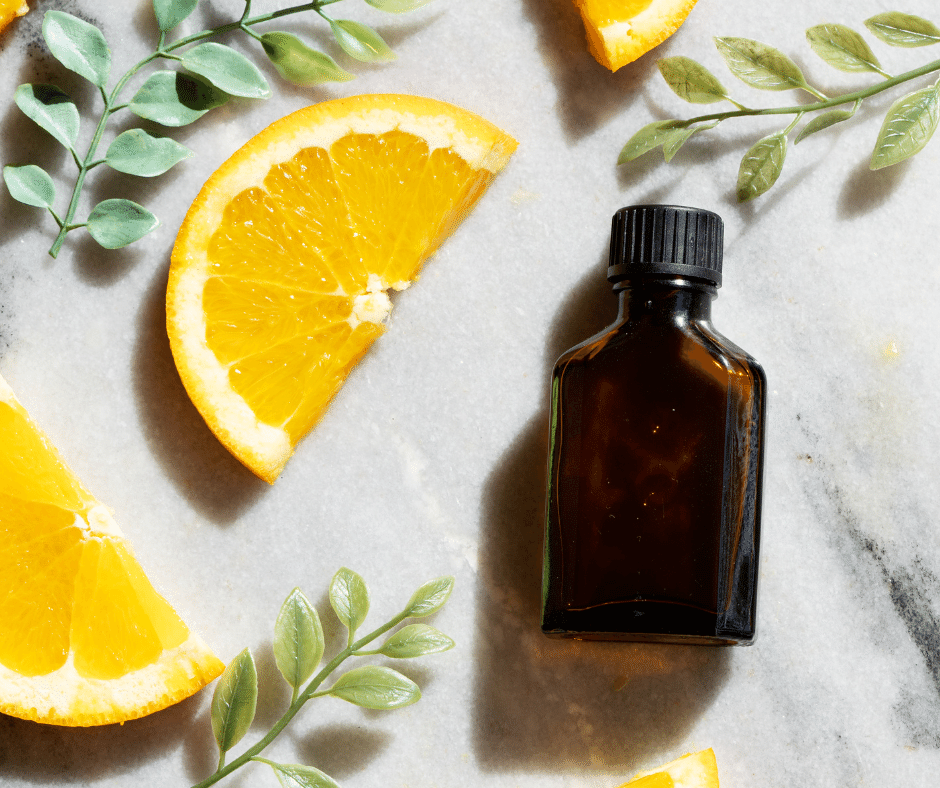 There are a lot of great Korean vitamin c serums on the market, but how do you know which one is right for you? How do you decide which one is best for your skin type? How do you know which strength of vitamin C to use and what packaging is good for vitamin C. Don't worry, our estheticians have scoured these products and can tell you exactly what to look for.
What does Vitamin C do for the skin?

When it comes to Korean vitamin C serums, there are a lot of great options to choose from. But how do you know which one is right for you? What are the benefits of using a vitamin C serum?
Vitamin C is a powerful antioxidant that can help to brighten skin, reduce fine lines and wrinkles, and increase collagen production. It can also be helpful in reducing the appearance of age spots and sun damage.
Choosing the right vitamin C serum for your skin type is important. If you have dry skin, you'll want to choose a serum that is hydrating and moisturizing. If you have oily skin, you'll want a serum that is light and non-greasy. And if you have sensitive skin, you'll want to choose a serum that is gentle and doesn't contain any harsh chemicals or irritants.
When it comes to strength, most people start out with a weaker concentration of vitamin C and work their way up as their skin adjusts and can tolerate higher concentrations of serum. Packaging is also important when it comes to vitamin C serums. You'll want to look for a serum that comes in an airtight container, as vitamin C can be sensitive to light and air.
Here are a few things to keep in mind when choosing a serum:
-Vitamin C content: Make sure the serum contains at least 10% vitamin C, as this is the amount needed to be effective.
-Stabilized: Choose a serum that is stabilized, meaning the vitamin C will not degrade over time and lose its effectiveness.
-Synergistic ingredients: Look for a serum that contains other powerful ingredients like hyaluronic acid or niacinamide to maximize results.
-Packaging-Look for packaging that is airtight or limits exposure to oxygen. This can protect the molecular components and keep the formula stable to give you the best results.

This article contains affiliate links from Amazon and we are participating Amazon Associates and Aromatics International. We may be compensated a small commission for providing you recommended products today. There is no additional cost to you. This small earned fee helps us continue to help people with their skin problems. WE only promote products we believe in.
Goodal Green Tangerine Vitamin C  Serum+ for Sensitive Skin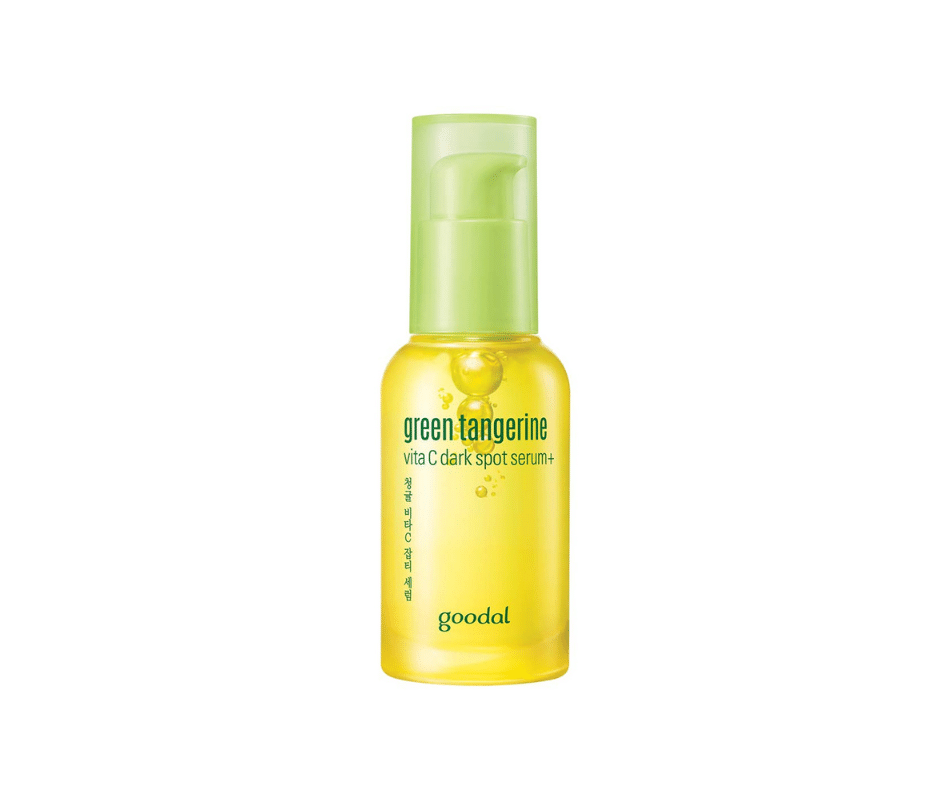 Goodal Green Tangerine Vitamin C Dark Spot Facial Serum+ for Sensitive Skin

Based on a consumer panel test of users with various skin types, in just 2 weeks 95% felt their complexions were clearer.
Goodal uses an advanced formulation for sensitive skin that does not contain any harsh chemicals or extracts from citrus fruits such as oranges – instead, they rely solely upon green tangerine extract which contains up to 10x more vitamin C than its other counterparts!
The Vita C Dark Spot Serum+ is an excellent way to get rid of those pesky dark spots, and blemishes, and reduce the appearance of fine lines and wrinkles. It will also prevent signs of aging in as little 2 weeks! Increase your vitamin C with this Vitamin C serum.
Geared for sensitive skin.
MyChelle Dermaceuticals Perfect C PRO Serum
Professional-Level 25% L-Ascorbic Acid Vitamin C Serum for All Skin Types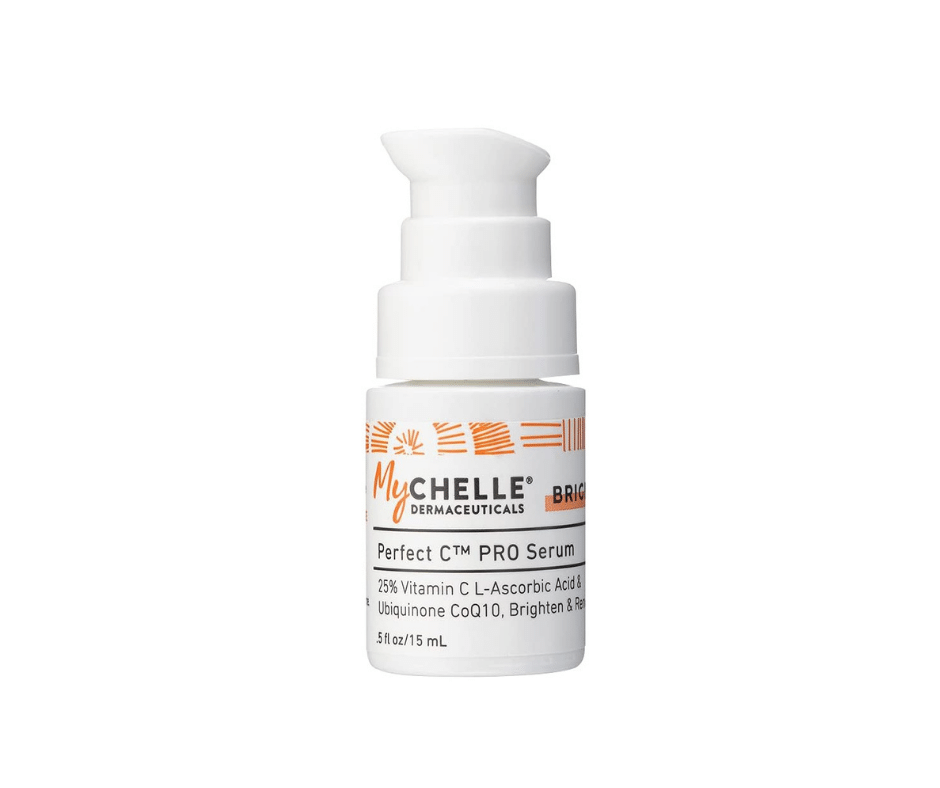 HIGHLY-Effective Vitamin C Serum: MyChelle uses L-Ascorbic Acid, the most effective form of Vitamin c for results you will truly notice. Antioxidant AND Anti-pollution, Brightening Serum made with 25%Vitamin c plus CoQ10, Red Wine Extract, and Plant Cell Stem cells to brighten & offer antioxidant benefits against pollution while helping your skin stay hydrated!

CLEAN INGREDIENTS MyCHELLE products are made without GMO, gluten, parabens petrochemical, phthalates, silicone, sulfate, urea, artificial fragrances, AND ARTIFICIAL COLORS; EWG, verified. They use only vegan cruelty-free, dermatologist-tested ingredients so our customers can see results.
Key Ingredients: Phaseolus Radiatus Meristem Cell Culture Extract, Tomato extracts, Glycerin, Beta Carotene, COQ10, Witch Hazel, Tangerine Peel Oil, L-Ascorbic Acid, Astaxanthin, Vitamin E, Sunflower Seed Oil, Mushroom, Potassium

Great for dry skin types!
For more information o Mychelle watch this YouTube video!
Naturium Vitamin C Complex Face Serum, Plus Hyaluronic Acid & Vitamin E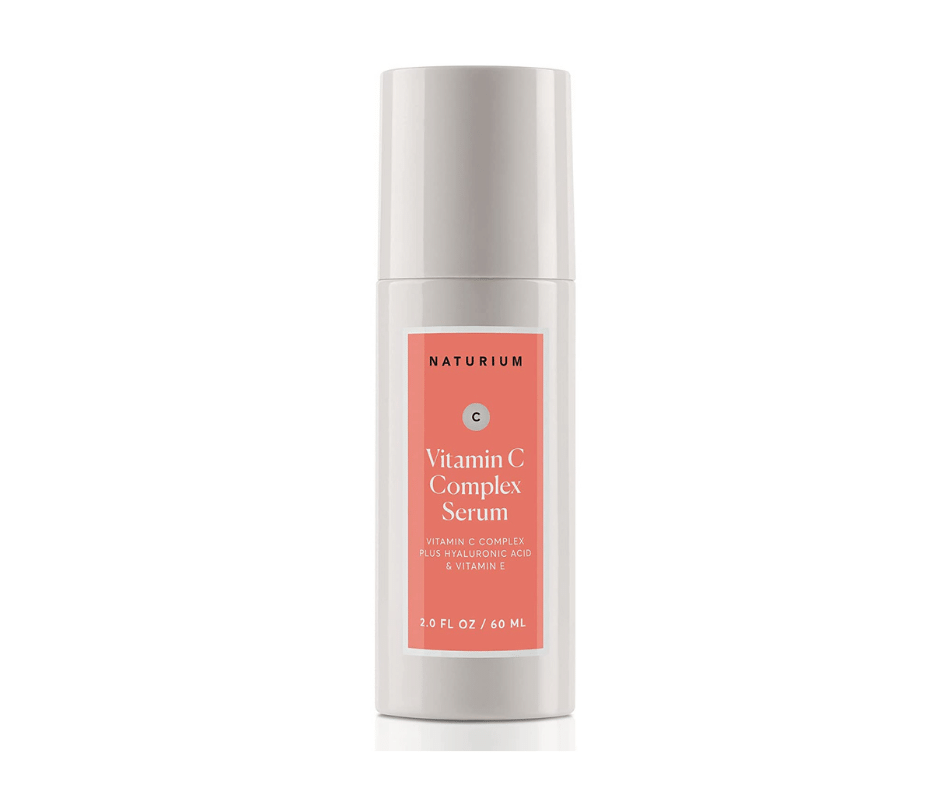 Naturium's most powerful anti-aging, glowing skin: Vitamin C serum brightens your complexion & boosts collagen production while shielding against environmental stressors that cause wrinkles or hyperpigmentation.

Formulated with stabilized Vitamin C through microencapsulation and fortified with Glutathione, this L-ascorbic and bioactive fruit form vitamin is a stable form of vitamin C and Vitamin E to ensure you get the right supply and form for your skin in their air-tight packaging.
Key Ingredients: L-ascorbic acid, Vitamin E, Hyaluronic Acid

Good for all skin types!
Bliss, Bright Idea Vitamin C Serum for Face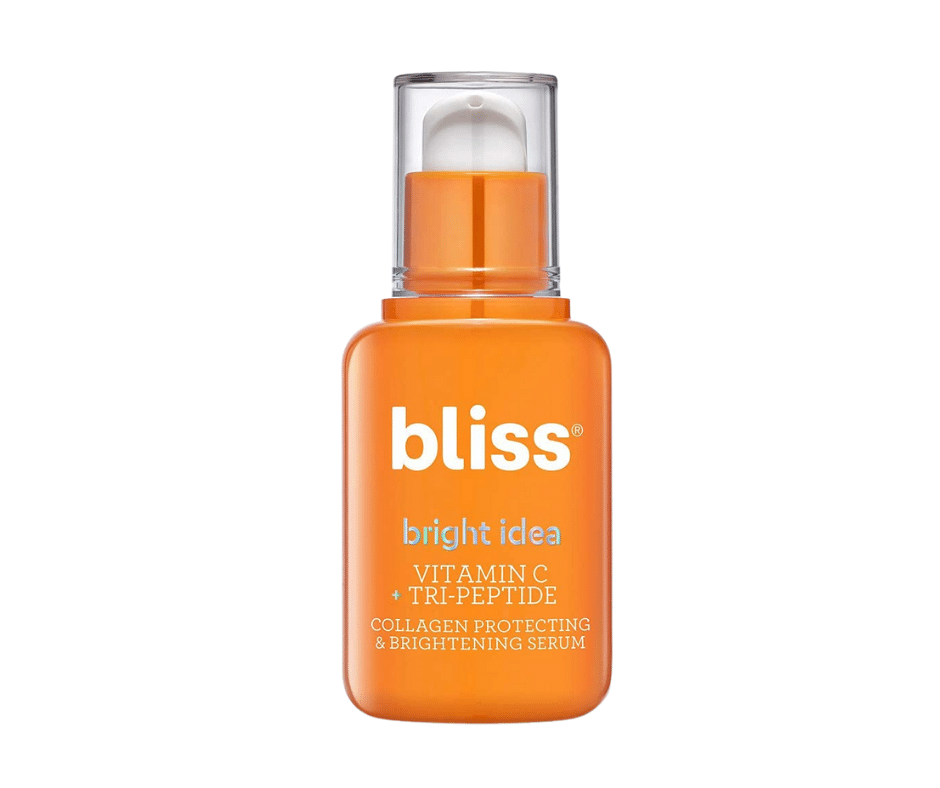 We know how important it is to have the right tools for your skin type, which is why Bliss, Bright Idea clinical grade Vitamin C + Tripeptide Serum not only brightens and firms but also reduces dark spots. With an added antioxidant-rich formula that protects against future free radical damage so you can stay fresh without worry! Increases collagen and elastin.
Key Ingredients: Vitamin C, Glycerin, Tripeptide

Great for mature skin!
Timeless Skin Care 20% Vitamin C + E Ferulic Acid Serum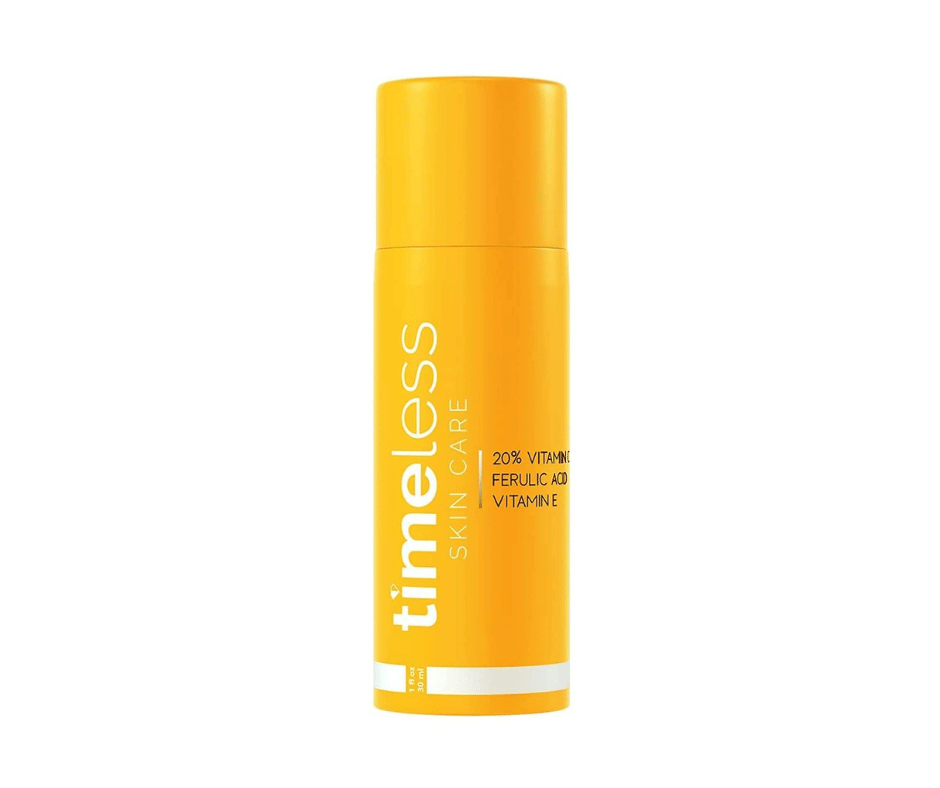 Timeless Skin Care's 20% Vitamin C + E Ferulic Acid Serum is an anti-aging beauty product that brightens skin, builds collagen, and even out your complexion. The powerful serum includes a 24 percent concentration of L Ascorbic acid to protect against environmental stressors which can accelerate the signs of aging such as pigmentation or discoloration while promoting healthy turnover! Use this all day long so you have beautiful-looking skin!

Get 24/7 protection against pollution at work every single minute no matter what time zone you live in.

Timeless Skin Care is committed to delivering high-concentration, effective results that are free of chemicals for your skin. With our Timeless Serum, you can keep it cool in the fridge or put away those antioxidants with ease!
Key Ingredients: Vitamin C as L-ascorbic acid, hyaluronic acid, vitamin E, B5
Great for all skin types including oily skin types. For more severe acne use discretion.
I DEW CARE Bright Side Up Brightening & Hydrating Vitamin C Serum with Niacinamide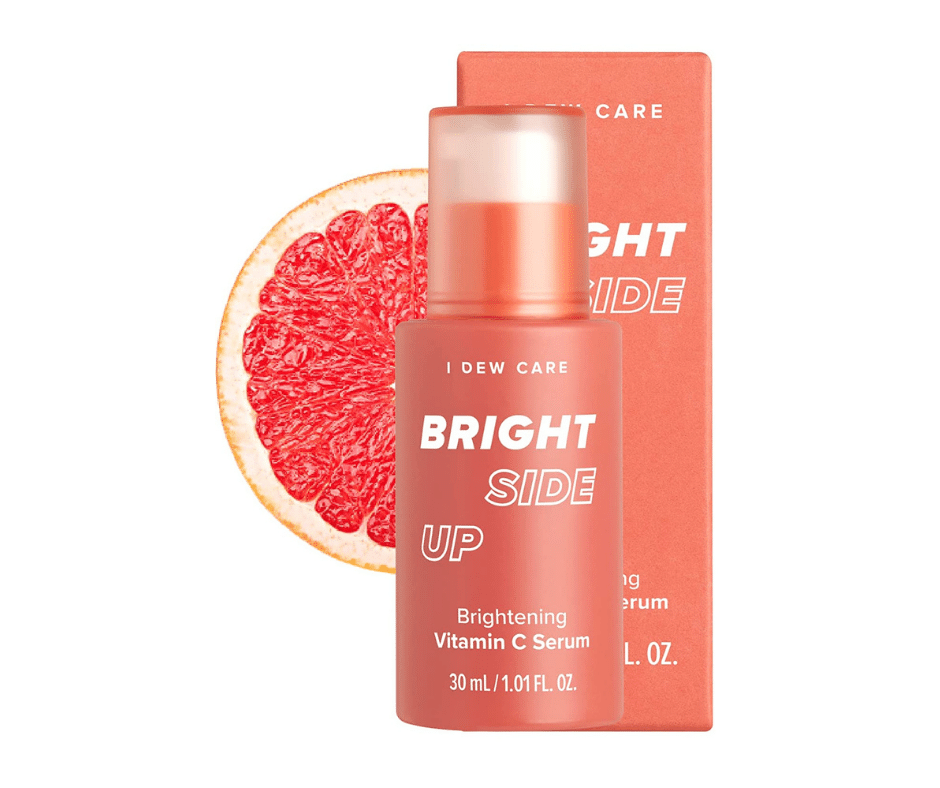 WHO IS I Dew Care? They make fun formulas that seriously work! Smile-inducing K beauty for her, him, and everyone. 🤗 Radiant brighter-looking skin is no longer a dream with this formula. Now get it in 30ml bottles (1 fl oz) of their new improved formula ready to go right away when your face needs some extra love from within - so give yourself all the happily ever after skin by applying this Jam-packed vitamin C serum.

Does your skin have a dull or spotted appearance? The new DEW CARE Bright Side Up is clinically proven to improve Skin Transparency, brightness and radiance. Made with 7% Vitamin C for an even tone without dryness!

Key Ingredients: Vitamin C, Niacinamide, Grapefruit extract

Great for all skin types, especially oily skin.

Best Korean Vitamin C Serum

If you're in the market for a vitamin C serum, Korean brands are a great place to start. With high concentrations of active ingredients and many clinical formulations, these serums can give your skin a major boost. Have you tried any of the best Korean vitamin c serums?
Follow us on GottaGuide.com, Twitter, Facebook, and Pinterest, Quora for our latest articles on all things skincare and beauty. When you follow us on Quora we have an open platform to ask your beauty and skincare questions.
PAID ENDORSEMENT DISCLOSURE: As a staff of licensed aestheticians we review products based on their merit about our professional expertise. This is not a replacement for your own skin therapist's advice for your skin or any medical claim or endorsement. We encourage you to seek medical care when appropriate. To support our website activities, we may receive monetary compensation or another form of recompense for our endorsement, recommendation, testimonials, and/or links to any products or services from this website.