Mulberry the Skin Lightener and Brightener
If you're searching for a product to help with hyperpigmentation, skin discoloration or uneven skin tone, read our guide on mulberry serum today!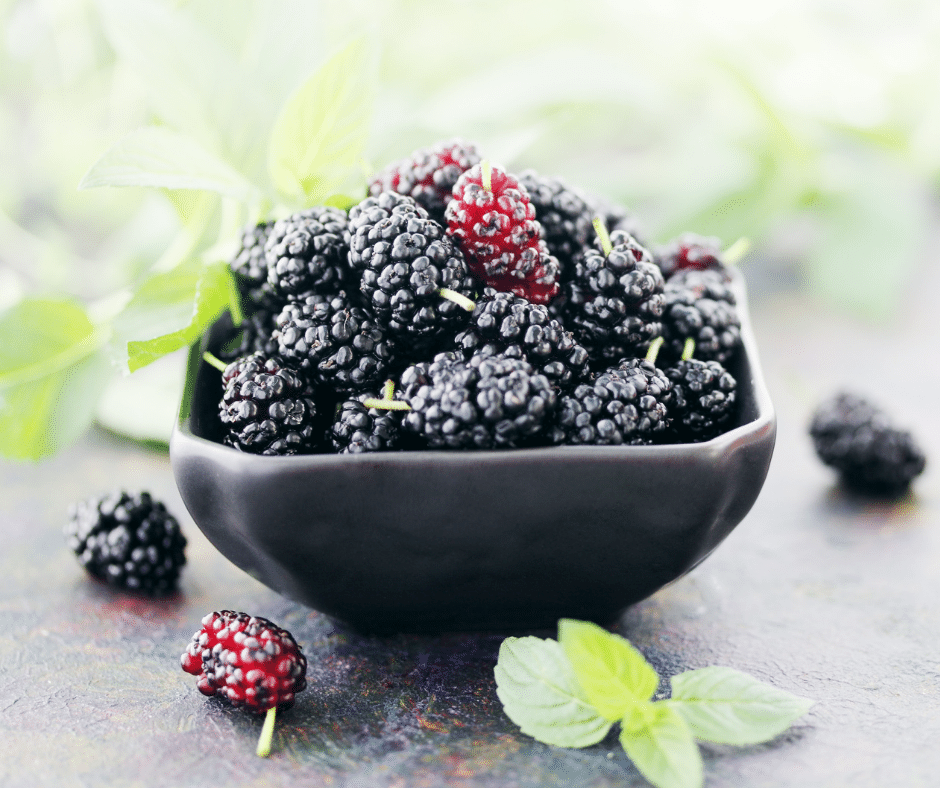 Maybe you haven't heard of mulberry in skincare. If you're wondering what it is and how this new trending ingredient can help your skin we've got all the skinny right here. Follow along and learn how this potent ingredient is taking the beauty scene by storm.
What Exactly is Mulberry?
The mulberry extract comes from the leaves of the mulberry tree, which is native to Asia. The main active ingredient in the mulberry extract is arbutin, which is a powerful skin-lightening agent. The powerhouse skin ingredient Arbutin works by inhibiting the production of melanin, which is responsible for giving skin its pigment. In other words, mulberry extract can help to lighten and brighten your complexion.
Mulberry serum
Mulberry is also high in Vitamin C. By now you probably know the benefits of vitamin C for the skin and the numerous ways it benefits all skin types including acne, hyperpigmentation and brightening, collagen synthesis, aging skin, antioxidant protection, and cellular health to name a few.
Vitamin A is considered the gold standard in normalizing the skin. Mulberry has a high content of vitamin A.
This is a wonderful ingredient for aging skin and for those who are concerned about aging skin as well as those who have acne skin types. The combination of these ingredients will benefit and promote healthier skin for all skin types, especially those looking for brighteners and lighteners for there skin. With Vitamin A and C, arbutin, and resveratrol these winning ingredient help to produce collagen and elastin, increase cellular turnover and differentiation and promote an even and brighter skin tone for an overall brightening effect that will help your skin look younger, brighter, and visibly healthier and vibrant!
Now that we know what mulberry extract is and what it does, let's take a look at some of the benefits of using the mulberry serum on your skin.
Other Vitamins in Mulberry that help the skin
There are many health benefits to the body when consuming Mulberry. The benefits to the skin for topical application is phenomeal. The following is a list of skin-loving ingredients of Mulberry.
Arbutin
Vitamin A
Vitamin C
Vitamin E
Alpha-Carotenoids
Lutein Carotenoids
Resveratrol
Polyphenols
These primary components are the reason skincare companies are using this star ingredient in their skin formulations for all skin types and a variety of reasons.
Mulberry Health Benefits
Mulberries are rich in nutrients like riboflavin, iron, potassium, phosphorous, calcium, vitamin C as well as vitamin K
Apart from all these, there is a significant amount of dietary fiber and polyphenolic compounds including lutein zea- xanthin, and resveratrol. Some other health benefits mulberries possess such as improving the digestive system, aiding weight loss, enhancing immune response, lowering cholesterol, slowing down the aging process, increasing blood circulation, building bone tissue, possibly preventing certain cancers, and protecting eyesight.
Mulberry Skin Benefits
Mulberry Serums can help to even out your skin tone.
If you have an uneven skin tone or hyperpigmentation, then you may benefit from using a mulberry serum. Because mulberry extract inhibits the production of melanin, it can help to even out your skin tone by lightening dark spots and blemishes, and acne scars. If you are struggling with uneven skin tone, then give a mulberry serum a try!
Mulberry Serum Can Help to Improve the Overall Appearance of Your Skin
Because the list is so extensive for skin improvements we'll try to keep it simple and just tell you if you worry about your skin you should try a Mulberry serum. Specifically, one that is geared for your skin type.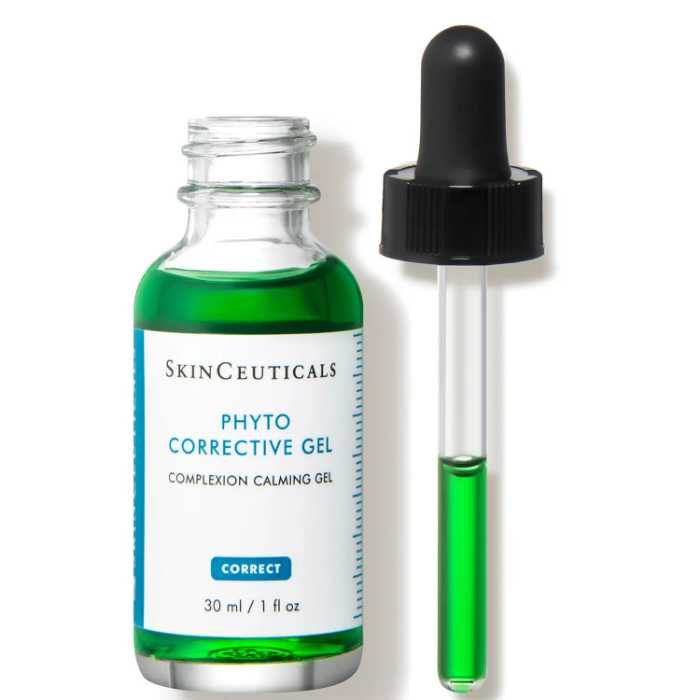 Best for Acne Prone Skin
Phyto Corrective Gel is a soothing, moisturizing gel that hydrates and comforts your skin while mulberry leaves minimize discoloration to give you an instantly brighter complexion. Powered by ingredients like thyme extract; olive oil, hyaluronic acid, cucumber, and mulberry extract-- SkinCeuticals Phyto Corrective Serum understands how important it can be to the skin to replenish moisture while improving redness and reducing the appearance of discoloration for a more even-toned appearance, Not only will this serum replenish moisture deeply within without greasiness but it will heal and comfort the skin to reduce redness and sensitivity for a skin brightening effect.
Skin Benefits
Hydrate and calming
Reduces discoloration
Improves radiant skin tone
Helps aging skin
Helps acne-prone skin
Key Ingredients
Mulberry Extract
Thyme
Olive Oil
Eucalyptus Leaf
Hyaluronic Acid
Cucumber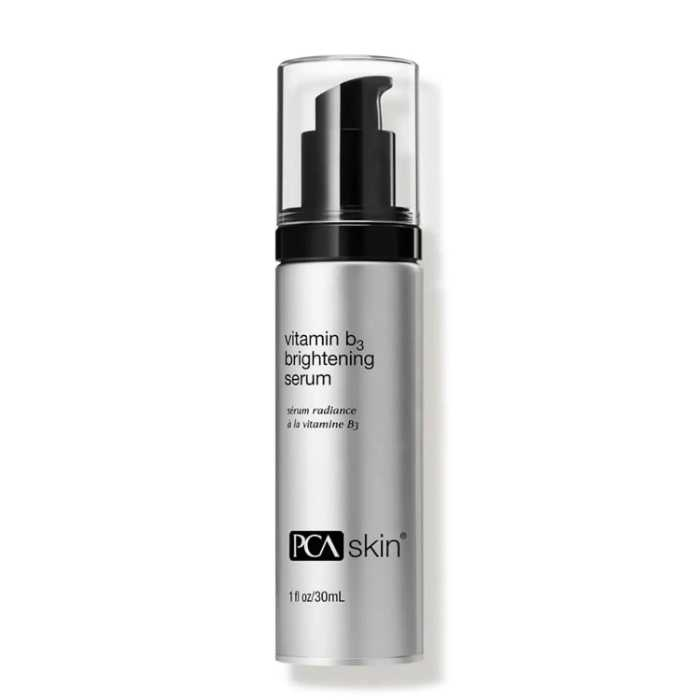 Normal, Oil, Dry & Combination Skin
The PCA Skin Vitamin B3 Brightening Serum is designed to give your skin a plump, hydrated look.
This skin brightening serum contains niacinamide and glycerin which work together as an antioxidant ingredient while also attracting moisture from the air to hydrate the skin. A Brightening Serum Enriched with antioxidant-rich niacinamide helps reduce TEWL for plumper, smoother-looking complexion, improving the barrier function and health of the skin and brightening; green tea extract (camellia sinensis leaf extract) destroys free radicals to make your skin appear younger and fight the aging process, Oligopeptide offers anti-aging benefits with less appearance of fine lines or wrinkles through its anti aging properties found inside oleic acid molecules. The mulberry extract helps to brighten and even the skin tone by reducing the production of melanin and dramatically helps reduce dark spots and discoloration. Plankton Extract's advanced ingredients are derived from biotechnologically balanced and standardized microalgae actives that have been carefully selected to brighten skin tone while reducing dark spots, and discoloration. Get a skin brightening effect with this crowd pleaser.
Skin Benefits
Improved skin tone and reduction of age spots and discoloration
Increased moisture and plumping effect
Evens skin tone
Sulfate & phthlate free
Key Ingredients
Plankton
Mulberry Extract
Green Tea Extract (Camellia Sinensis leaf extract)
Peptide
Niacinamide
Glycerin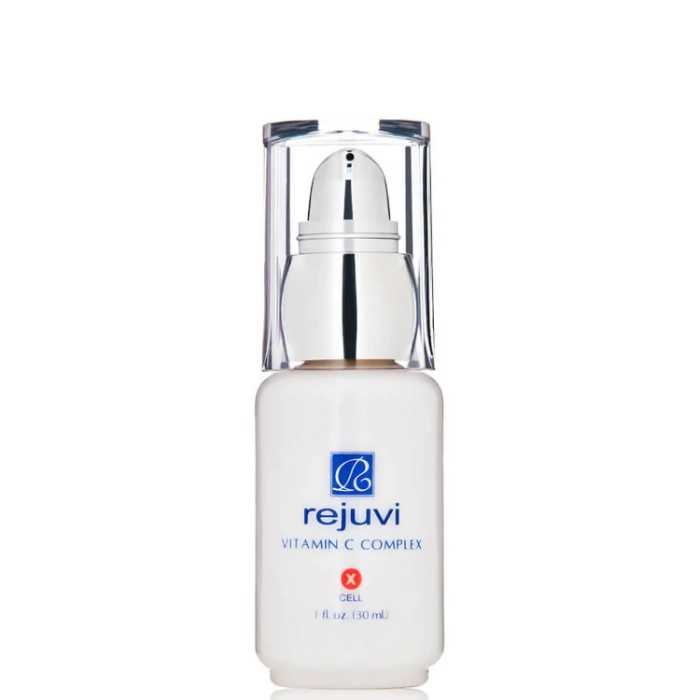 Mature Skin, Oily Skin, Combination Skin, Acne Prone, Sensitive Skin
Introducing Rejuvi x Vitamin C Complex, an innovative serum for energizing and revitalizing your skin. This product contains stabilized vitamin C that prevents free radicals from damaging cells while also helping to even out the complexion with high concentrations of stable, vitamin c. The mulberry extract infused within this complex helps restore elasticity and enhance the firmness of the skin by enhancing cell renewal - giving a more youthful-looking complexion without plastic surgeries!
Key Benefits
Improve Skin elasticity and firmness
Increase antioxidants
Hyaluronic Acid as Sodium hyaluronate for increased hydration without greasiness
Key Ingredients
Vitamin C
Hyaluronic Acid as Sodium hyaluronate
Mulberry Extract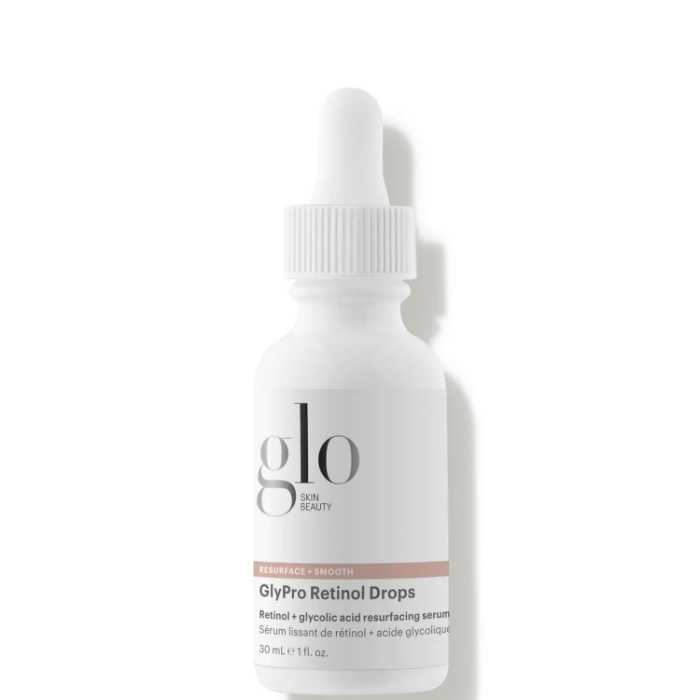 Mature Skin, Hyperpigmentation, Acne Scarring
Glo Skin Beauty-GlyPro Retinol Drops are a highly effective way to reduce the visible signs of premature aging and increase natural skin turnover. The formula includes retinol, glycolic acid & prickly pear extract that work together to increase the production of collagen for a younger-looking complexion while evening your skin tone and texture! Astringent gallic acid is a tyrosinase inhibitor that helps reduce melanin production of the skin. Mulberry extract brightens the skin diminishing the appearance of fine lines and wrinkles, reducing hyperpigmentation and improving skin texture.
Key Benefits
Reduction in the appearance of fine lines and wrinkles
Reduction in hyperpigmentation, skin discoloration
Improved skin texture
Decrease in melanin production
Brighter, more even-toned skin
Key Ingredients
Glycolic Acid
Retinol
Carrot Seed Extract
Cucumber
Tomato Fruit Extract
Mulberry Extract/ Gallic Acid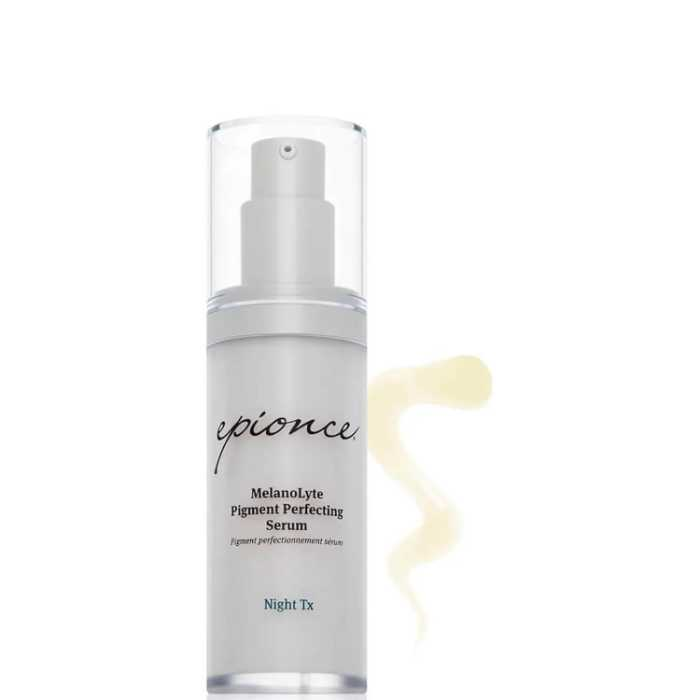 All Skin Types- Night Treatment
This night treatment is perfect for all skin types and will not irritate your sensitive skin. It's free of hydroquinone and is gentle enough to use every day without worrying about it causing reactions on delicate areas of the face. Formulated for a transparent and smooth texture. It's made with botanical ingredients that promote melanocyte and melanin inhibitors to improve the appearance of dark spots and discoloration including hyperpigmentation. The result? A brighter complexion with an even tone without added irritation or redness - what more could you ask from one product?!
Key Benefits
Brightening of the skin
Even toned complexion
Smoothing texture
Reduction of melasma and other skin discolorations such as acne scars
Skin lightener
Key Ingredients
Paper Mulberry Extract
Turmeric Extract
Peppermint
Lemon Balm
Pea Extract
Apple/ Date Extracts
Marsh Mallow Extracts
Sodium Hyaluronate
Emollient Oils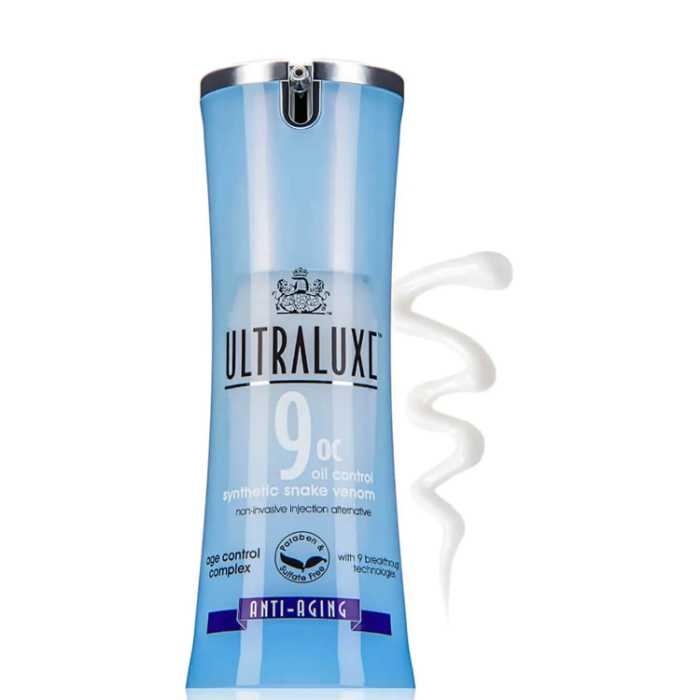 Mature Skin, Discolored Skin-Hyperpigmentation
Keep your skin looking its best with the help of this powerful age control complex! This advanced formula targets and counters hyperpigmentation caused by sun exposure, as well as any other factors such as inflammatory conditions such as acne that might have accumulated over time. This skin brightening treatment has multiple ingredients to improve the appearance of the skin with improved skin tone and improvements in the appearance of fine lines and wrinkles. This combination of key melanin inhibitors helps to improve discolored skin and uneven complexions as well as melasma. Vitamin A and Kojic Acid help to increase cellular turnover to reveal a more radiant complexion. It contains licorice extract which reduces melanin production while boosting cellular turnover for radiant results you can see immediately- no more spots or discoloration anywhere on sight!
Key Benefits
Skin Brightening Treatment
Decrease dark spots from sun exposure
The moisturizing complex composed of glycerin, ceramides, emollients, triglycerides, panthenol for deeply moisturized and protection of the skin barrier
Exfoliation
Key ingredients
Vitamin A
Kojic Acid
Mulberry Extract
Algae Extract
Rosemary Oil
Hyaluronic Acid
Jasmine Oil
Gardenia Leaf
Multiple Peptides
Sweet Almond Seed Oil
Bisabolol
Vitamin E (Tocopheryl acetate)
Sodium PCA
Skin Brightening Treatment
Whether you're looking for a brightening treatment or improvement to aging skin or acne-prone skin, this article on mulberry products has something for every skin type. Formulas with seaweed extract improves moisturizing complex composed of ingredients for improved skin; Mulberry blemish clearing formulas designed with root extracts to target acne prone skin; Active antioxidants to target effective free radical protection. Even sensitive skin use has a formula for it. Anyone who suffers with uneven skin tones has a product here with active ingredients to improve the quality of your skin. For more articles on hyperpigmentation read our article, A Comprehensive Guide on the Best Body Wash for Hyperpigmentation
Mulberry Serum Is Suitable for All Skin Types
One of the great things about mulberry extract is that it is suitable for all skin types. Whether you have dry, oily, sensitive, or combination skin, you can use mulberry serum without worrying about any adverse effects. If you have been searching for a skincare product that is suitable for your specific skin type, then give one of these mulberry serums a try!
As you can see, there are many benefits to using the mulberry serum on your skin. Whether you are struggling with an uneven skin tone, have acne scars, need help with aging skin, or simply want to improve the overall appearance of your complexion, adding a mulberry serum to your skincare routine could be just what you need! So why not give it a try? Just click the button to get your professional skincare today.
Sign up and save 15% at Dermstore.
For more information read these articles from PubMed Mulberry ( sang shèn zǐ) and its bioactive compounds, the chemoprevention effects and molecular mechanisms in vitro and in vivo
Topical Treatments for Melasma: A Systematic Review of Randomized Controlled Trials
Reference
Huang, Hui-Pei et al. "Mulberry ( sang shèn zǐ) and its bioactive compounds, the chemoprevention effects and molecular mechanisms in vitro and in vivo." Journal of traditional and complementary medicine vol. 3,1 (2013): 7-15. doi:10.4103/2225-4110.106535
Austin, Evan et al. "Topical Treatments for Melasma: A Systematic Review of Randomized Controlled Trials." Journal of drugs in dermatology : JDD vol. 18,11 (2019): S1545961619P1156X.