Your Micellar Water Roundup Guide
Ever wonder what micellar really is? Want to know more? Read our guide today to find out who made our list for your skin type!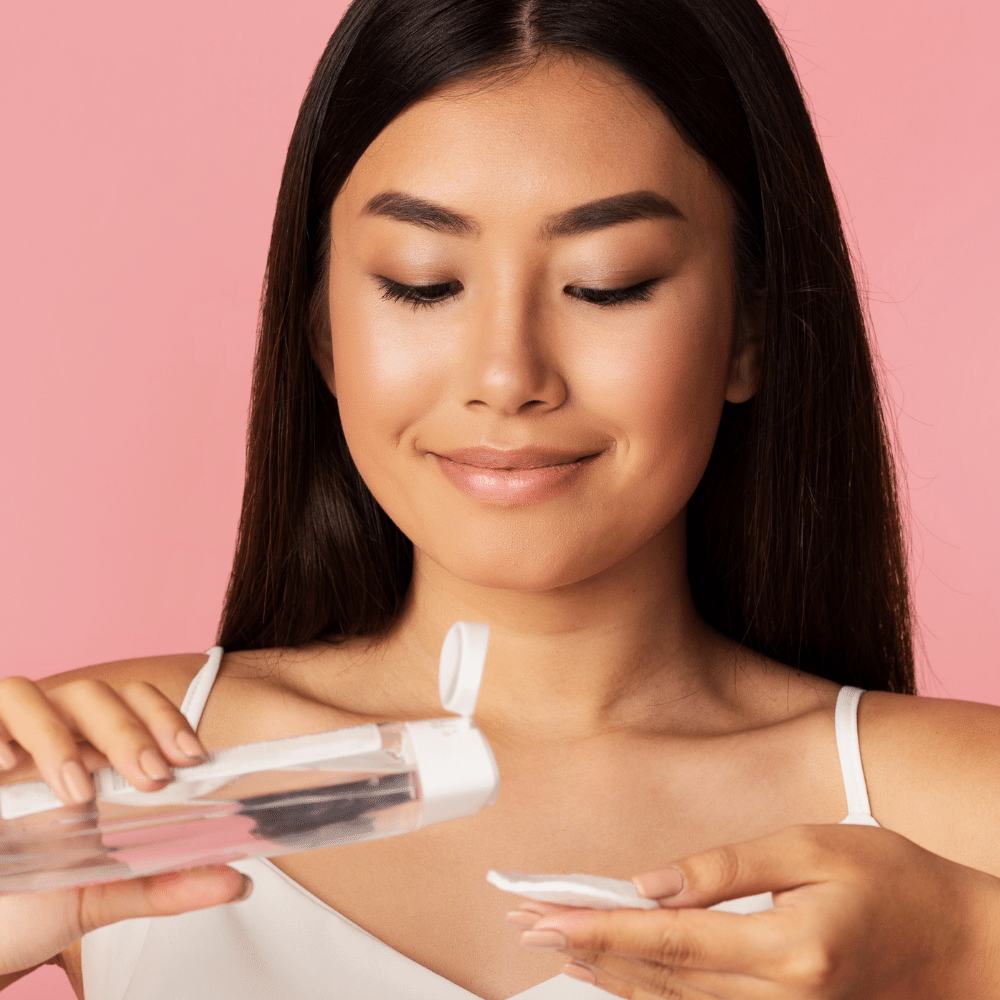 Micellar water is a popular cleansing solution that can be used on most skin types. It's gentle and effective, and it can even be used to remove makeup.
What Is Micellar Water
Micellar water is a gentle and effective way to cleanse the skin. It is made up of tiny cleansing bubbles called micelles that attract and trap dirt, oil, and makeup. To use micellar water, saturate a cotton pad with the product and wipe it across your face, neck, and decollete. You can also use it to remove eye makeup. Micellar water can be used morning and night and is often a good choice for those with sensitive skin when calming ingredients are a part of the ingredient deck.
Where Did Micellar Water Come From
Micellar water originated in France back in 1913. It became more internationally known by a bioceutical company named Bioderma with its release of its product Sensibio H2O micellar water in 1991. In the early 90's makeup artists reportedly had to quickly remove makeup from runway models multiple times throughout a fashion show making way for this product to gain appeal due to its ease of use. The popularity of micellar water is so much so that a sale of the cleansing water is reported to occur just about every 2 seconds through worldwide sales.
How to Use
Details Matter
But when should you use micellar water for cleansing? Here are a few things to keep in mind. Plan on using micellar water with ingredients that target and treat your specific skin type. Let's talk skin type and product recommends.

Sensitive Skin
If you have sensitive skin make sure to gauge how your skin responds after using it. Some formulations can be hydrating, while others can be drying, so it's best to try it and check and see how your skin reacts in those cases. Product ingredients like chamomile, and aloe vera can help promote calm skin. Additionally, ingredients that promote hydration and moisture will also benefit sensitive skin types. Look for ingredients like allantoin, glycerin, rose, and sodium hyaluronate which is a more absorbable form of hyaluronic acid that can better penetrate the skin.
Bioderma Sensibio - H2O Micellar
Key Reasons Why We Love This Formula
This #1 selling European brand of micellar water is gentle yet effective micellar water and respects your skin's delicate hydrolipidic film and removes impurities and makeup with ease. Plus, it's suitable for use on both your face and eyes, making it the perfect all-in-one solution for your beauty needs. So why wait? Give Sensibio H2O a try today!
Things to Remember
Sensibio removes 99% of makeup, captures 98% of fine particles, and rids up to 78% of toxic metals in the skin. With fatty acid esters this #1 selling, DAF patented natural complex calms and nourishes the most sensitive skin. The formula is free of parabens, alcohol, and oil and is recognized by the Canadian Dermatology Association. The soothing properties of cucumber calm and replenish sensitive skin.
Watch this tutorial for more information!
Sensitive Oily/ Acne skin
This type of skin may be oily and prone to breakouts but can also be reactive and sensitive to many products. We encourage this type of skin to use products that will address the oiliness and sensitizing nature by using calming ingredients.
TO DO LIST Cleansing Water
Key Reasons Why We Love This Formula
Looking for cleansing water that can handle even the most stubborn waterproof mascara, look no further than the TO DO LIST Cleansing Water! This gentle yet powerful liquid is infused with 10 different herbs to cleanse and soothe your skin, and it's free of harsh chemicals like parabens, sulfates, phthalates, alcohol, and fragrance. It's also dermatologist- and ophthalmologist-tested, so you know it's gentle enough for even the most sensitive skin types. And if you're not completely satisfied, TO-DO List offers a full refund guarantee. So why wait? Try the TO DO LIST Cleansing Water today!
Things to Remember
This powerful cleansing water contains a potent blend of botanical ingredients that work together to cleanse and calm the skin.

Perfect for all skin types, even the most sensitive skin, to quickly and easily remove makeup and leftover debris. The calendula in this cleansing water helps stimulate collagen production, while the lemongrass helps to tighten pores and control sebum production. And the mugwort gently soothes and calms irritated skin.
Don't let a busy day stop you from taking care of your skin. Our TO DO LIST cleansing water makes it easy to cleanse and refresh your skin, even when you're on the go.

Recent years have seen the Korean mugwort (SSUK), known by its scientific name Artemisia Princeps, grow in popularity as a key ingredient for skincare products coming from South Korea. But what exactly is this "swiss army knife" of weeds that can treat acne and sensitive skin? While various species grow throughout the Northern hemisphere; we're interested only in one called yomogi which has become popularly used across Asia due to its healing properties on cuts or wounds making this cleansing water part of your daily skincare routine and see the difference it makes in your skin's appearance!
This plant has been used for centuries as an herb and medicine.

While not very well known outside of Korea, Korean mugwort ( Artemisia koreana) holds promise in helping soothe sensitive skin that suffers from acne or other conditions such as its partner ingredient tea tree oil!

In addition to being rich with vitamin E which helps protect our cells against oxidative damage caused by free radicals , this shallow-rooted herb also contains oils like beta carotene- these two ingredients work together synergistically when applied topically on the skin to help reduce the appearance of blemishes over time!

When used in skincare products, mugwort oil is said to help reduce inflammation and irritation while also providing antibacterial properties. All of these benefits can be attributed to its high levels of thujone, a monoterpene that's also found in other plants like wormwood and sage.
The TO DO LIST Cleansing Water is a perfect example of how this ingredient can be used in a product to create a gentle yet effective cleansing solution for all skin types!
So what are you waiting for? Try the TO DO LIST Cleansing Water today and see the difference it makes in your acne.
Oily Skin Types
If you have oily skin, you may find that micellar water is a good option for cleansing. It can be particularly beneficial in a double cleansing routine as a first step in helping to remove makeup.  It can help remove excess oil without stripping the skin. It is often a safe choice for your nighttime routine in combination with another cleansing product.
LAGOM Cellup Micro Cleansing Water
Key Reasons Why We Love This Formula
Lagom's Science-based Cellup Micro Cleansing Water is a vegan, no-wash, gentle micellar water that contains thermal spring water and micro-sized fermented oils to deeply cleanse and intensely moisturize your skin. Their natural surfactant ingredient, Saponaria Officinalis Leaf Extract, helps wash away skin bacteria thoroughly while effectively soothing and improving any skin concerns you may have.

Laboratoires Expanscience patented Aqualicia Bio from a concentrate of peptides from the Acacia Seeds,  helps to facilitate Aquaporins- water channels in the skin cells of your cell membrane. This concentration of biomimetic active ingredients helps protect the skin and the environment. It allows water molecules to flow deeper and retain moisture further down in the layers of the skin resulting in a thicker stratum corneum. So not only will your skin be hydrated and supple, but it will also look firmer and more toned.
Try Lagom's Cellup Micro Cleansing Water today and see the difference!
Things to Remember
The peptide Aquatide is known for its anti-aging effects, particularly for its use in autophagy in dermal fibroblasts. Effectively helping the cells to function at a higher capacity of health and cellular senescence which helps the skin to appear firmer and more youthful. For treating acne Aquatide is a fabulous peptide as an autophagy mechanism and helps to regenerative cellular health of the skin. The Aquatide peptide is said to mimic PCA. PCA has been a known natural moisturizing factor for many years in the cosmetics industry but was known for its instability.

The South Korean, Incospharm developed the peptide Aquatide to provide the moisturizing capabilities of PCA but with stability and even more moisturizing abilities. Aquatide also helps to prevent TEWL and transepidermal water loss and helps the skin to be in a state of homeostasis.
The 6 herb formulation of calming herbs further helps acne skin as well as other sensitive skin types while Allantoin hydrates the skin. And with 26 allergen-free natural scents, this smells wonderful for a full spa feel.

Their ingredients of fermented oils break down into smaller molecular sizes to better penetrate the skin at the dermal levels rather than sitting on the top of the epidermis. This creates a more effective change to the skin. Additionally, they provide antioxidants to the skin and provide the skin with a smoother, silkier complexion, and are anti-inflammatory.

More research in autophagy is ongoing in the realm of skincare and antiaging as well as many medicinal uses for potential diseases. Read more about this peptide here.
https://www.cosmeticsdesign-asia.com/Article/2018/07/16/What-is-autophagy-s-potential-to-transform-cosmetics-applications
Dry Skin Types
If you have dry skin, you may want to use micellar water only occasionally. Certain formulations can be drying, so it's best to use care and look for ingredients that add hydration and moisture to the skin. We often find that formulations designed for sensitive skin will also cross over for dry skin types.  One of the contributing factors to sensitive skin is barrier function impairment. Increasing the hydration and moisture levels of the skin can benefit dry skin types and sensitive skin types.

One best practice is to look for ingredients that contain sodium hyaluronate, rose, allantoin, glycerin, and other hydrating and moisturizing ingredients. Aloe vera is also a cross-over ingredient as it can be calming and moisturizing to the skin.
Bioderma - Hydrabio H2O Micellar
Key Reasons Why We Love This Formula
Looking for a gentle, effective way to cleanse your sensitive skin? Look no further than Bioderma's Hydrabio H2O micellar water. Formulated with their exclusive Aquagenium patent, this micellar water helps to improve the skin's ability to retain hydration while cleansing and removing makeup. Plus, it's gentle enough to use every day!
Things to Remember
This 3-in-1 micellar water cleanser is specially formulated for dehydrated skin. Their patented Aquanium complex formula includes Vitamin PP and apple seed extract. This formulation acts to restore the natural mechanism of the skin producing its own hydration through the circulation of water. With fatty acid esters to plump the cells and glycerin to hydrate, the skin will see noticeable improvements in hydration levels.
The Bioderma line uses molecules found in the skin's natural structure to effect changes. Dry skin will soak this up!
Normal Skin Types
If you have normal skin, you may find that micellar water is a good option for cleansing. It can help remove impurities without stripping the skin.

We recommend using micellar water in addition to a regular cleanser at night as part of a double cleanse. The ease of use of applying micellar water to a cotton pad makes this product pretty user-friendly and simple for most people. As always, we encourage people to try patch tests with any new product before a full application on your face. This will help to ensure you don't have any potential reactions, especially if you have sensitive skin or known allergies.

innisfree JeJu Green Tea Micellar
Key Reasons Why We Love This Formula
Start your day off right with the innisfree Green Tea Facial Cleansers. Made with Jeju Green Tea extract, these cleansing pads will help lift away dirt, makeup, and oil from your skin, leaving it feeling fresh and clean. Plus, they're super easy to use – just place 2 sheets of cotton on top of the pump and gently press downward. Then softly wipe your face with the pads. So simple, yet so effective!
Things to Remember
This double squeezed green tea formulation is USDA organic! The Jeju Green Tea is specially harvested for skin care. Their 3,301 varieties of green tea are created to effect changes in the skin with its highly potent amino acids and high antioxidant formulation to promote healthy skin. Rich in polyphenols, this green tea took 10 years to source and with multiple amino acids and benefits for hydrating the skin.  Just so you know the innisfree Jeju Green Tea is not the same as the green tea you drink. This green tea was specifically sourced due to its potent effects on the skin.
Mature Skin Types
Mature skin can benefit from the use of micellar water when removing makeup. Often mature skin tends to be more on the dry side due to hormonal changes. Ingredients like calendula rose, and allantoin is calming and moisturizing. Remember to use this at night as part of your nighttime routine in addition to another cleanser for a double cleanse.

When using micellar water to remove eye makeup especially, remember to use gentle movements. Try not to push or pull too hard on the lashes to prevent lash breakage. With your eye closed try to gently pull down not across to further prevent damage. Think about how your lashes grow and use that as the direction to gently remove your eye makeup. You should be careful to use gentle movements around the eyes when applying any kind of product as the skin around the eyes is the thinnest on the body. Extra care should always be taken around this delicate area of skin.
Burt's Bees Micellar Water with Rose
Key Reasons Why We Love This Formula
Introducing Burt's Bees Micellar Facial Cleansing Water with Rose Extract! This gentle, hydrating cleanser is formulated with rose water to remove lingering makeup and pore-clogging dirt and oil. Its dermatologist tested as 99.5% natural origin and formulated without parabens, phthalates, petrolatum, or SLS. It's also fragrance-free and helps the appearance of dull skin while cleansing and hydrating in one step. Use Burt's Bees micellar facial cleansing water in your everyday facial skincare regimen for healthy-looking skin.
Things to Remember
Burts Bee's takes nature as the source of its products and is the #1 Dermatologist-recommended natural skincare brand.
They value the earth and take great care in sourcing ingredients in sustainable ways to preserve the planet. They are leaping bunny certified, carbon neutral certified, and use recyclable packaging so you can feel good about the products you're using. Dermatologist and ophthalmologist tested to ensure efficacy. One of the reasons we love this product for mature skin is that it contains lactic acid which is a mild exfoliant and aids in smoothing skin, reducing the appearance of sun spots, and helps to stimulate collagen production. Another star ingredient is glycerin which is a humectant. Humectants bind water to the skin for increased hydration and a mild plumping effect. Glycerin is also an emollient and provides a smoothness to the skin.

The rose extract is high in antioxidants which helps to counteract free radical damage. Rose is also rich in Vitamin C and Vitamin A which we know in combination help the fibroblast cells to create collagen and elastin. Additionally, these vitamins can help to even out skin tone, vitamin C in its brightening capacity, and Vitamin A as the skin normalizer. Also, Vitamin A increases cellular turnover to effect positive changes in the skin making this a great product for mature skin. And finally, rose water extract can help to refine pores for a more refined skin appearance.
Micellar Water Roundups
There you have it, folks. We've rounded up our best picks of micellar water for different skin types. We hope we've provided some helpful information for you to choose your next micellar water. If you liked our article today don't forget to sign up for our latest guides below.

Thanks for taking the time to ready today!