Best Facial Cleanser for Pores-An Esthetician's Review
Oily skin can be difficult to find products for. We provided options based on real world data and our esthetician's expertise. Learn more now!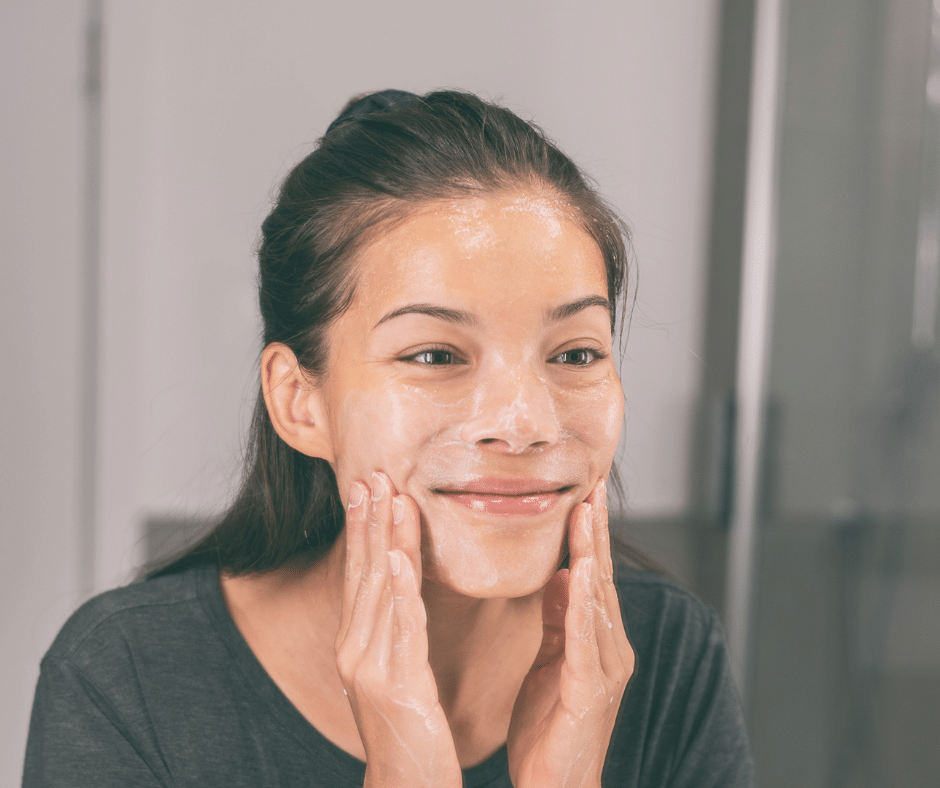 Are you in need of a facial cleanser that can help your oily skin? We've put together our best facial cleansers to help your oily skin. We'll talk about things you can do to help get better skin. If that sounds good keep reading!
Summary
The Body Shop Tea Tree Skin Clearing Facial Wash - Best Natural Tea Tree Facial Wash
New York Biology Dead Sea Mud Mask for Face & Body - Best Purifying Clay Mask
QrX Labs 2% BHA Exfoliant Skin Perfecting with Salicylic Acid, Niacinamide, Green Tea Extract -Best Acne Prone Skin
Acne Retinoid Treatment Differin Gel 0.1% Adapalene-  Best Retinoid Gel
Cerave Foaming Facial Cleanser- Best Value for Oily Skin
HydroPeptide Cleansing Gel, without Irritation- Best Professional Formula for All Skin Types
Botanic Tree 10% Glycolic Acid, Willow Bark, Lavender, Tea Tree, Shea Butter- Best Natural Face Wash
Oily Skin
What Causes Oily Skin
If you recall the skin is a living organ. It is in fact the largest organ of your body. Your body has trillions of cells that contribute to different functions of your body. The skin system is called the integumentary system. It is highly complex and is intertwined with many other body systems such as the endocrine system. Hormones are related to the pituitary gland. The pituitary gland works with the sebaceous gland. The sebaceous gland is responsible for the oil production of your skin.
Some causes for acne prone skin are having an overproduction of oily skin. Oily skin is caused by the overproduction of sebum, an oily substance produced by the sebaceous glands. Sebum helps to keep the skin soft and supple, but when there is excess sebum, it can lead to clogged pores and acne. Oily skin types are more prone to acne because the excess sebum provides a perfect environment for bacteria to grow. When dead skin cells are shed through cellular turnover, these dead skin cells can get stuck inside the walls of the pore. This dead skin cell blocks the pore and causes it to become a clogged pore which then produces bacteria. This is essentially the 20,000 overview of acne.
Vitamin A, Vitamin C
There are several treatments available for acne-prone skin, including face washes with salicylic acid or glycolic acid, deep pore cleansers, and spot treatments with tea tree oil, rosemary essential oil, and even aloe vera, chemical peels and other spa treatments. Vitamin A and retinol can also be beneficial and are considered the Gold standard in skin care for their ability to normalize the skin. Vitamin C is also an effective treatment for acne because it helps to reduce inflammation and promote collagen production and is high in antioxidants which are necessary for your cellular functions and protections from free radicals.
Salicylic Acid, Glycolic Acid
Face washes with salicylic acid or glycolic acid are effective treatments for oily skin because they help to exfoliate dead skin cells and remove excess sebum. Deep pore cleansers are also effective at removing excess sebum and combating clogged pores. Spot treatments with tea tree oil or aloe vera can help to soothe inflamed skin and clear up blemishes. Vitamin C is an effective treatment for acne-prone skin because it helps to reduce inflammation and promote collagen production but should be used in conjunction with other ingredients that can combat bacteria such as salicylic acid, tea tree or apple cider vinegar.
No matter which type of ingredients used to treat acne you always want to make sure you don't strip all the natural oil from the skin. You will know if this has happened when the skin feels squeaky clean. Skin that is squeaky clean has no natural oil left to protect the skin. Skin without oil leaves the skin open to a variety of skin disorders and skin barrier disfunction. An adequate amount of skin oils are necessary for the health and function of the skin.
Those who have oily prone skin should combine their oil balancing ingredients with hyaluronic acid. Hyaluronic acid is a natural ingredient located throughout our skin cells and connective tissues and abundant within our bodies. It helps to keep the skin soft and supple and is beneficial in anti aging routines as well as acne prone skin. Hyaluronic acid can soothe inflamed acne skin types and provide some relief to the skin as well as help keep it from becoming dehydrated when balancing the oil production of the skin.
Salicylic Acid
Face washes that contain salicylic acid or glycolic acid are best used daily, while deep pore cleansers can be used once or twice a week as needed. Spot treatments with tea tree oil, benzoyl peroxide, sulfur or aloe vera can be applied as needed to blemishes. Vitamin C should be used daily for best results.
Sensitive Skin
For sensitive skin types, aloe vera may be a better choice than tea tree oil when targeting acne. When choosing a face wash or pore cleanser, be sure to select one that is suitable for your skin type. You may need to try a few different products before you find one that works best for you.
Best Facial Cleansers for Oily Skin and Refined Pores
Our Top Picks for Oily Skin Types
Face washes are designed to be used daily, while deep cleansers are meant for use once or twice a week.
If you have oily skin, I recommend using a face wash with salicylic acid or glycolic acid. These ingredients help to break down oil and prevent clogged pores. I also like face washes that contain tea tree oil, since it has antibacterial properties that can help to keep acne at bay.
We are Amazon affiliates and may earn a small commission from our reviews  with a qualified purchase.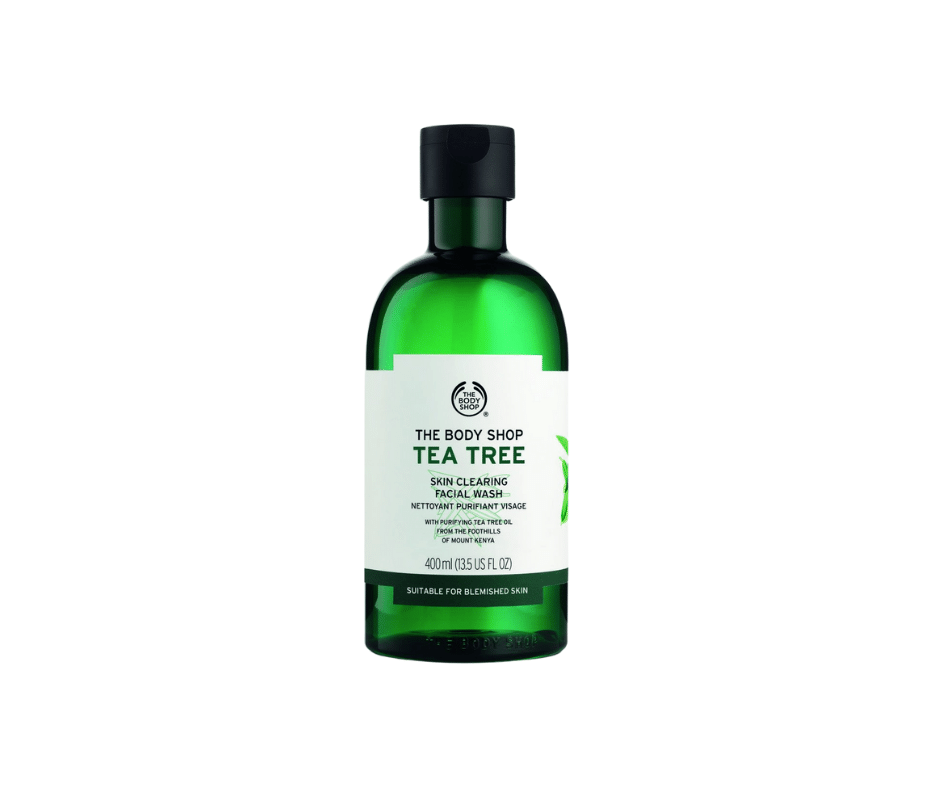 The Body Shop Tea Tree Facial Wash is formulated from sustainable sources supporting Community Trade tea tree oil, lemon tea tree, and tamanu oil - All working together to deliver clearer skin with reduced oil and visibly reducing the appearance of breakouts. These natural ingredients promote healthier skin without added chemicals for out top pick for natural products.
Deep Cleanser
For deep cleansers, we recommend using clay masks. These help to balance sebum production, slough off dead skin cells and promote healing within the skin. They also balance the sebum or oil production of the skin and act as antibacterial or antimicrobials. These should be done at least once a week as part of your acne skincare routine.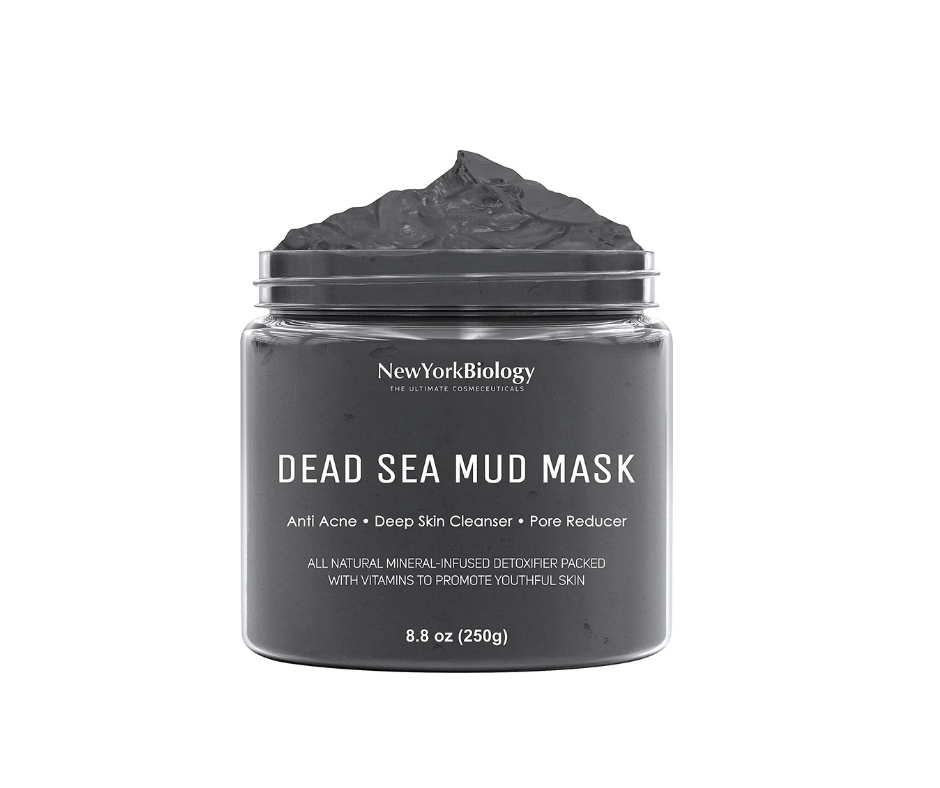 NewYork Biology Dead Sea Mud Mask-This purifying, detoxifying and clarifying dead sea mud mask is amazing at reducing oil and deeply cleanses the skin. This mask is infused with rich minerals and jam packed with nutrients and vitamins to help bring your skin into balance. Your skin will feel amazing after using this mask; smoother, cleaner, clearer, refined and brightened. Contains Dead Sea mineral mud, aloe vera, calendula oil, Vitamin E and Jojoba oil that gently purifies and cleans clogged pores and congested dull skin.
*alcohol, paraben, sulfate free and cruelty free
Best Facial Cleanser for Pores
Imagine if you will the visual of a clogged pore blocked with dead skin cells. As we mentioned earlier the pore becomes inflamed. This inflammatory process over time and with the overproduction of the sebaceous gland encourages the pore to become enlarged. An unwanted side effect of too much oil production is enlarged pores. One of the ways to combat this is to regulate sebum production. Both beta and hydroxy acids can help to tighten pores.
Niacinamide is a wonderful ingredient for acne and oily-prone skin as it helps inflammation and regulates oil production while helping to tighten pores through its anti-inflammatory processes. Skin aggressors are kept at bay and niacinamide also has skin-lightening effects to help with potential skin discolorations from acne scarring.
Antioxidants
Antioxidants are also necessary for protecting acne prone skin types from free radical damage and should be a part of your treatment. Green Tea is an excellent ingredient for acne prone skin types and can help skin deeply at the cellular level. Green tea also has anti inflammatory properties and improves skin texture.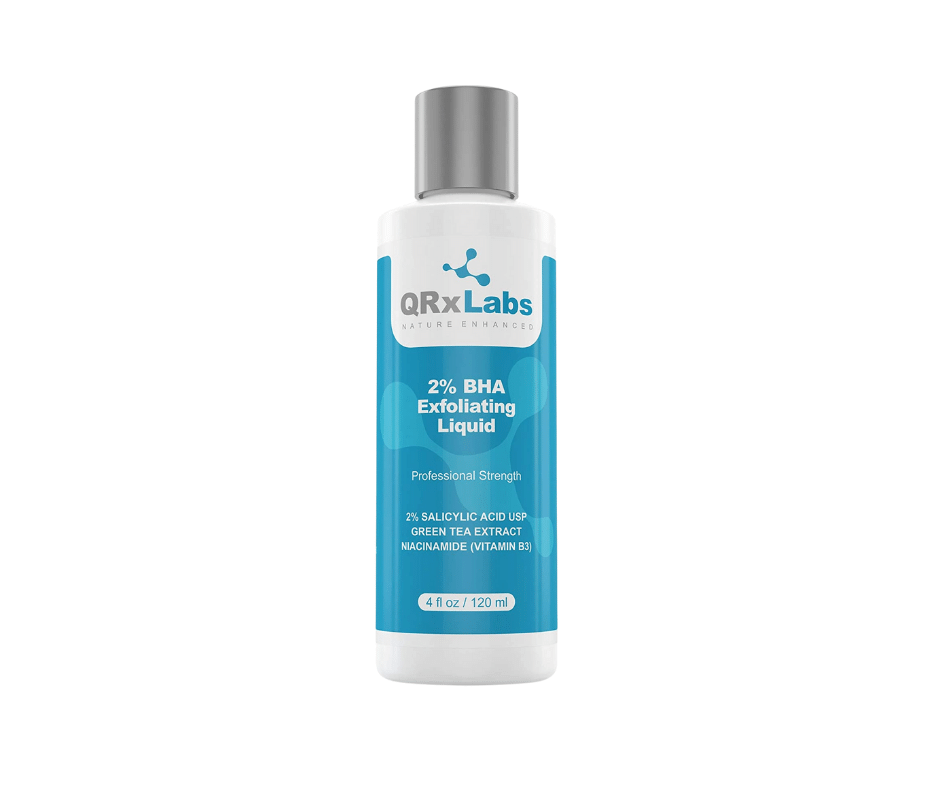 QRx 2% BHA Exfoliant Liquid- This leave on liquid exfoliant contains 2% salicylic acid, Green Tea Extract, and Niacinamide to exfoliate dead skin cells, unclog pores, refine pores, and balance oil production. Your skin will feel softer, smoother brighter and tighter with this sebum balancing formula. Great for  acne prone, blemish  prone, and oily skin types. This may also be used for those with mature skin who want fine lines and wrinkles refined. Free of fragrances, silicones, parabens, dyes, cruelty free.
Excess Oils
Looking for a face wash to control excess oil and need a face wash that can help control it, niacinamide or meadowfoam seed oil is excellent. This cleanser is a foaming cleanser that contains salicylic acid and glycolic acid to help improve skin texture. It also has meadowfoam seed oil to help remove oil without stripping the skin. Additionally, this cleanser is good for all skin types but is especially helpful for those with oily skin. It's also a great clay cleanser for those who want to thoroughly clean their skin and remove all the dirt and makeup without over-drying it. Plus, it's great for those who want to achieve matte skin as it helps to balance oil and tighten pores.
Dead Skin Cells
As we discussed earlier clogged pores happen as a result of excess oil and dead skin cells getting clogged inside a skin pore. This is why using alpha hydroxy acids and beta hydroxy acids are important to help slough off these dead skin cells so that they don't clog the pores. Many foaming exfoliating cleansers contain salicylic and glycolic acids for this reason. They are helpful for many other skin types like mature skin as well.
Acne Prone Skin
Exfoliation
When selecting skin care for acne prone skin we want to focus on exfoliation in addition to reducing skin inflammation. Exfoliating cleansers can help to remove oil, balancing oil production, removing excess dirt and pollutants that we are exposed to daily.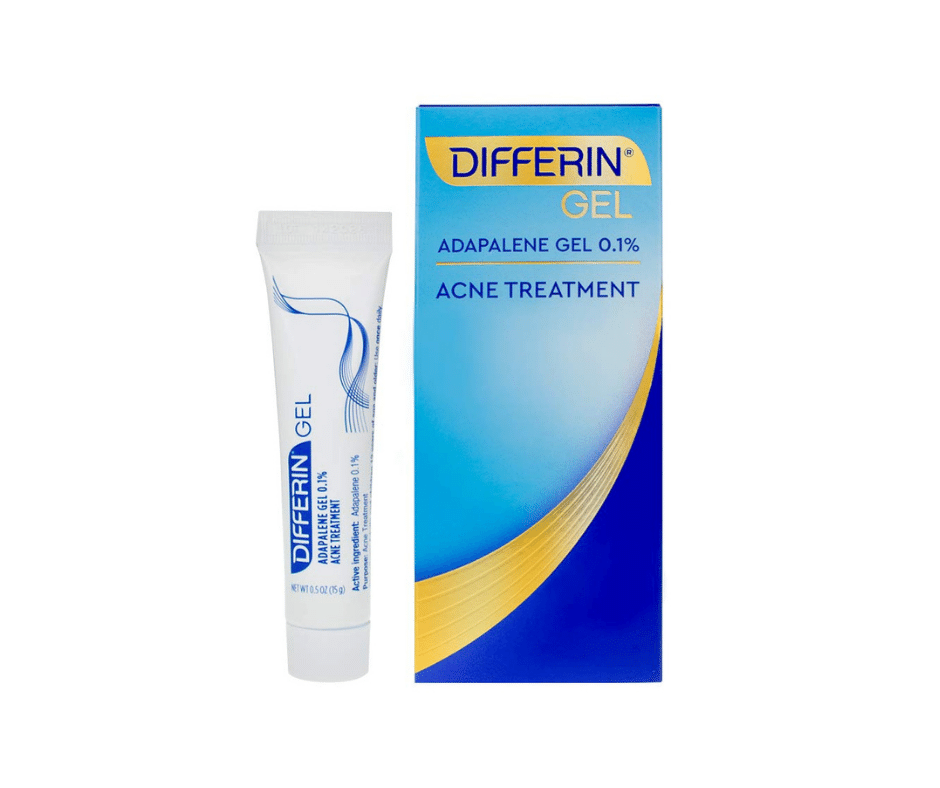 Differen Gel Adapalene Gel .1% Acne Treatment Medicated Formula
This medicated formula is a 30 day supply retinoid treatment. While this is not a facial cleanser, we thought it was worth sharing. This highly effective low strength retinoid increases cellular turnover and repair. As a vitamin A formula this helps to normalize the skin when used over time. It is not a spot treatment but a full face treatment gel that targets inflammation and clogged pores. Continued use will provide a brightening effect, refined pores, reduced sebum production and blemishes. Additionally you may notice notice your skin is smoother, the pores are refined and you look more clear, bright and radiant. It is recommended to begin slow. To begin use apply at night every other day. After one to two weeks adjust to using daily. I would recommend using this at night as it can be photosensitizing and can increase your chances of sunburn. Make sure to wear daily sunscreen. Prior to 2016 this was a prescription only acne treatment.
*In a clinical study, Differin gel provided up to 87 percent reduction in acne breakouts after 12 weeks, continued use will increase effect.
Natural Ingredients
Some people like using natural ingredients like tea tree oil and apple cider vinegar to fight acne while removing dead cells. Other people prefer to use clay cleansers to balance oil production, refine skin texture and control acne breakouts for a deep cleanse. Because clay cleansers can be drying to the skin some people opt to use a clay cleansing mask for deep cleansing once a week. This can also help to improve skin texture and promote soft skin.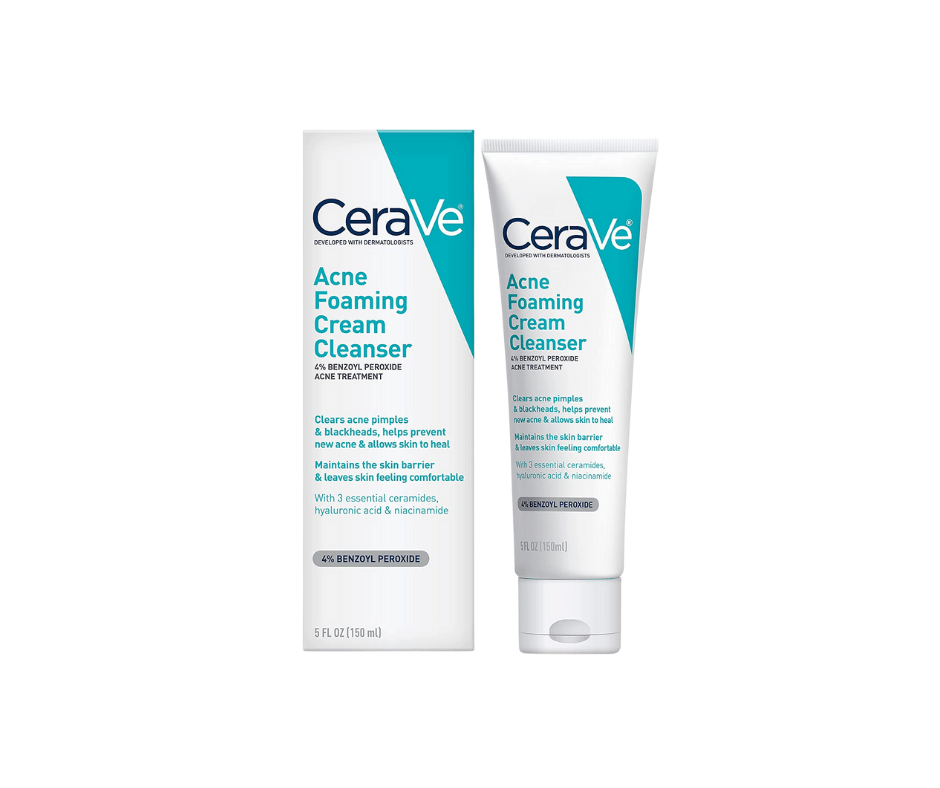 Cerave foaming facial cleanser is a popular choice for acne prone skin. With Benzoyl Peroxide at 4% Hyaluronic Acid, Niacinamide and ceramides we can see why this formula is so popular.  A common facial foaming cleanser. It's great for oily skin types. The niacinamide helps regulate sebum production and target oil and dirt to treat clogged pores without stripping the natural oils of the skin. Hyaluronic acid helps keep the skin hydrated. Benzoyl Peroxide targets bacterial acne in blackheads, and prevents new acne from forming. This is the #1 dermatologist recommended brand. It is a fairly light formula.
Sensitive Skin
People with sensitive skin often find that traditional skin care products are too harsh, causing redness, irritation, and dryness. Thankfully, there are now several options available for those with sensitive skin. The key is to look for products that help to strengthen the skin barrier and gently exfoliate the skin. Green tea and willow bark extract are two ingredients that can help to soothe sensitive skin, while hyaluronic acid helps to keep the skin hydrated. For a gentle cleansing gel, look for one that is oil-free and contains natural ingredients such as aloe vera, white tea, green tea, lavender, and chamomile.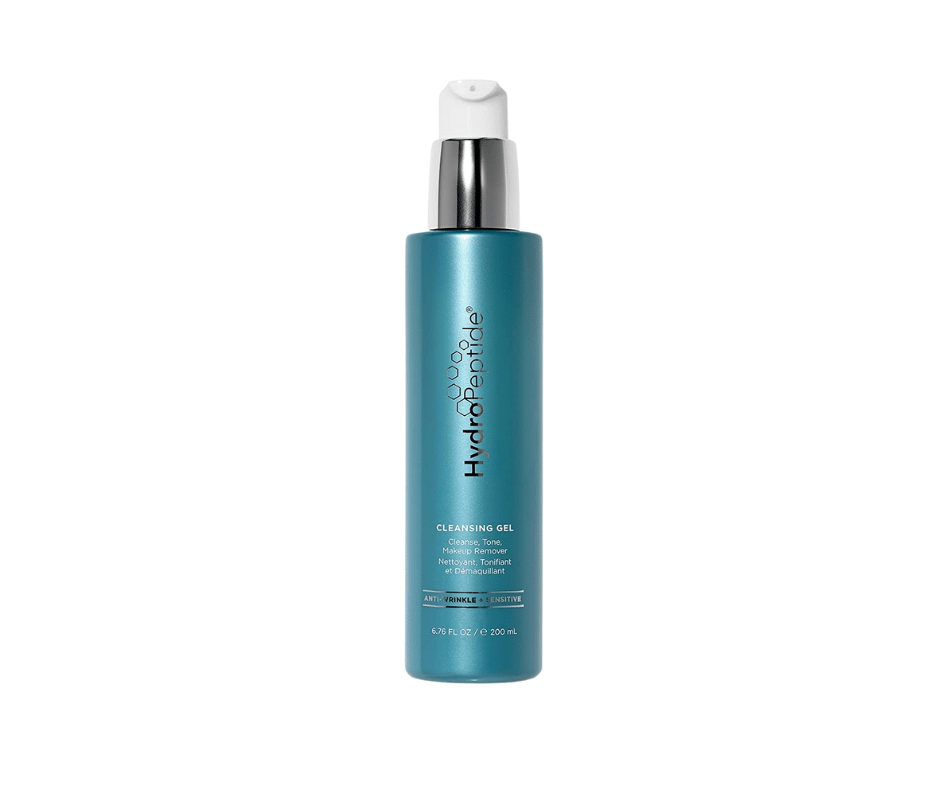 This one I have personally used and many of my clients have loved. It's super clean and gentle and it smells amazing. Don't let the price fool you. This bottle is huge and lasts me for several months. It is highly concentrated so you need very little product to cleanse. My skin feels clean without feeling squeaky clean and it removes makeup while toning my skin. Hey if I can consolidate two products into one I'm all for it. Anything that can save time without sacrificing results. This is a professional formulated product. It has peptides that help to repair the skin and as cell signalers. Brighter, smoother skin are some of the benefits of using this cleanser in addition to added collagen that helps fight fine lines and wrinkles. If you have dry skin this would also be good for you as the peptides provide so many healing benefits for the skin.
There are no dyes in this formula. Infused with Japanese Green Tea, Calendula, Chamomile and Cucumber and Geranium Extract.
This works for sensitive skin types and oily skin types but it may not be enough for acne prone skin types. If you have red, inflamed skin this is great! This is a science backed product designed by an epigeneticist.
Face Washes for Oily Sensitive Skin
When it comes to face washes, opt for a creamy or milky formula specifically designed for sensitive skin types. These cleansers will help to remove excess sebum without stripping away natural oils. For a face wash that will leave your skin feeling smooth and soft, try one with jojoba beads or salt granules. Oatmeal and rice bran are good ingredients to look for in a pore cleanser for sensitive skin as they help to exfoliate without being too abrasive. Finally, remember to always use a moisturizer after cleansing to prevent your sensitive skin from drying out. Look for a moisturizer with hyaluronic acid or glycerin to help keep your skin hydrated and looking its best. If you have inflamed acne, aloe vera is calming and soothing and is also anti inflammatory with mild moisturizing agents to heal inflamed skin while keeping it hydrated. Those with sensitive acne skin should use cleansing gels rather than foaming cleansers. They are less abrasive for sensitive skin. If you have dry skin or flaky sensitive skinn looking for calming ingredients like lavender, chamomile help to keep skin soft. Lavender also has anti inflammatory and antibacterial making it a great choice for those with sensitive skin acne.
Willow bark extract is excellent for sensitive acne skin promoting mild exfoliation, reducing excess oil while also helping keep skin hydrated.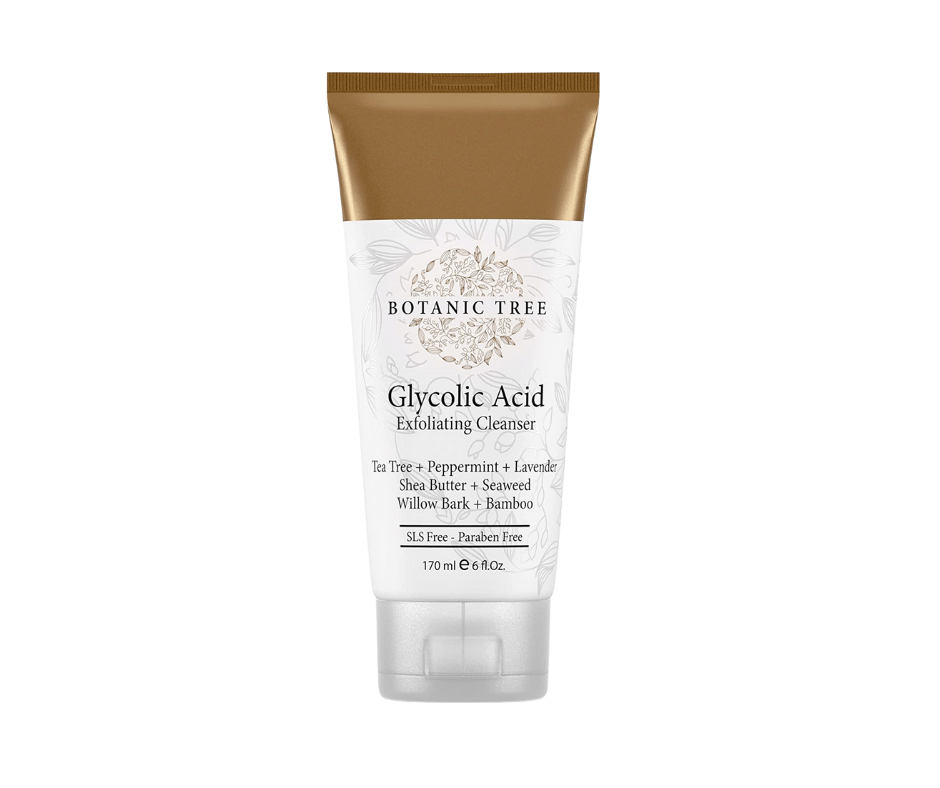 Formulated with AHA and BHA glycolic and salicylic acids to exfoliate all skin types. Acne prone skin, mature skin and oily skin can all benefit from this exfoliating and nourishing product. Infused with tea tree, peppermint, lavender, seaweed, willow bark, green tea and bamboo for healing. Skin will be brighter, more refined with smoother and refined texture and pores. Shea butter adds moisture back to the skin. This would be great for someone with acne scarring as it evens skin tone and refines fine lines and wrinkles as well. Also great for dull congested skin as this will brighten and even out discoloration. Great for those prone to hyperpigmentation. Cell regenerating formula. Seaweed is also exceptionally nourishing to the skin. It is a wonderful ingredient for slow, congested skin.
*Free of sulfates, cruelty free, SLS free, and Vegan
Final Word
I really try to give options to everyone I work with. While we all have certain skin types we also have very individual health differences, lifestyle contributors, diet and different values when it comes to skincare. Hopefully you have found something that can help you.
We hope you have enjoyed the information we presented here. For oily acne skin prone skin it takes consistent effort to create change. There are many different body systems that contribute to acne. Diet, hydration and water intake, hormones and even medical conditions and medications can contribute. There is a huge correlation in gut health and skin health called the gut skin axis. Pre and probiotics can be very beneficial as part of a holistic approach to skin health.
If you have enjoyed the content we shared with you today feel free to share on your social media. The more we can educate and help the better.
Don't forget to order your products by clicking the button.
Here's to happy, healthy skin!
Thanks for reading!
Follow us on Twitter, Facebook, and Pinterest to stay in the know!
PAID ENDORSEMENT DISCLOSURE: As a staff of licensed aestheticians we review products based on their merit based on our professional expertise. This is not a replacement for your own skin therapist's advice for your skin or any medical claim or endorsement. We encourage you to seek medical care when appropriate. To support our website activities, we may receive monetary compensation or another form of recompense for our endorsement, recommendation, testimonials, and/or links to any products or services from this website as part of the Amazon Associate program or another Affiliate program. We Thank you in advance for your patronage.