15 Best Korean Sebum Balancing Toners for Oily-Acne Skin
If you suffer from acne, combination or oily skin then you'll want to see these best Korean toners for acne skin.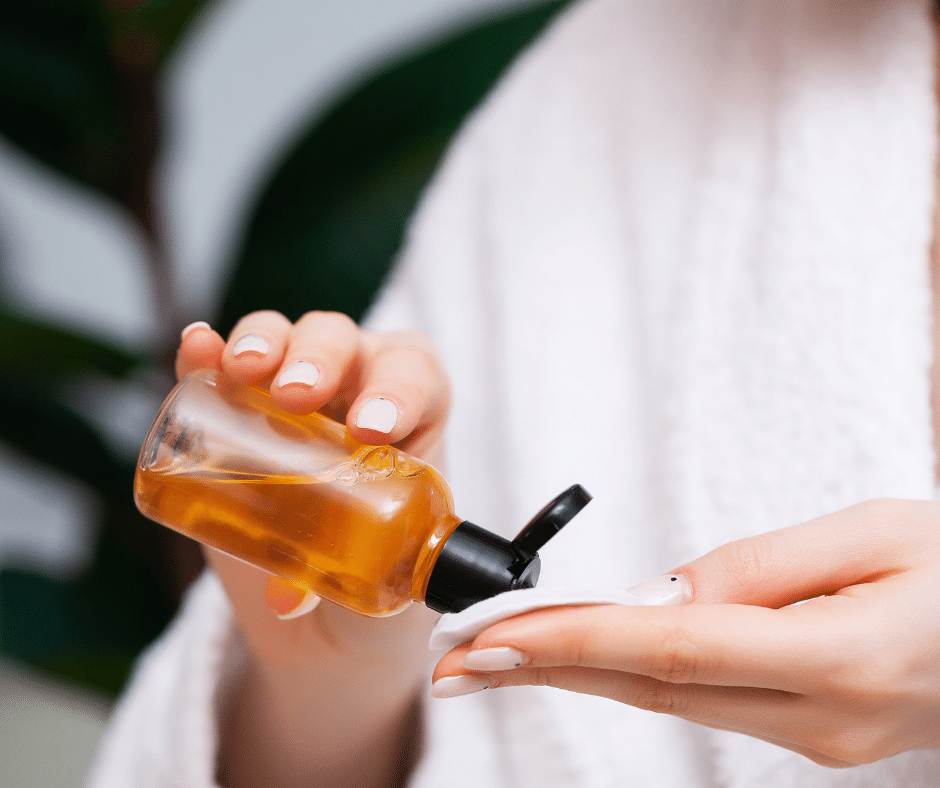 Our aestheticians may earn from this article through its affiliate links.

Toners are a key step in any skincare routine, but they're especially important for oily and acne-prone skin. Not all toners are created equal, however - some work better than others at balancing sebum production and keeping pores clear. If you're looking for the best Korean sebum-balancing toners for oily or acne-prone skin, read on! We'll recommend the best Korean toner options out there.

Why Korean Toners are Unique for Acne Prone Skin
Korean toners are known for their high quality and effectiveness, and many contain exfoliating or specialty ingredients that further improve the health of the skin. If you're looking for a Korean toner that will help to improve the look and feel of your skin, check out our top picks below.

Dead Skin Cells
Regular exfoliation is important for acne-prone skin as it helps to unclog the pores by shedding dead skin cells that can get lodged and trapped within the pores of the skin causing more acne. Using ingredients that both exfoliate dead skin cells while containing antibacterial, antimicrobial properties can further help with acne. Many of the products we selected help meet all of these functions.
Hyaluronic Acid
It's also important to remember to keep hyaluronic acid in acne-prone skin to balance the skin's pH and help prevent drying out the skin. Dry skin that is acne prone becomes combination skin. It can also increase the likelihood of acne scarring and hyperpigmentation. Hyaluronic acid is a natural lubricating property that is already contained in your skin cells as well as your joints, and eyes. It's important to keep this ingredient, or one similar in your plan of action for treating acne.
When Should You Tone
You should tone every day after cleansing especially for acne, combination, and oily skin types. This helps to balance the pH of the skin and decreases breakouts in the long run. It will make your skin more healthy and less congested but it may take anywhere from a few days to a few weeks to see the difference. Slow and steady skincare always wins the race.

Sensitive Skin
It's worth noting that often acne-prone skin can also be considered sensitive skin types. This is in part due to the imbalance of the pH and your skin trying to rebalance itself. If you have an acne skin type and want to avoid becoming a sensitive skin type look for a treatment toner that isn't harsh. Use gentle exfoliants for the skin to remove dead skin cells. Enzymes work well. For oily skin remember not to over-treat with aggressive, harsh chemicals that remove all of the oil from your skin as this can create skin irritation.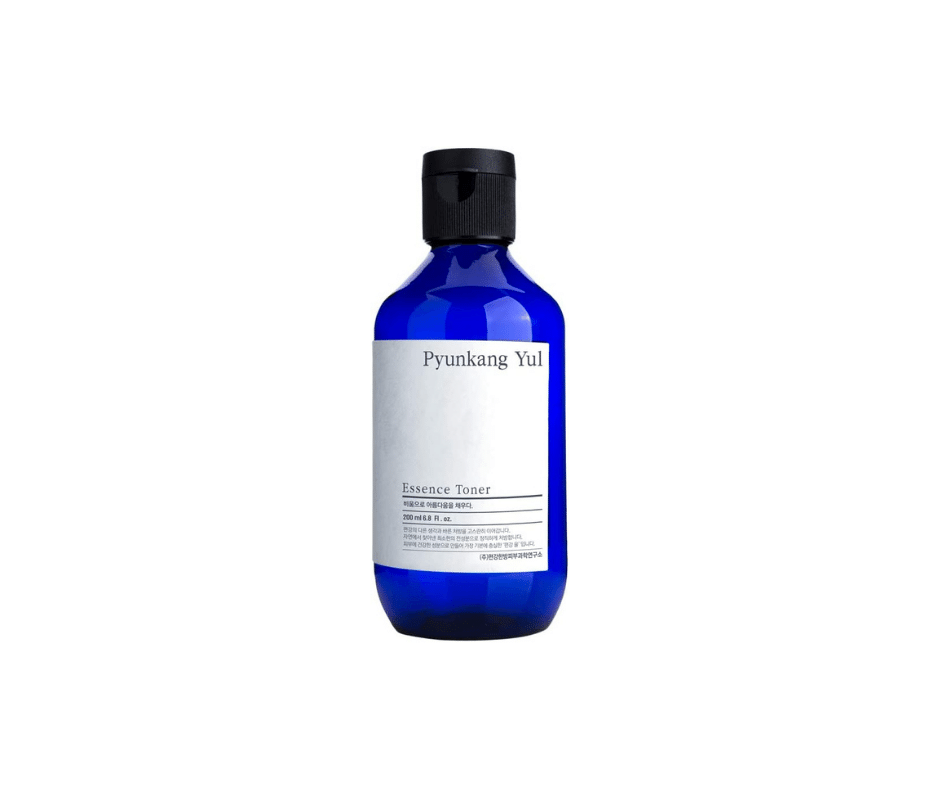 The toner is formulated without any harmful substances and provides remarkable Soothing & Moisturizing properties. It balances skin PH, hydrates the face in a way that's incredibly helpful for all skin types, AND leaves your delicate facial area soothed while also moisturized! The product can be used comfortably by all types of skins - the combination or dry/oily depending on what you're looking for from it (a soothing alternative).

This Korean toner is calming and moisturizing facial toner from Pyunkang Yul Eastern Medicine Clinic is a product that has been specially formulated to give your skin the best possible treatment. Along with their know-how recipe for treating skin diseases, this specialized clinic also offers effective Soothing & Moisturizing properties as it balances pH levels while hydrating cells; reducing acne without causing irritation or breakouts on sensitive skin - all in one handy bottle!

Star Ingredients: Astragalus, Isoflavinoids, Arginine
Great for oily skin, combination skin, acne prone skin!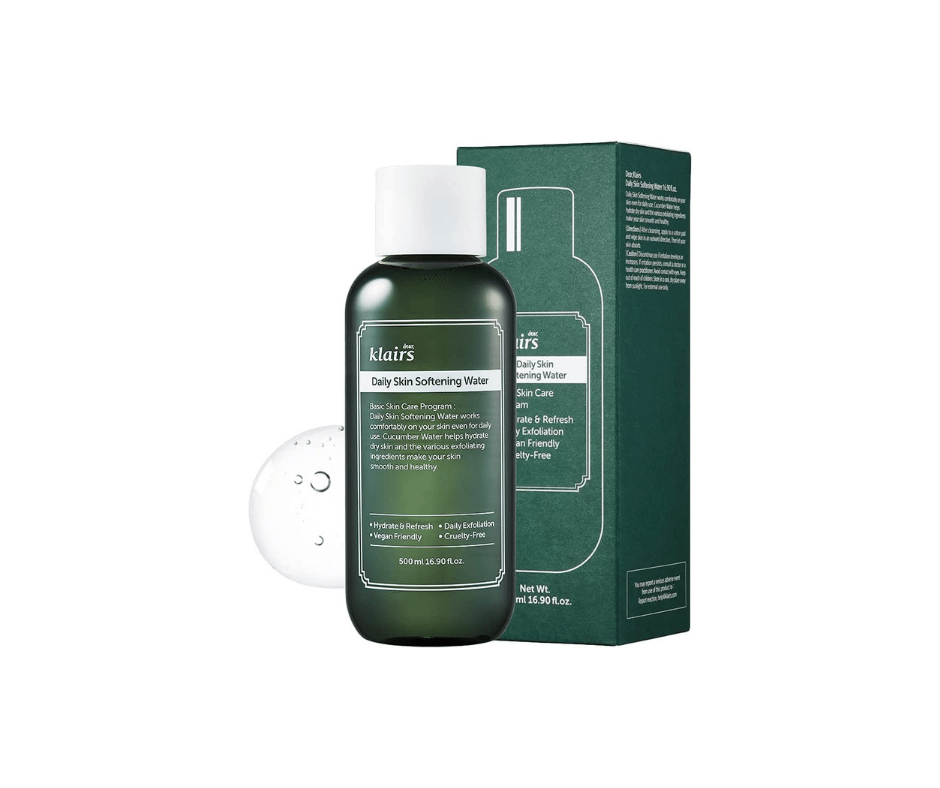 Toner is a crucial step in your skincare routine, and this one delivers! It has sugarcane extract for an intense natural exfoliation that removes dead skin cells without irritating sensitive, acne skin. The low-irritability toner also contains 45% cucumber water to keep you feeling fresh - so refreshing!!
Especially helpful for gentle dead skin cell exfoliation and for mild acne-prone skin types.
Star Ingredients: Cucumber, Betaine, Sugarcane Extract, Apple Fruit Water

COSRX's AHA/BHA Clarifying Treatment Toner for acne-prone skin is a refreshing mist that soothes, refreshes, and softens your skin while improving your skin tone. It maintains the optimal pH level of 5.5 for a healthy-looking complexion by keeping it hydrated without adding any harsh chemicals or treatments like most toners on the market today do - which can sometimes irritate sensitive skin!

The mild exfoliation properties will give you an even tone in just 1 use thanks to its natural ingredients such as apricot seed extract (Prunus Armeniaca), soybean flour isolate & rice powder; these simple yet effective substances work wonders when applied topically.

Star Ingredients; AHA/BHA, Glycolic Acid, Betaine Salicylate, Willow Bark Water, Apple Fruit Water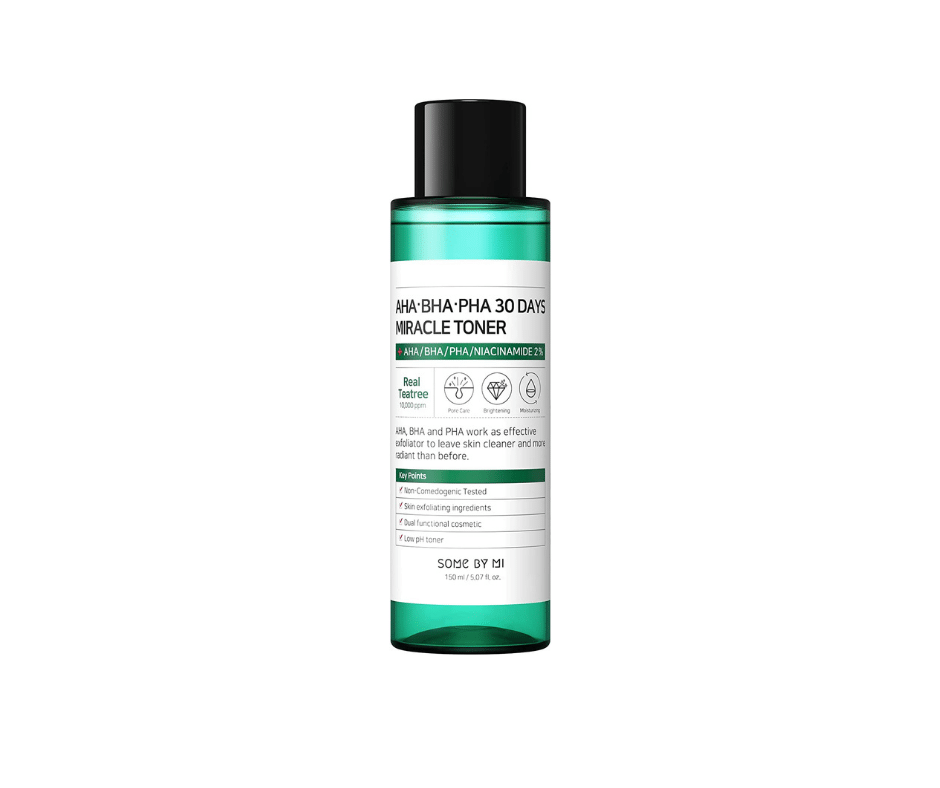 This Korean toner for acne will rescue your skin from irritation without any side effects! It contains 10,000 ppm of tea tree leaf extract and shrinks pore size for a smoother complexion. Improves skin tone and skin texture. The sub-acidic product with 5.5 pH is similar in type to the natural acidity found on human skin cells which makes this an excellent tool against breakouts caused by bacteria or clogged pores. Remove dead skin cells, and oily skin and improves fine lines and wrinkles, and improve skin tone. This Korean toner for acne-prone skin is highly rated.

Star Ingredients: AHA, BHA, PHA, Tea Tree Leaf Water, Niacinamide, Papaya Fruit, Peppermint Oil, Lotus Flower, Adenosine, Salicylic Acid, Hyaluronic Acid-in Sodium hyaluronate form, Lactobacilic Acid, Raspberry Ketone

Great for P. acne, uneven skin tone, mature oily skin!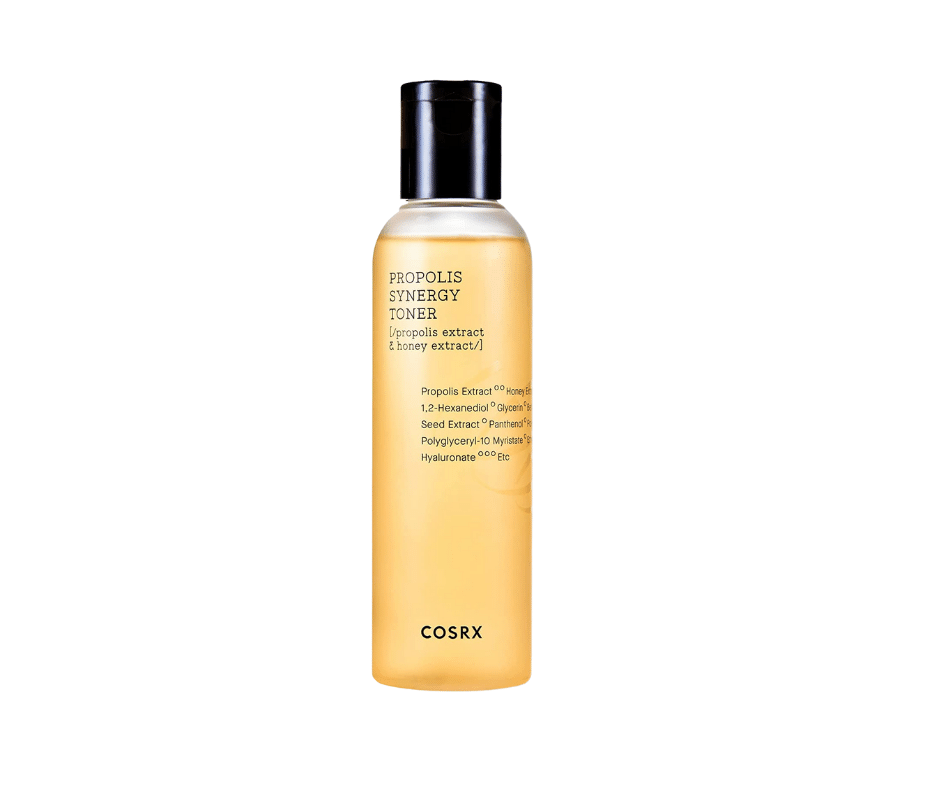 What's better than a skin toner? The Full Fit Propolis Synergy Toner. It's formulated to soothe and moisturize your delicate, dry patches of skin with its golden liquid consistency that feels great on tight or sensitive skin. This antiaging elixir contains 72% propolis extract along with 10% honey, to attract moisture back to the surface of the skin. Perfect for use before applying any other products; plus it has some added benefits too like soothing dead skin cells away while balancing out oil production. Propolis is full of B vitamins to recharge the energy of the cells. Made with a form of hyaluronic acid to keep skin hydrated with skin-friendly ingredients we lose as we age.

Star Ingredients: Propolis extract, honey, B vitamins, Betaine, Hyaluronic Acid

Great for mature, oily skin type! Not recommended for anyone with bee allergies or sensitivities.
Cica (aka Centella Asiatica) heals irritated skin by soothing and rebuilding the barrier, making it stronger. Purslane extract further calms your face while fig fruit juice helps fight free radicals! This treatment toner treats so many skin concerns.

HYDRATE+PROTECT: The circa misting toner is great for all types of skin including dry or oily combinations and acne that is irritated or inflamed. Alcohol-free formula!

Star Ingredients: Centella Asiatica aka-Cica, Fig fruit, Purslane-contains vitamins A,C, E; Lavender Oil

Great for active acne or inflamed acne, and all skin types!
The perfect way to say goodbye all the impurities while soothing your skin and revealing a healthy glow. This product is an Alcohol-free toner in a mist bottle formulated for sensitive skin, so it won't strip away moisture or make you feel uncomfortable at first use! Key ingredient: Centella Asiatica extract water has been known as "the healing herb" because of its many repairing qualities - now COSRX's standards assure this same quality with every single one their products by using only natural ingredients including organic whenever possible.
Star Ingredients: Cica leaf, Mineral Water, Betaine, Allantoin, Hyaluronic Acid in the form of sodium hyaluronate
Great for sensitive acne skin.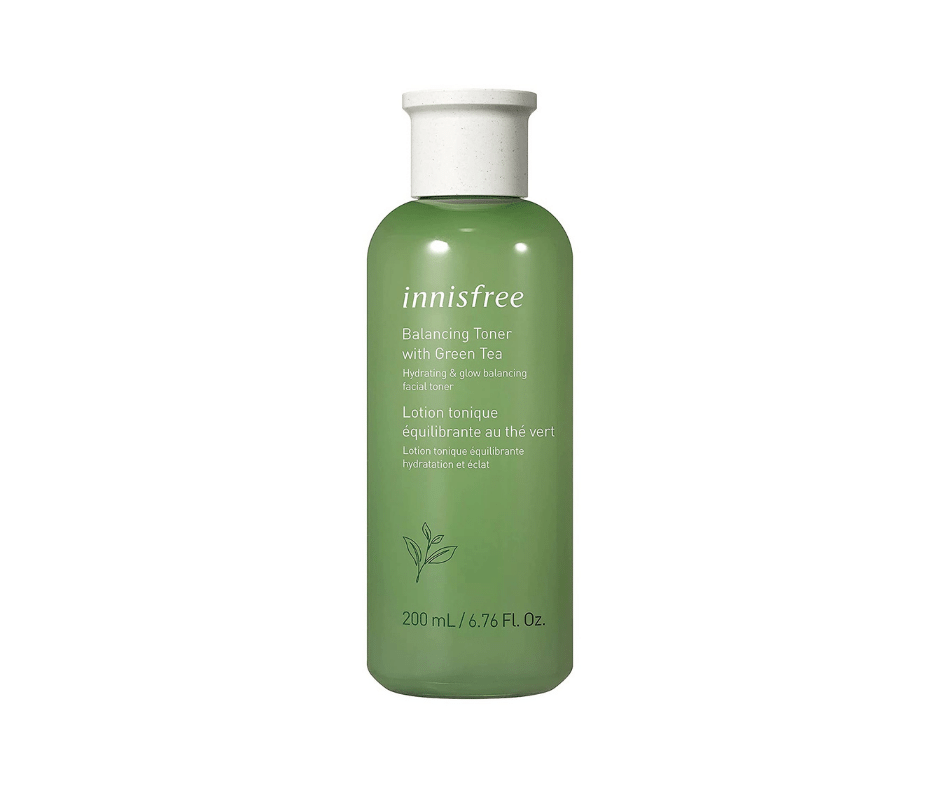 This refreshing watery-gel toner from Jeju Green Tea is perfect for oily or combination skin. It helps balance the skin's moisture levels, and replenishes it by removing any excess oils on your face!

Jeju plant green tea and betaine, rich in amino acids, and antioxidants and help replenish and balance the oils and hydration of the skin. Rich in antioxidants that are anti-inflammatory and help skin irritation and protection from environmental factors.

Star Ingredients: Jeju Green Tea, Betaine, AHA-citric acid, Camelia Sinensis Leaf, and oil
Great for acne prone, combination and oil skin types!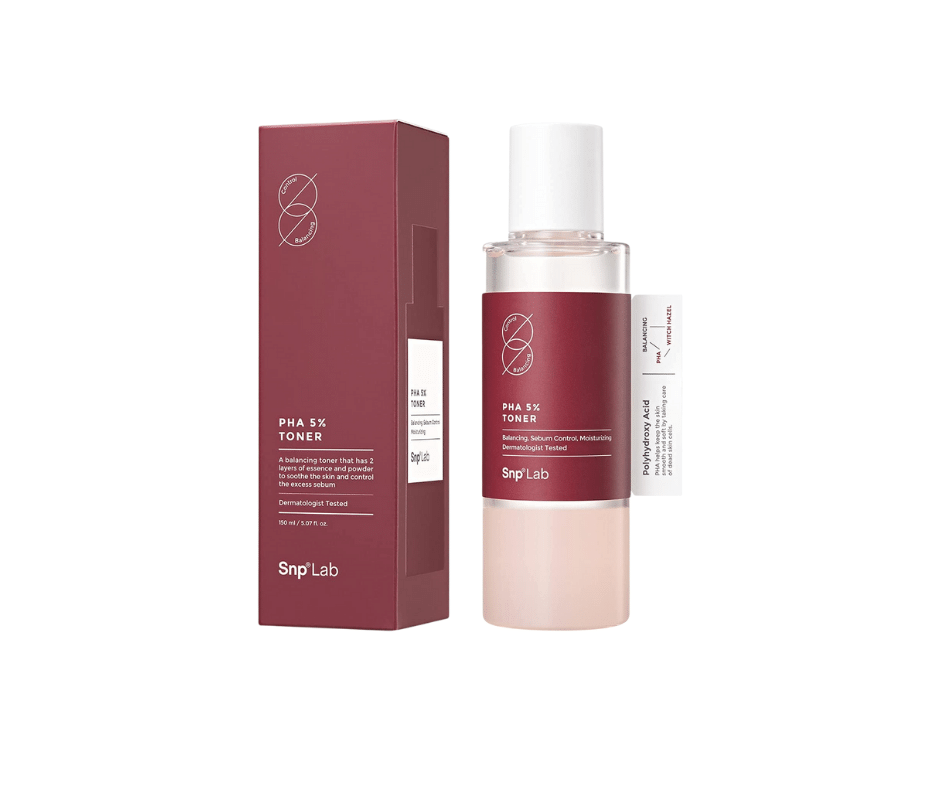 The Ultimate Trouble Skin Eliminator is a 3-in1 formula is designed to tackle any problem skin issues you might have. The powder in the lower layer helps control oil and sebum production, preventing your face from being greasy or slippery; water from above moisturizes while also soothing soreness caused by irritated pores after removing dead cells on contact with harsh cleansers such as soap (or other detergents). Finally, there's PHA+AHA. This toner for acne-prone skin helps skin texture.

Problem skin?- This combination of 3 effective ingredients gently removes dead skin cells and residue,  maximizing your troubled skin. This oil control formula helps prevent greasiness while moisturizing water soothes irritated skin, all thanks to its LHA compound which hydrates your face like never before!

The Polyhydroxy Acid (PHA) 5%, Capryloyl Salicylic Acid

Sustainable and clean - All Snp lab products have been formulated with 100% best vegan ingredients that are best for your skin and environment, and our friendly animals. They're Dermatologist tested, Cruelty-free, PETA-certified, Parabens free, Sulfates free, and Phthalate free.

Star Ingredients: AHA, BHA, PHA, Witch hazel extract, salicylic acid, LHA-calamine

Great for exfoliating dead skin cells, acne-prone skin, and oily skin types.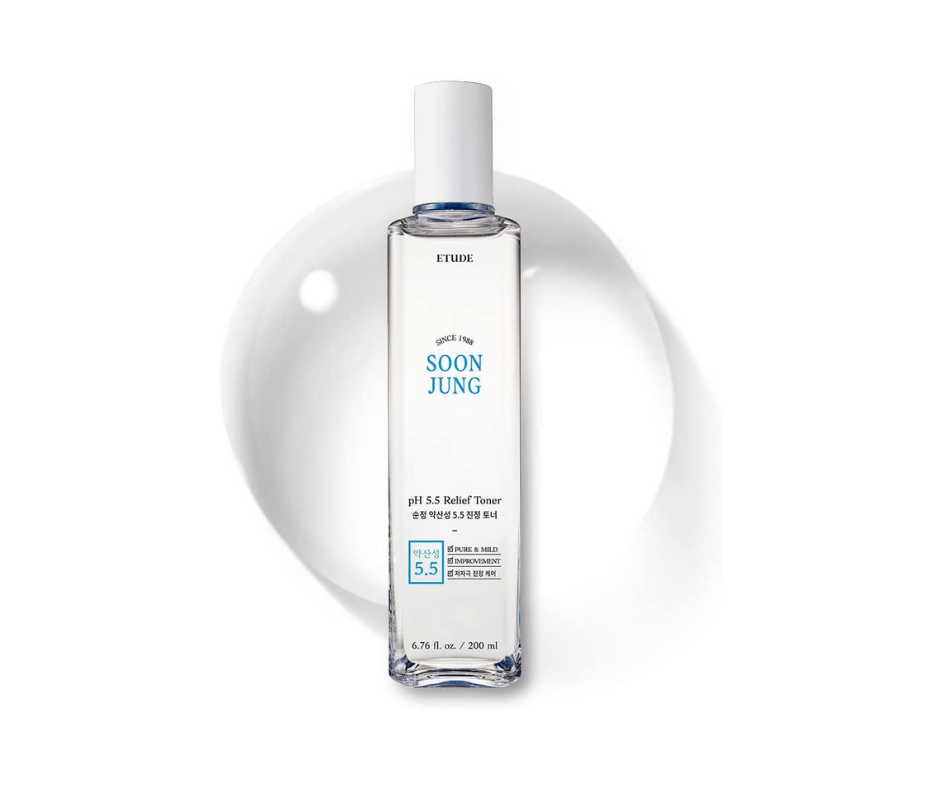 The special cooling effect will leave even the most stressed out feeling refreshed without any worries about dryness since there aren't any pesky chemicals wreaking havoc on your skin.
Rest easy knowing that this product is free of animal materials, mineral oil, color additives, surfactants, and parabens or synthetic perfume. And it's formulated at an ideal pH level for your skin with calming ingredients like aloe vera gel — perfect if you're sensitive to irritants like fragrances!
The SoonJung brand has created a line of hypoallergenic products and ran tests on the skin to verify its non-comedogenic formula.
The new product is formulated without any harmful chemicals which will dry out your sensitive area even further due to an alkaline pH balance; this means you can enjoy our fragrance-free items while still getting all the moisture needed from other ingredients.
Star Ingredients: Panthensoside
Panthenol Protects skin barrier and helps maintain hydration.
Madecassoside helps care for sensitive, damaged skin.
Great for sensitive acne prone or combination skin.
Pyunkang Yul is the best place to get your skin feeling refreshed and calm. Along with its know-how recipe of 50 years, they offer a toner that helps soothe angry or sensitive skin without any harmful ingredients!
Using white willow bark, PHA and AHA to gently exfoliate the skin and calming ingredients with a low pH. Dermatologically tested and all ingredients meet EWG safety grade. Non-comedogenic with pore tightening, sebum control, improves skin texture oil balancing.
Star Ingredients: White Willow Bark, AHA, PHA, 5 Hyaluronic Acids, Panthenol, Centella Asiatica, Tea Tree, Lonicera
Great for cystic acne! Teenagers, adults, oily sensitive, acne skin types.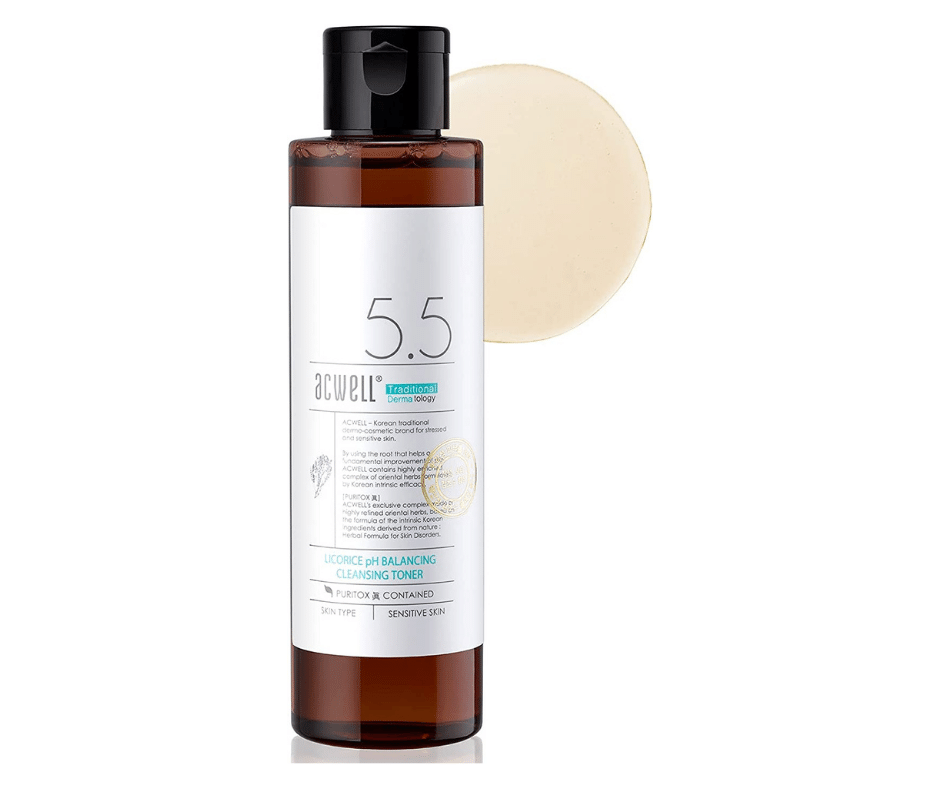 This gentle toner will not strip your skin of its oil, but it does have a Willow herb extract that helps reduce hyperpigmentation and acne scarring. The Licorice root extracts and amino acids in this product work together to create the perfect canvas for makeup application as well as leaving you with moisturized pore-tightening, more even-toned, beautiful skin all day long! Acne-prone skin, oily skin, and those with uneven skin texture and skin tone can be helped.

Star Ingredients: (Licorice)Root Water, Psidium Guajava Leaf Extract, Rosa Hybrid Flower Extract, Camellia Sinensis Leaf Extract, Green tea, rose flower, peony flower, bergamot oil

Great for mature skin, those with acne scarring, or uneven complexion.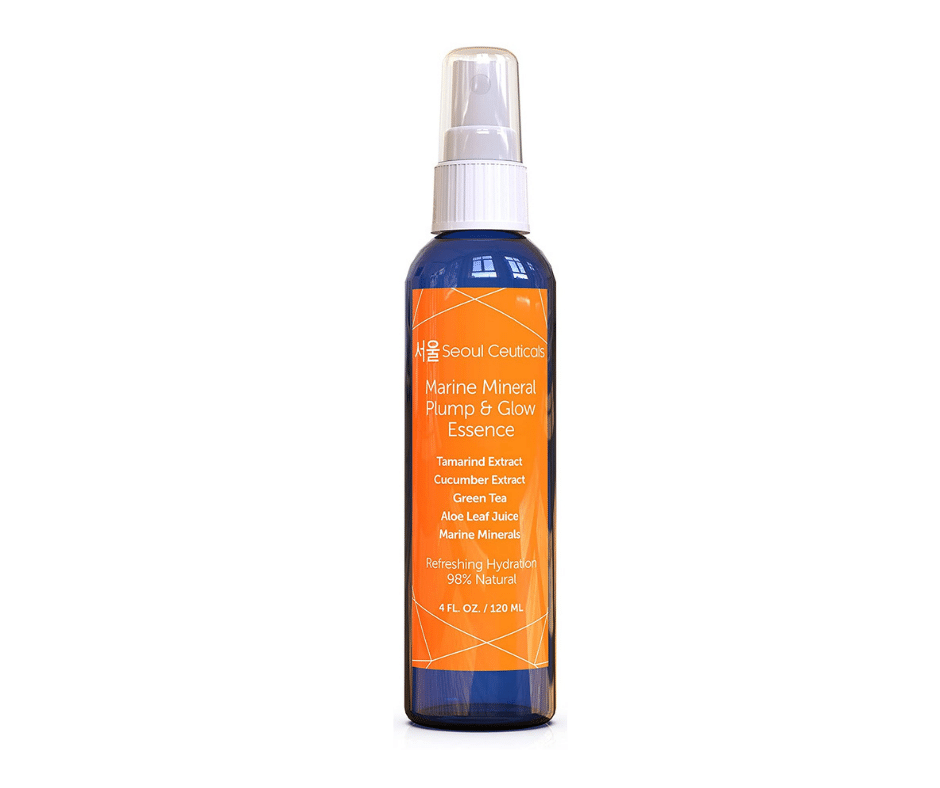 This Korean Skin Care Essence contains marine minerals, organic aloe, and tamarind extracts for brighter healthier youthful skin. Their promise to you: This extremely effective anti-wrinkle essence is guaranteed to rejuvenate and replenish smooth fine lines and wrinkles while helping even out skin discoloration as well as hydrate dry or combination skin leaving it supple dewy glow or your money back! You'll see results in just 3 weeks when used daily.
Star Ingredients: Cucumber extract, Aloe Vera, Marine minerals
Great for mature, dry, or combination skin types!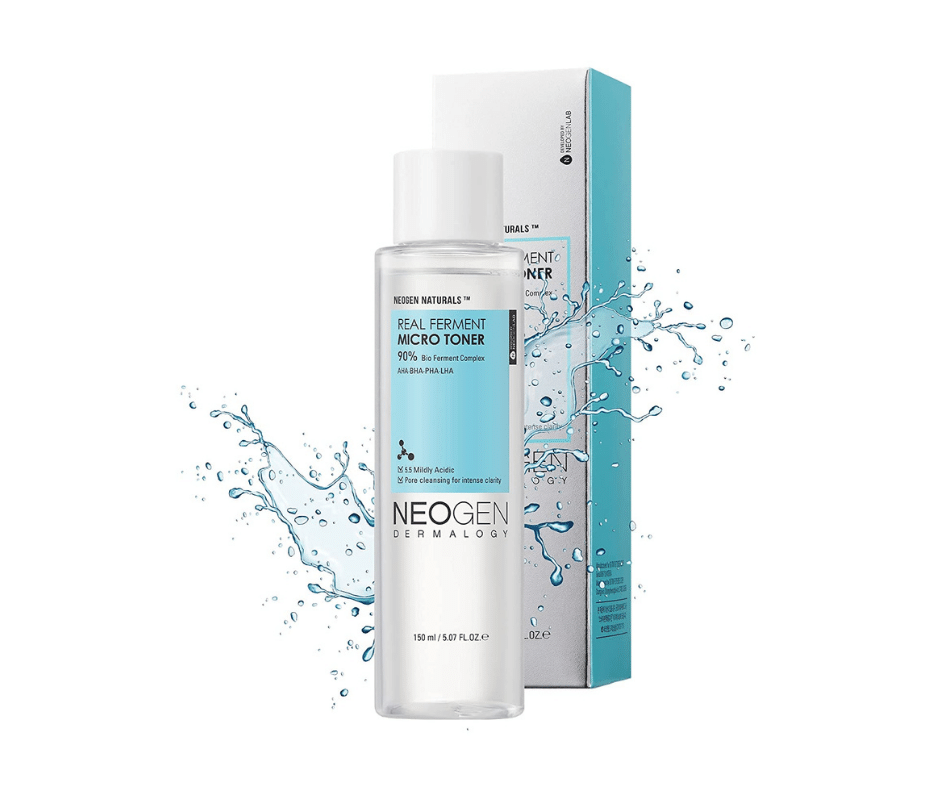 This new Neogen Dermalogy Real Ferment Micro Toner has a  pH 5 Skin Acidity Formula is the first step in a moisturizing and soothing cleansing toner that contains a 90% Bio Ferment Complex, which wakes up the natural power of your skin. This product also has 4 exfoliating ingredients- AHA, BHA, PHA, and LHA ingredients thoroughly cleanse away dead skin cells, pore impurities, and makeup residue! to remove unnecessary dead cells from the surface while cleaning any remaining pore impurities as well!
Star Ingredients: AHA, BHA, PHA, LHA, triple hyaluronic acid, allantoin, vitamin B5, bio ferment complex, birch juice, bifida lysate, yeast lysate, rice fermentation filtrate
Great or acne, oily skin types!
For more information from Dermalogy click here.
Watch this video.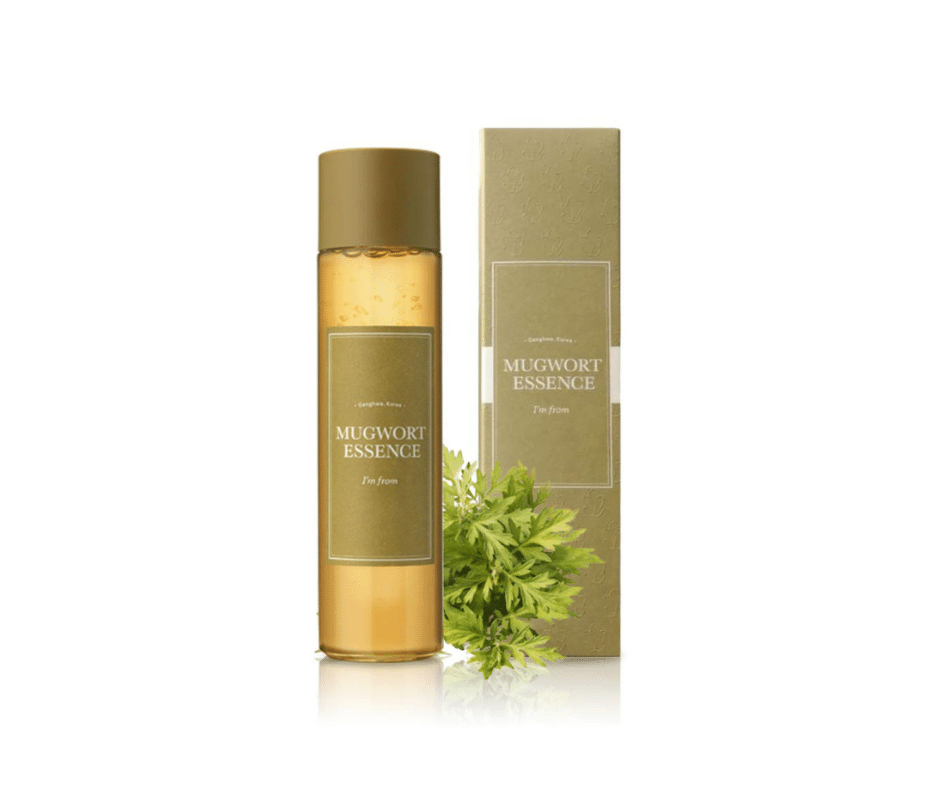 The I'm From Mugwort essence is an effective way to soothe irritated skin. Made up primarily of mugwort extract, the soft and thin texture quickly cleanses sensitive areas while it calmly heals all types of problems including acne breakouts or eczema flare-ups!

This natural herb has been widely used as a treatment in Korea because people trust its healing properties- especially when applied on problem areas like inflamed acne spots around your face where there are often red patches due to inflammation caused by stressors such as UV rays (which can lead us into more serious health issues). Rich in calming properties from ancient herbs, full of antioxidants to fight environmental stressors.
Star Ingredients: Mugwort-called tea tree in Korea, rich in vitamins and minerals, tannin, non comedogenic
Recommended for angry,  irritated skin, exhausted skin rough, red, uneven skin. Sensitive oily skin types. Angry irritated acne will find this helpful!
It's Extensive, We Know
Korean toners are a fantastic way to go if you're looking for something to improve your skin's appearance, acne, oiliness, and overall skin health! Check out some of our favorite products above that'll have your skin feeling better and looking better in no time.
Best Korean Toners for Acne, Oily, Combination Skin
If you have acne-prone, oily, or combination skin and are looking for a new toner, the Korean beauty products on the market today offer some great options. We've shared our top picks for the best Korean toners for acne-prone skin. So don't wait – start browsing and see which one works best for you! Check out this article for more K-beauty products.

If you enjoyed this article share it on Facebook or your friends and family! Follow us on GottaGuide.com, Twitter, Facebook, and Pinterest, Quora for our latest articles on all things skincare and beauty. When you follow us on Quora we have an open platform to ask your beauty and skincare questions.
PAID ENDORSEMENT DISCLOSURE: As a staff of licensed aestheticians we review products based on their merit about our professional expertise. This is not a replacement for your own skin therapist's advice for your skin or any medical claim or endorsement. We encourage you to seek medical care when appropriate. To support our website activities, we may receive monetary compensation or another form of recompense for our endorsement, recommendation, testimonials, and/or links to any products or services from this website.