Eye Opening Superstar Wrinkle Warrior® Eye Gel from Kate Somerville
An eye gel packed with so many active ingredients to heal and repair the skin and diminish puffy eyes from Kate Somerville-Wrinkle Warrior!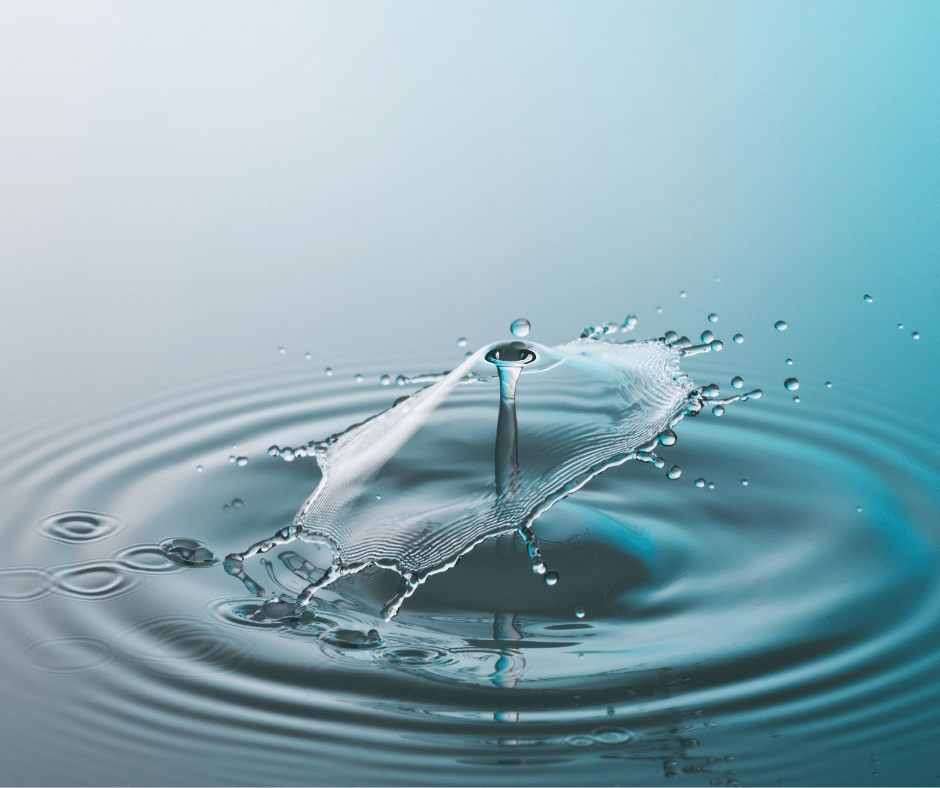 We all know the telltale signs of a late night: dark circles, puffy eyes, and fine lines galore. But just because you stayed up a little too late watching Bridgerton doesn't mean you have to look like it. Enter: Kate Somerville Kate's Wrinkle Warrior® Eye Gel. This powerful, yet lightweight gel visibly reduces dark circles, lines, wrinkles, and under-eye puffiness for a hydrated and refreshed look. Keep reading to find out more about this game-changing product!
How It Works
The Kate Somerville Wrinkle Warrior® Eye Gel is formulated with a potent blend of ingredients that work together to combat the three main concerns for the eye area: dark circles, fine lines, and wrinkles, and under-eye puffiness. The gel is quickly absorbed by the skin to plump and hydrate the eye area, while also firming and improving elasticity. With continued use, you can expect to see a visible reduction in the appearance of crow's feet, wrinkles, and under-eye puffiness with eyes that show a hydrated look. In independent clinical study revealed this lightweight eye gel had great success in reducing under eye bags with ingredients like hydrolyzed hyaluronic acid.
We may receive a small commission for use of the links as a paid affiliate at no cost to you.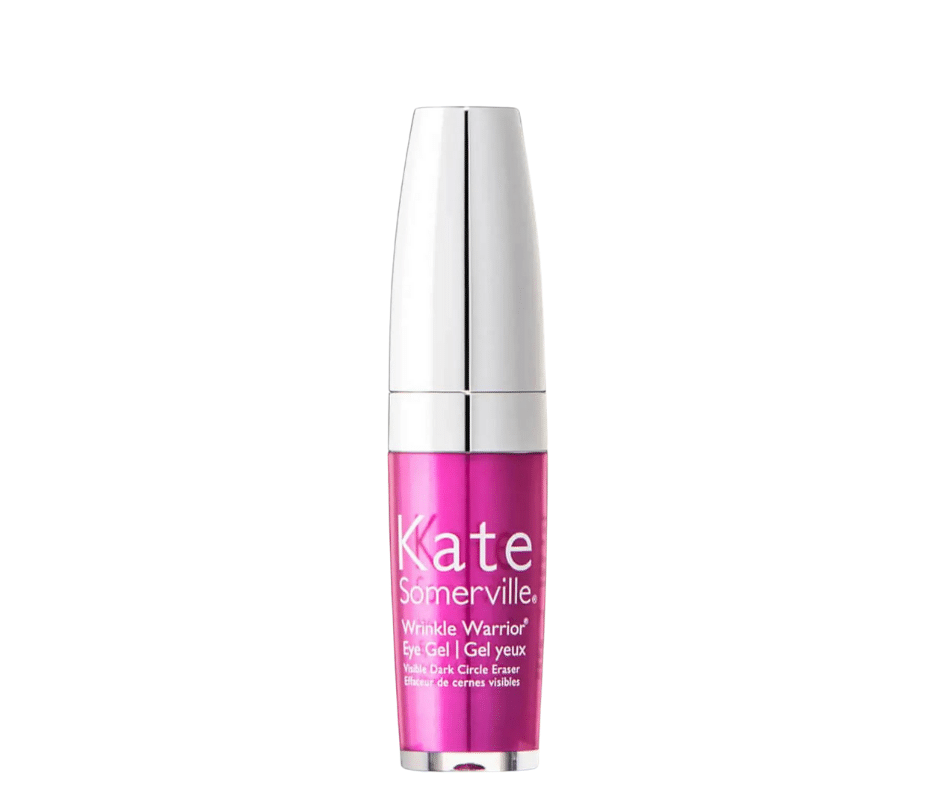 Key Ingredients
The star ingredients in Kate's Wrinkle Warrior® eye gel are many. The first star ingredients use different sizes of hyaluronic acid, which acts like a sponge binding moisture to the skin while plumping and keeping the skin hydrated. This provides a visible reduction in the appearance of crow's feet, fine lines, and wrinkles while also visibly reduces dark circles. Great if you've had a late night out or simply had a dreadful night of sleep. The visible dark circle eraser works quickly to absorb product to keep skin hydration levels high.
Yeast and Plankton Extracts help fade dark circles with this lightweight eye cream.
A botanical blend of White Lupine and Alfalfa helps to constrict blood vessels and visibly reduce the appearance of dark circles. Irish Moss helps to stimulate collagen production and reduce the appearance of fine lines and wrinkles.
Adenosine helps the natural wound healing benefits of the skin and is considered a star ingredient in fighting aging in the skin. It is one part of our nucleotides that act as one of our building blocks for DNA. Considered an integral part of our ATP (cellular energy production). Adenosine is considered effective in helping with the treatment of aging especially wrinkles and is necessary for the fibroblasts to produce collagen synthesis as well as moisture of the skin. Another benefit of adenosine is that it is an anti-inflammatory, necessary for puffy eyes.
Additionally, the copper peptide in this formula is excellent in wound healing and repair as has been clinically documented for its positive effects on the skin for decades. This copper peptide appears to re-energize the cells through a triggering process that enables the cells to produce collagen and elastin. Both show improvements in the appearance of deep wrinkles and improvement in skin firmness, particularly helpful for those who have a loss of elasticity and firmness in their skin.
Who Should Use It?
This product is suitable for all skin types and can be used both morning and night. If you have sensitive skin, we recommend doing a patch test on your forearm before applying it around your eyes.
How to Apply
For Kate's Wrinkle Warrior® eye gel simply use your ring finger to gently dab the eye cream. Gently pat small circular motions as this lightweight formula absorbs quickly leaving behind many skin care concerns.
The Results
Don't just take our word for it - this eye gel has some seriously impressive results.
A consumer study of 100 women conducted after just one use:
100% showed improvement in skin hydration
97% showed improvement in the appearance of skin firmness/tightness
A consumer study of 100 women conducted after four weeks of use:
90% reported a visible reduction in under-eye puffiness
100% showed improvement in the appearance of crow's feet and wrinkles
Clinically Proven Results* *Results based on an independent Clinical Study
If you're looking for an effective way to reduce the appearance of dark circles, fine lines, and wrinkles around your eyes, and see a hydrated look, Wrinkle Warrior Eye Gel from Kate Somerville is a great option. Made with 3 types of hyaluronic acid, copper peptides, adenosine, and plankton extract aka Irish Moss extract - this lightweight eye gel can visibly diminish the signs of aging and fatigue for refreshed-and younger looking eyes. Plus, it's suitable for all skin types! Give Wrinkle Warrior Eye Serum a try today and see the results for yourself!
Kate Somerville Wrinkle Warrior Duo
If you are interested in anti-aging you'll also want to try Kate's Wrinkle Warrior® Duo. This duo set contains the eye gel that visibly reduces dark circles and the Kate's Wrinkle Warrior® Plumping Moisturizing Serum for a Hollywood Treatment. This limited-time deal saves you $48 if purchased separately. A bargain at this price.
This Kate Somerville Wrinkle Warrior due delivers the eye gel that reduces dark circles and crow's feet and the highly regarded plumping moisturizer is a Limited Time Exclusive Bundle
4.7 out of 5 Customer Rating
A $174 value. Diminish the appearance of lines, wrinkles, dryness, and dullness with Kate's Wrinkle Warrior® duo featuring her super hydrating serum and moisturizer duo makeup primer with her multi-tasking eye gel. Formulated with Hyaluronic Acid, the #1 ingredient for hydrating skin, you'll see visibly smoother, plumper, dewy-looking skin instantly and over time.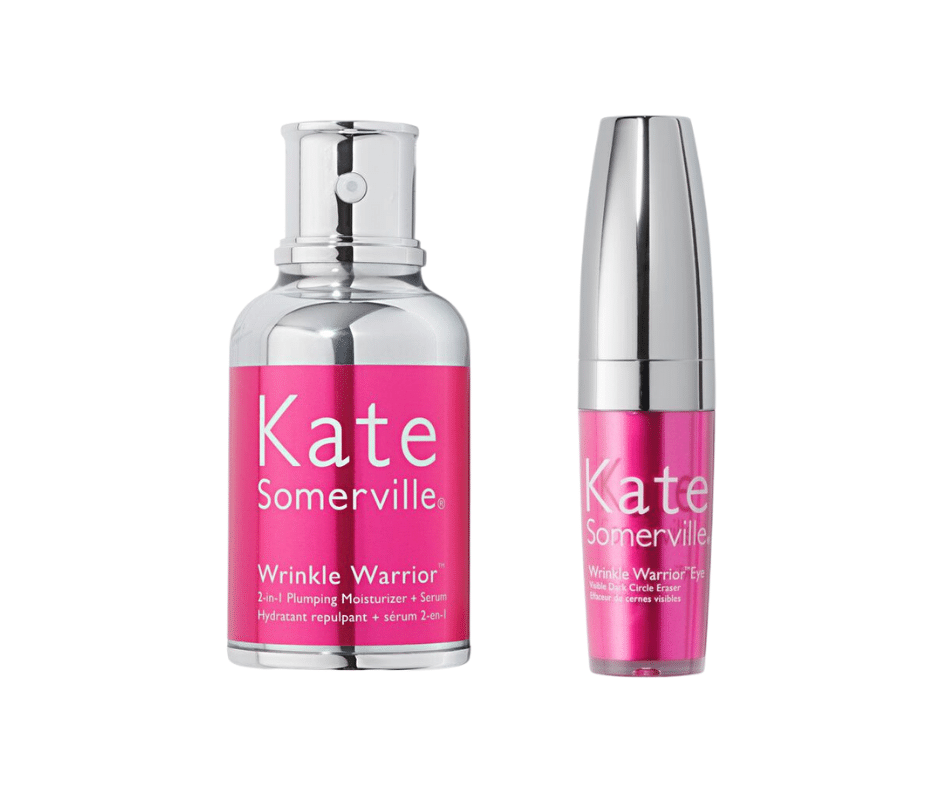 This specially formulated serum visibly plumps dehydrated skin texture revealing, plump and dewy skin that is perfectly primed for your makeup application. Simply gently pat small amounts of serum to the face and puffy eyes with this botanical blend of hydrating goodness. Hydrolyzed hyaluronic acid deeply restores balance to skin elasticity in this wrinkle warrior duo set.
Kate Somerville's wrinkle warrior eye gel goes right to work plumping the delicate eye area while the plumping moisturizer serum rapidly plumps dehydrated facial skin. Visibly erase wrinkles and puffy eyes botanical blend with hydrolyzed lupine protein and sodium hyaluronate and plankton extract to firm and combat puffy eyes as well as other skincare concerns. Safe to use twice a day and see this anti-aging superstar deliver results. Kate Somerville has numerous star ingredient products you can check out for healthy skin.
This gentle formulation is made for every skin type even sensitive skin. Order your duo set today and experience the results so many other women have reported. Take advantage of this special price while you still can.
Follow us on GottaGuide.com, Twitter, Facebook, and Pinterest, Quora for our latest articles on all things skincare and beauty. When you follow us on Quora we have an open platform to ask your beauty and skincare questions.
PAID ENDORSEMENT DISCLOSURE: As a staff of licensed aestheticians we review products based on their merit and our professional expertise. This is not a replacement for your own skin therapist's advice for your skin or any medical claim or endorsement. We encourage you to seek medical care when appropriate. To support our website activities, we may receive monetary compensation or another form of recompense for our endorsement, recommendation, testimonials, and/or links to any products or services from this website as an Amazon Associate or other affililiate program.