The ONE Makeup for Sensitive Eyes Review You Need To Read!
Sensitive eyes is no laughing matter. If you have itchy, watery eyes where do you turn? Need makeup that you can safely use? Learn more now!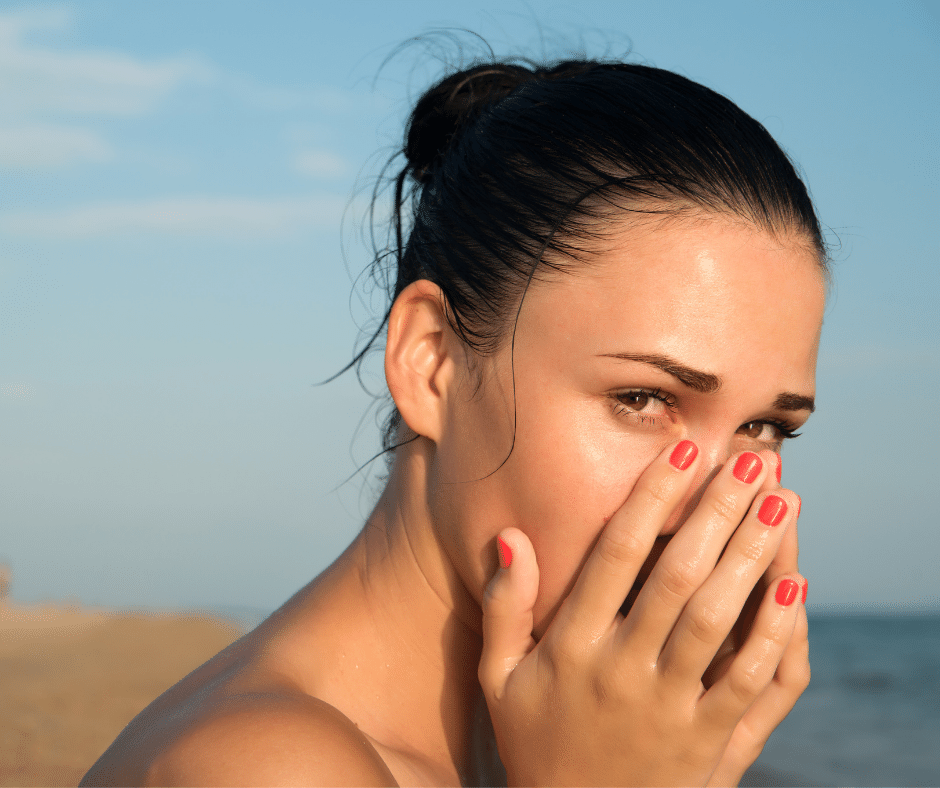 Looking for a review to find out which eye makeup works best for sensitive eyes?  I have sensitive eyes, so I know how frustrating it is to find makeup that doesn't irritate my eyes or skin. In this review, I'm going to break down exactly what you need to look for, and then you can decide for yourself. If this sounds good, keep reading along.
Summary
Rather than providing tons of products that are not our favorites and wasting both your time and ours, we thought we'd summarize our favorite eye products for sensitive eyes. Keep reading to find out who made our esthetician's top picks and why.
Rimmel London Kind and Free- Best Mascara
Physicians Formula Eye Definer- Best Eyeliner
Julep Eyeshadow Creme to Powder- Best Eyeshadow Creme
Honeybee Gardens 'Skinny Dip' Refillable Eye Shadow Palette- Best Eyeshadow
Sensibio Micellar Water - Best Micellar Water for Makeup Removal
What I liked, actually loved about this one. I personally use and love this one. I love that it has biotin to naturally nourish my lashes. It is not overly thick and drying to the lashes. My eyes don't water and get red and itchy and when I wear this formula.
What could use improvement for those that want something with more volume this might not be enough for them.
Visit the Rimmel London Store at Amazon for more clean beauty product selections.
What I like is this eyeliner from Physician's Formula is formulated for sensitive skin and eyes. Hypoallergenic, dermatologist approved, and safe for contact lens wearers. This is a great staple eyeliner. It provides solid coverage without the irritation that many eyeliners can give.
What could be improved is that the color is not super black like a liquid, ink or heavier eyeliner but I did find it worked better on my delicate, sensitive eyes than other brands I have tried.
Visit the Physicians Formula Store on Amazon for more product selections.
Julep Eyeshadow Creme to Powder
What I like about this is it's a very rich, decadent creme eyeshadow. It goes on smooth without pulling and dries like a true eyeliner. Formulated with Vitamin C & E to nourish the skin.
What could be improved is to make this  free of some of the mica and other ingredients that ultra sensitive eyes might find too irritating. For those with extra sensitive eyes this might be on the heavy side. My sensitive eyes are ok and most will also be. It does contain mica so if you have any issues with mica you may want to avoid this one.
Visit the Julep Store on Amazon for more product selections.
HoneyBee Gardens 'Skinny Dip' Refillable Eye Shadow Palette
What I like is that this brand is super clean. Vegan, Gluten Free,  Paraben Free, Cruelty Free. NO petroleum-based oils, alcohol, talc, fillers, fragrances, preservatives and chemical dyes; enriched with botanicals and vitamins. Colors are neutral.
What could be improved is a larger selection of colors to choose from.
Visit the HoneyBee Gardens Store for more clean beauty product selections.
Why I like it. This micellar water is the number one brand in Europe with good reason . It's clean and it does the job of makeup removal without irritating the skin.
What could be improved it is so gentle that you might have to use more than one cycle or you might need to use coconut oil first to remove stubborn makeup.
Visit the Bioderma Store on Amazon for more product selections.
Best Eye Makeup for Sensitive Eyelids
What Causes Sensitive Eyes?
There are a few different things that can cause sensitive eyes. One is simply genetics—if your parents or grandparents had sensitive eyes, chances are you will too. Another common cause is allergies. According to the American College of Allergy, Asthma & Immunology, as many as 30 percent of Americans suffer from allergic rhinitis (a condition that causes inflammation in the nose due to an allergy), and many of those people also experience allergic conjunctivitis, which is when the conjunctiva—the clear membrane that covers the front part of the eye—becomes inflamed due to an allergy.
Other potential causes of sensitive eyes include Dry eye disease, which is when the eyes don't produce enough tears. The medical term is Karatoconjuctivitis sicca, aka Dry Eye.
Types of Makeup for Sensitive Eyes
Beauty Products
If you have sensitive eyes, it's important to choose makeup carefully. The good news is that there are more options today than ever before for people with sensitive skin, including foundations, concealers, mascaras, eyeliners, and eyeshadows that are specifically designed for people with sensitive eyes. These products are usually fragrance-free and hypoallergenic and often contain soothing ingredients like chamomile or lavender.
Best eye makeup for you if you have sensitive eyes may be decided through trial and error.
Why Does All Makeup Irritate My Eyes
The reason that all makeup seems to irritate your eyes is because you are likely allergic to one or more of the ingredients in the makeup. Common allergy-causing ingredients in cosmetics include fragrance, preservatives, and other additives.
If you are allergic to one or more of these ingredients, then your body will produce IgE antibodies in response. These antibodies will bind to mast cells, which are special cells found in tissues throughout the body. When the IgE antibodies bind to the mast cells, they trigger a process called degranulation. This process releases histamine and other inflammatory chemicals that cause the symptoms of an allergic reaction, such as itching, redness, and swelling.
The best way to avoid this reaction is to look for eye makeup products that have been allergy tested and are free from some of the following ingredients, harsh chemicals, mineral oil, sodium lauryl sulfate and are fragrance free as these can often trigger a response.
Additionally, if you're looking for the right makeup and already know you have sensitive skin you will want to look for ophthalmologist makeup products. Chances are high that sensitive skin will also have sensitive eyes. Some people opt for reducing their eye makeup and going for a more natural look altogether. This is entirely up to you.
Is There Mascara For very Sensitive Eyes?
Makeup artists agree that using the best eye makeup for sensitive eyes will have some key performances. They suggest looking for long wearing eyeshadow and other long wearing formulas in makeup. They also suggest using natural ingredients as synthetic ingredients and  fragrances can increase skin reactivity especially with long term use. If you wear contacts you will also want to use makeup products designed for use for those that wear contact lenses.
How Do I Stop Eye Makeup From Irritating?
There are a few ways to stop eye makeup from irritating:
1. Use an eyelid primer before applying your eyeshadow. This will create a barrier between your eyelid and the eyeshadow, which will help to prevent any irritation.
2. Try using eye makeup that is specifically designed for sensitive eyes. These makeup products often contain natural ingredients with fewer harsh chemicals and are less likely to cause irritation.
3. Avoid using harsh, artificial makeup removers that can be very damaging to the delicate skin around your eyes. Instead, try using a gentle oil-based cleanser or micellar water to remove your eye makeup. Rose, lavender and coconut are generally safe for most sensitive eyes.
Eye Makeup
When it comes to sensitive eyes try to avoid placing makeup next to the tear film located by by the inner and outer eyelids. This protective layer helps the eyes stay moist. A study found that when eyeliner is placed inside the lash line 15-30% more particles entered the tear film within a matter of just minutes.
Avoid Makeup Coming in Direct Contact with the Eye
For really sensitive eyes avoid applying mascara to the root of your lashes. If you wear contacts these can trap particles from makeup into your lenses. Wear eyeliner on the outer part of your eyes never on the waterline.
Makeup Tips
Applying Makeup
Make sure your hands are clean before applying any makeup. Practicing good hygiene can help keep you from getting irritants and inflammatory responses from dirty hands and dirty fingernails. Fingernails are breeding grounds of bacteria. Wash before applying any makeup.
Clean Makeup Brushes
Makeup brushes can harbor bacteria and dirt which is especially irritant if you are already sensitive. Use water and mild baby wash to clean your makeup brushes at least once a week. Allow them to air dry upside down prior to use.
Discard Old, Expired Makeup
Throw out old mascara, eyeshadow and powder. All  makeup has a shelf life. Throw out your makeup when it has passed it's expiration. Mascara should be replaced every three months. If you are using makeup that is chunky throw it out. It's not worth getting an eye infection over. If you're not sure check with your manufacturer.
Keep Your Makeup out of the Bathroom
Every time the toilet flushes bacteria is flying around in the air and can coat what is around it. Keep your personal items including skincare out of the bathroom. Store them in a place out of high bacterial areas.
Eye Skin
The skin around your eyes is thinner than anywhere else on your body, except for your lips. Avoid products that force you to tug, pull and tear at the delicate skin around your eyes. This will irritate the eyes but can also damage your skin.
Makeup Remover
Use gentle cleansing products free of artificial fragrances, oils and sulfates. Micellar water like Sensibio
Eye Shadow Palette
When selecting an eyeshadow palette, it's important to consider your skin tone and eye color. For example, if you have light skin and blue eyes, you'll want to choose a palette with colors that will bring out the natural blues eyes pop.
Darker skin tones can wear brighter colors, while lighter skin tones should stick to more muted shades. Additionally, matte shadows are generally more forgiving than shimmery shadows, so if you're not sure which type of shadow to choose, go with matte.
When it comes to choosing a color scheme for your eyeshadow palette, it's best to opt for either cool or warm tones. Cool tones tend to be more muted shades of purple, green, and gray, while warm tones are typically more vibrant and include shades of pink, orange, and yellow.
For more dramatic eyes use darker shades to add vibrant colors.
Once you've considered your skin tone and eye color, it's time to decide which eyeshadow shades you want to include in your eyeshadow palette. A good rule of thumb is to choose three or four colors that coordinate well together.
For example, you might choose makeup shades that are light, medium, and dark shades in the same color family. Or, you could opt for a light shade, a medium shade, and a pop of color to add some interest.
Don't forget whether you like  cream eyeshadow or powder matte the best eyeshadow shades will be the ones you feel best wearing.
Once you've decided on the colors you want to include, it's time to start shopping!
Green Eyes
Unknown to many but lighter color eyes like green eyes and blue eyes actually have less pigment that protects them from the sun and UV radiation. If you have green eyes, hazel eyes or blue eyes chances are your eyes are more sensitive to light. This also makes them more prone to sensitivity to eye makeup.
Green eyes are the most rare color of eyes. They account for only 2% of the world's population for eye color. Green eyes are actually a genetic mutation that causes them to have lower levels of melanin, albeit a little more than blue eyes. In fact, if you have eyes like me that change color you have very little melanin pigment. Changes in light make lighter eyes look like they are changing color sort of like a chameleon.
Interesting fact, 16 genes are responsible for the color of our eyes. Despite what you've heard anyone could have a child with green eyes. In fact, green eyes can be found in every race of people but are primarily found in Ireland, Scotland and northern Europe.
So what eye makeup will compliment green eyes? This will depend on your skin tone and what the color wheel has to say. Want to make your green eyes stand out, use red undertones. Warm brown, pink and purple can really make green eyes that'll pop and stand out.
Using liquid eyeliner that can help your emerald eyes rich color can also help our green eyed beauties shine.
Eyeshadow Shades
Eyeshadow palettes should be chosen based on long wearing eyeshadow with natural ingredients. Using makeup shades with an intensely pigmented formula can create a rich, dramatic effect.  If you have hazel eyes you may want an eyeshadow palette that uses warm tones of browns or taupe to compliment your green eyes or hazel eyes. Whichever eyeshadow palette you choose be sure to select products with an easy to blend formula. This will help your sensitive eyes have less pulling and tugging which can cause irritation to the delicate eyelid.
Always use a makeup remover at night to avoid any potential reactions to your eyes. By using a makeup remover to cleanse your makeup away will help prevent potential reactions and eye irritations and infections and styes by constricting the oil glands in the eyes.
Best Eye Makeup
We hope you have found this article helpful and have found some useful information in selecting the right eye makeup for sensitive eyes.
Feel free to use any of the buy now buttons to order your products today!
Thanks for reading!
Follow us on Twitter, Facebook, and Pinterest to stay in the know!
PAID ENDORSEMENT DISCLOSURE: As a staff of licensed aestheticians we review products based on their merit based on our professional expertise. This is not a replacement for your own skin therapist's advice for your skin or any medical claim or endorsement. We encourage you to seek medical care when appropriate. To support our website activities, we may receive monetary compensation or another form of recompense for our endorsement, recommendation, testimonials, and/or links to any products or services from this website as part of the Amazon Associate program or another Affiliate program. We Thank you in advance for your patronage