Best Exfoliating Body Wash and Products to Use For a Glowing Spray Tan
If you love a sun kissed look, we've found the best exfoliating body washes to help achieve a gorgeous spray tan. Learn more here.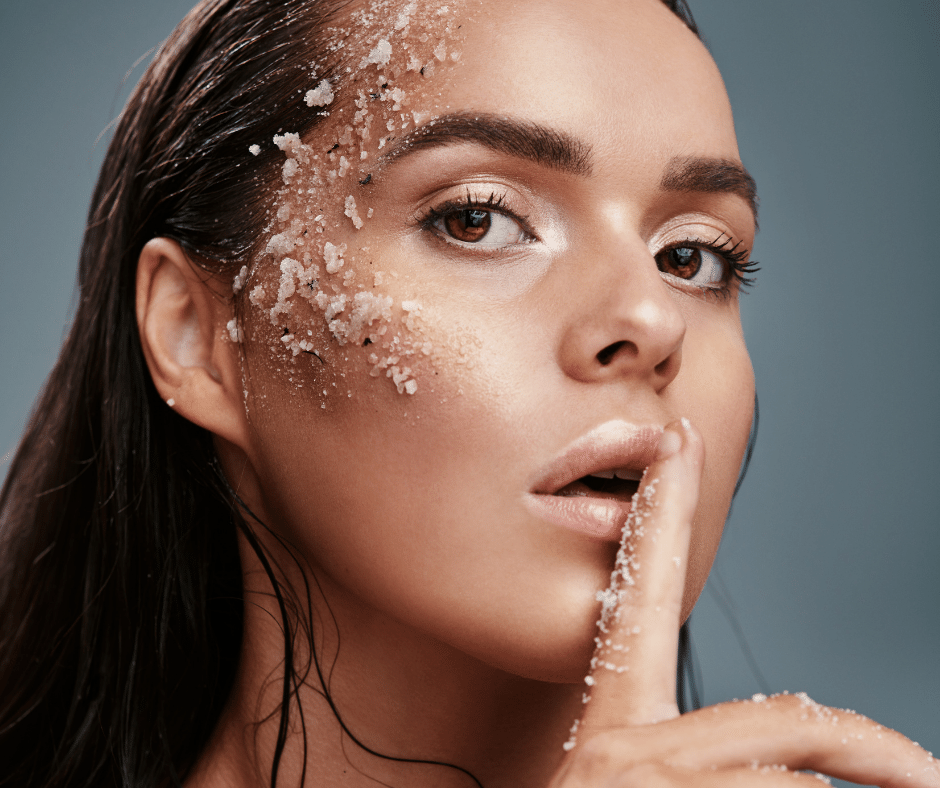 If you're like many people, you love the look of a sun-kissed glow. But, getting a natural-looking tan can be difficult – especially if you want to avoid the sun's harmful UV rays. Spray tans are a great way to get that bronzed look without having to spend time in the sun, but they can leave your skin feeling dry and rough. Exfoliating your skin before your spray tan is the key to achieving a perfect, natural-looking tan. In this blog post, we'll discuss the best exfoliating body wash products for preparing your skin for spray tanning. We'll also share tips on how to use them effectively. So, read on and learn more!
Best Exfoliating Body Wash Before a Spray Tan
Some of the best body exfoliators to use before your spray tan will contain either sugar or salt. These body scrubs exfoliate the skin and help to remove any dead skin cells on the surface of your skin. This can make your spray tan look a lot more even-toned and natural. It will also help to extend the length of time your spray tan will last due to the removal of dead skin.
It's really important to avoid using a harsh body scrub or wash that might contain ingredients like alcohol or sulfates, as these can strip away your natural oils and leave your skin feeling dry and irritated. By both properly exfoliating the skin and then providing ample moisture back to the skin through the use of a lotion or moisturizing cream, you can create the best-looking, perfect canvas for that sunless tanned glow you've ever had.
Spray Tan
If you've ever had a spray tan you will understand how valuable it is to prep and prepare the skin before your spray tan appointment. When you look for a spray tan solution you can also look for ingredients like coconut oil. Any spray tan that has coconut oil as an ingredient in the spray tanning formula understands how important moisturizing the skin is for a spray tan and how much it helps to keep skin smooth.
You can find a body wash that offers gentle exfoliation through chemical means such as products that contain enzymes. Enzymes exfoliate the skin by digesting dead skin cells. When you're looking for a body scrub look for one that is safe for both your skin and your spray tan. This will reveal the fresh skin that the spray tan solution can better absorb. Many tan solutions, will often contain a pleasant smell from coconut oil or shea butter. These ingredients are very helpful in dry skin to deeply moisturize the skin and help your tan last longer.
Dry Brushing
Both dry skin and bumpy skin will have a positive effect from a dry brush routine. This offers a proper preparation to the skin for an all-natural exfoliator.

Many prefer dry brushing for their favorite exfoliators as this does not contain any harsh ingredients which could potentially irritate the skin in some skin types. Dry brushing is pretty easy to use: simply use the dry brush in a circular motion to dry skin and gently exfoliate dead skin cells.
Dead Skin Cells
Removing dead skin cells before a spray tan is really important. For one thing, by removing the dead skin you will get a more even glow from the sunless tanning spray. You will also have fresh skin cells and a more even-looking spray tan. By removing dead skin cells you are effectively prepping the skin for the best possible spray tanning experience.
Body Scrub
Some people prefer a warm bath before their spray tan appointment. This can help achieve smooth skin in preparation for your spray tanning appointment. Because the bath makes damp skin this allows your body exfoliating mitt to better exfoliate and prep the skin especially if you want your skin ready to tan. Using a warm bath with one of our recommendations for best exfoliators helps open the pores to more easily absorb product from a spray tan or self-tanner.
Sensitive Skin
Often sensitive skin types prefer a sunless tan as it does not irritate their skin. Because many self-tanning solutions also contain organic and natural ingredients that are often safe and gentle for any skin type. Sensitive skin types often will use organic ingredients with sulfate-free or cruelty-free formulas before the self-tanners are applied.
Post Self Tanning Care
Once the skin has been prepped through either an exfoliating shower or bath some people will also shave. Since shaving is not recommended right after a spray tan and the shower should be avoided for at least a day, many people will prepare the skin by shaving and exfoliation a few days leading up to their spray tan appointment.
After you have had your spray tan you will want to avoid body exfoliation, any body scrub, body soap, and products with any active ingredients for a few days after spray tan. These can help break the spray tan formula down quicker and make your tan look blotchy. You will also want to avoid any sweat after your spray tan to avoid disrupting the spray tan. The use of a body scrub should also be avoided.
Makeup
Applying heavy makeup should generally be avoided after your spray tan. You'll also want to avoid wearing makeup to your spray tanning appointment. Use gentle lotions or moisturizers the next day after your spray tan.
Body Oils
Body oils can also benefit the skin in keeping the skin moisturized and smooth. Check with your spray tanning technician to be sure the oils you want don't exfoliate the skin cells and remove the tanning formula.
You can generally shower the next day. Just be sure to use shower products that don't exfoliate the skin and are natural and gentle enough to use post-spray tan to ensure your tan lasts longer and looks more even and glowing.
5 Best Exfoliating Products Pre Spray Tan
Here are our top 5 picks for the best exfoliating products. They include physical and chemical exfoliants as well as some for sensitive skin types.
Chemical Exfoliants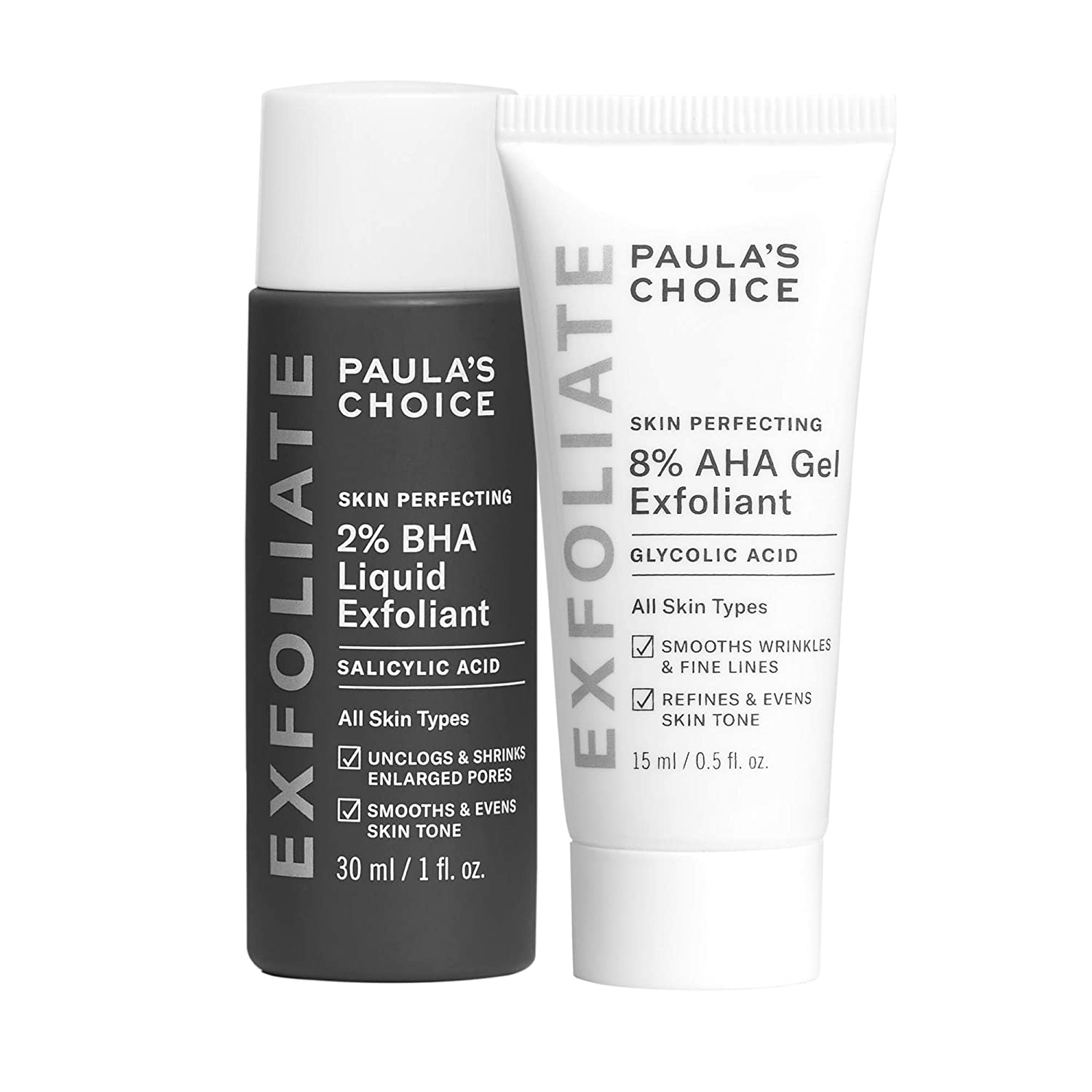 Paula's Choice-SKIN PERFECTING 8% AHA Gel Exfoliant & 2% BHA Liquid Duo for Blackheads Enlarged Pores Wrinkles and Fine Lines Face Exfoliators. This convenient set includes both products to remove dead skin cells, brightening the look of your complexion by removing blackheads from pores or other blemishes on your face with infused Green Tea extract in an easy step. Elevate any routine you're using nowadays with this Paula's choice duo which has been formulated for all skin types: Salicylic Acid -a great option if acne still haunts us after all these years- and Glycolic Acid. This chemical exfoliant can be used on the body in preparation for a spray tan.
Visit Paula's Choice store today!
Physical Exfoliant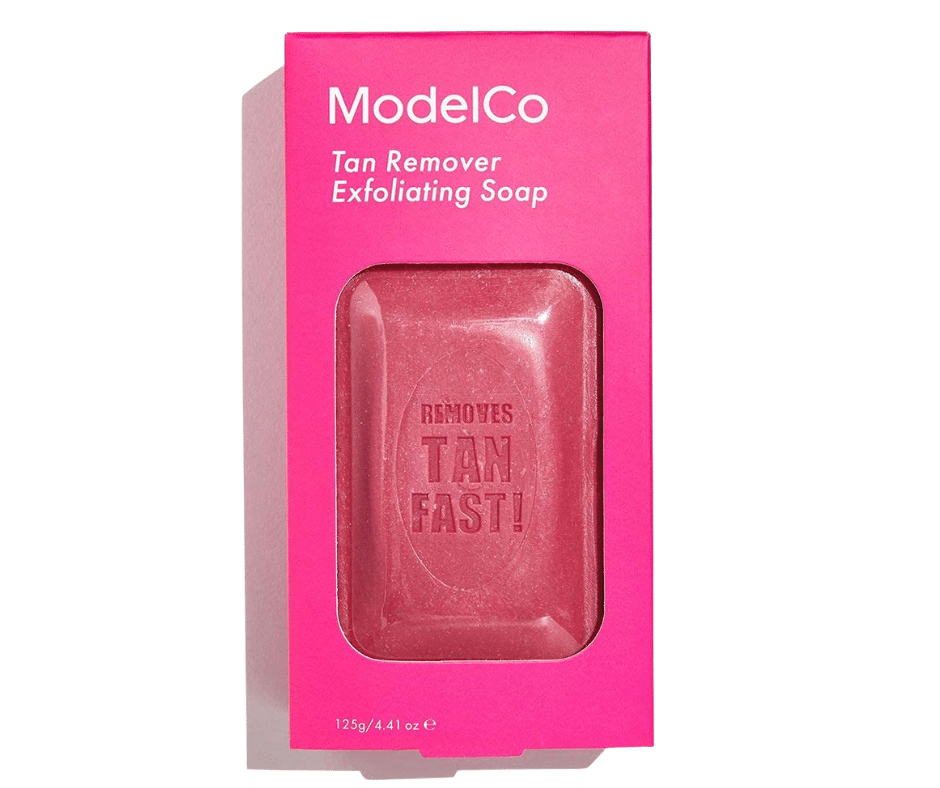 The Self-Tanner Eraser is a revolutionary new product that instantly erases and removes fake tans 8 to 10 days old. It also polishes and smooths the skin, removing any remaining residue from your recent exposure to the sun or other applications of self-tanning lotions/sprays while leaving behind hydrated healthy looking skin!
This soap can be used as an exfoliator before applying their Sunless Primer which will allow maximum absorption during application along with 100% satisfaction guarantee if you aren't satisfied - contact them for a full refund if not satisfied.
This product is ideal for sensitive skin types and will help exfoliate before a spray tan appointment!
Visit the Modelco Store today!
Chemical Exfoliant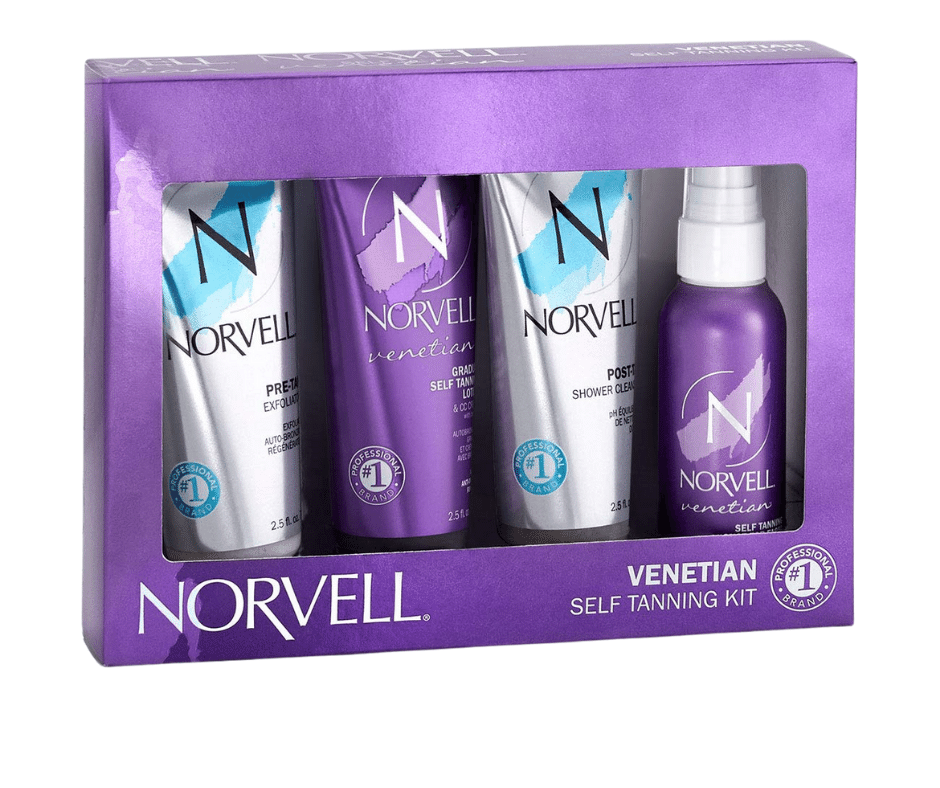 We all want a sexy, tanned look and now you can get it without spending hours in front of your computer or being outside.
This kit includes Norvell's Venetian Self Tanning signature system which incorporates each recommended phase from sunless process steps including proper exfoliation to hydration! Plus there are also many other amazing products included such as Venetian Self Tanning Mist for Face (2 oz), and pH Balancing Sunless Cleanser( 2 5 g).
The best part about this product is that since it's made with all-natural ingredients like olive oil & coconut extract; users will never have problems getting Vegan-friendly tanner again. This all-inclusive set has everything you need to exfoliate before a spray tan. This sunless tan package has what you need to apply tanner to skin evenly in your own home.
Visit the Norvell Store Today!
Watch this YouTube video from Norvell for more information about spray tanning!
Physical Exfoliant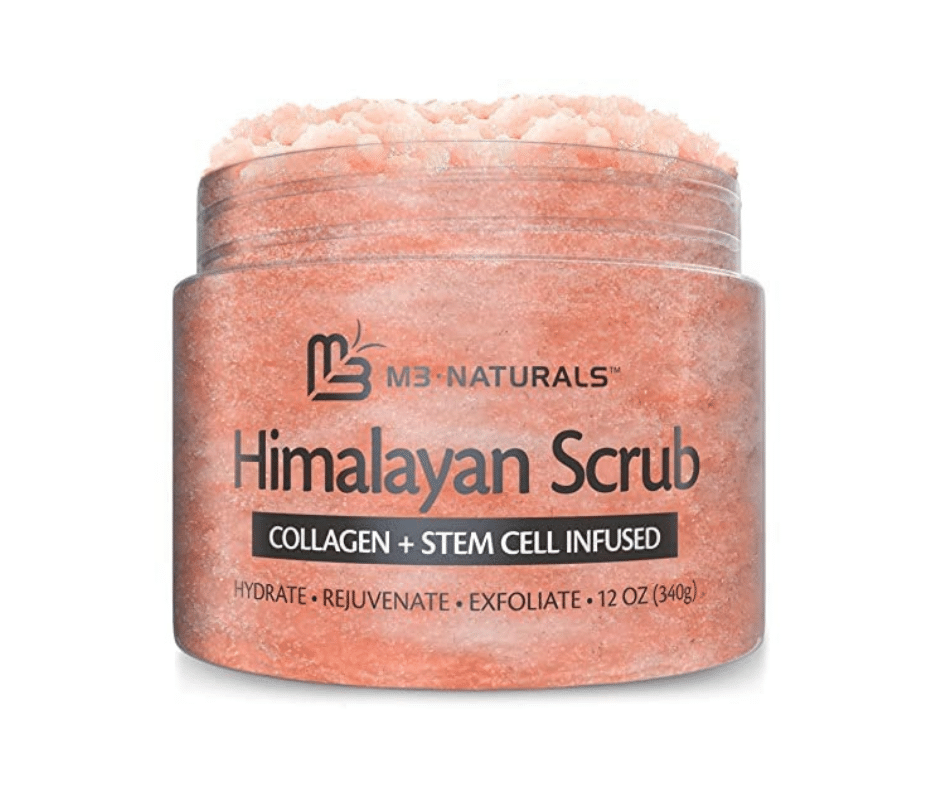 From head-to-toe, M3 Naturals will give your skin all the love it needs. This exfoliating Himalayan salt scrub with lychee oil will help restore natural collagen production and increase cellular health and longevity while also providing you with an acne-fighting tool that's perfect for any age group! Get ready because this detoxifying treatment isn't just about taking off dead cells; they're infusing these body tech products with some pretty exciting ingredients too like collagengenic extract (which delivers unmatched antiaging properties), jojoba seed oil and grapeseed oil, sunflower seed oil, glycerin, Grapefruit peel, Aloe Vera, Grapefruit Peel, Vitamin E. Himalayan salt is also full of minerals to purify and help tone skin ensuring a more even glowing tan.
Visit the M3 Naturals Store today!
Physical Exfoliant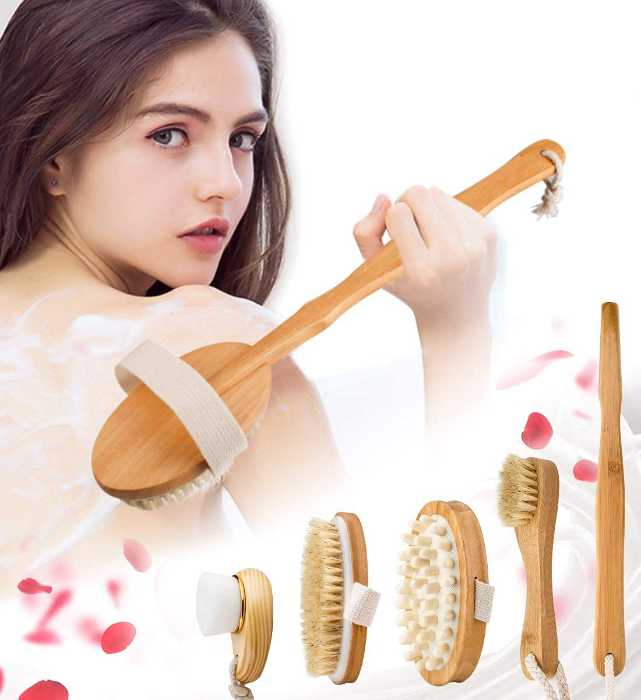 You deserve to feel your best. With this Zeutch Dry Brush Set, you can create a home spa experience with Zeutch's Trademarked product and rinse it off in the shower for easy cleanup! The superior boar bristles will not fall out no matter how much scrubbing is done which means there won't be any sign of skin irritation either; this brush allows users flexibility between using both tools as needed - like gently exfoliation to reveal healthier skin--or just taking time out once per day (or week)to relax through a relaxing muscle rub with a deep pressure massage ®️.
Visit the Zeutch Store today!
FAQ's
Best Exfoliating Body Wash/ Products for Spray Tan
Why do you need to exfoliate before a spray tan?
Exfoliating before a spray tan removes any dead skin cells on the surface of your skin. This allows the spray tan to evenly distribute and look more natural.
Are there any additional benefits to body exfoliation for tanning?
There are a few benefits to body exfoliation for tanning. First, exfoliation removes the top layer of dead skin cells, which can make it easier for your spray tan to develop evenly. Second, when you exfoliate before a spray tan it helps remove any oils or dry patches that might prevent your tan from developing evenly.
Finally, it can help increase the longevity of your tan by removing any dry or dead skin cells that might have built up on the surface of your skin and providing a more even, smooth skin tone to absorb the tanning formula. It also helps to smooth rough patches on the skin and reveal new cells. Exfoliation can help increase blood circulation which may improve the appearance of stretch marks.
What chemicals are in a spray tan?
The active ingredient in spray tanning is dihydroxyacetone (DHA). DHA is a molecule that reacts with the amino acids in the top layer of your skin to produce a brownish color. DHA has been approved by the FDA for use in externally applied sunless tanning products since 1978.
Other ingredients that may be present in spray tans include water, Witch Hazel extract, Aloe Vera leaf juice, glycerin, and propylene glycol. These ingredients help to hydrate and moisturize your skin, as well as act as solvents that help to evenly spread the DHA across your skin.
What are some tips for prolonging your spray tan?
Here are a few tips for prolonging your spray tan:
1. Avoid excessive sweating and water exposure.
2. Stay out of the sun, and if you do go in the sun, use sunscreen.
3. Avoid chlorinated water (swimming pools).
4. Avoid excessive exfoliation.
5. Use moisturizers to keep the skin from drying out
6. Avoid any waxing, sugaring, or hair removal as well as shaving as this can interfere with your tan and prematurely remove it.
7. Avoid using any body scrubs after your spray tan until you are ready to remove the tan.
How soon should you shower after a spray tan?
Your first shower after a spray tan should ideally be 8-10 hours after your spray tan. This will give the spray tan time to set and make it less likely to come off in the shower. Keep in mind it's probably best not to use harsh chemicals. Even a simple rinse-off could help extend the tan. If you must shower before that time frame, be sure to use lukewarm water and avoid any harsh scrubbing which can remove the spray tan prematurely.
Best Exfoliators for the Perfect Spray Tan
If you're in the market for a new body wash, we've got you covered. We searched for the best exfoliating body washes and products to prep your skin for an amazing spray tan. Whether you're looking for something that will moisturize and nourish your skin or want an intense scrub to slough off all of that dead skin, we've got you covered.
Check out our top five picks, and find your Amazon price by clicking the links today. Get ready to have the best-looking skin ever – just in time for your special occasion! If you enjoyed this article consider reading our other article, Best Body Washes After Your Spray Tan for Glowing Skin. This will give you a balanced look at other products to help give you the best spray tan possible.
Follow us on Twitter, Facebook, and Pinterest, to stay in the know.
PAID ENDORSEMENT DISCLOSURE: As a staff of licensed aestheticians we review products based on their merit based on our professional expertise. This is not a replacement for your own skin therapist's advice for your skin or any medical claim or endorsement. We encourage you to seek medical care when appropriate. To support our website activities, we may receive monetary compensation or another form of recompense for our endorsement, recommendation, testimonials, and/or links to any products or services from this website.