Here's How the Best Body Wash for Acne Can Help Your Skin
If you struggle with body acne here's why the best body wash for acne can help. Learn more today!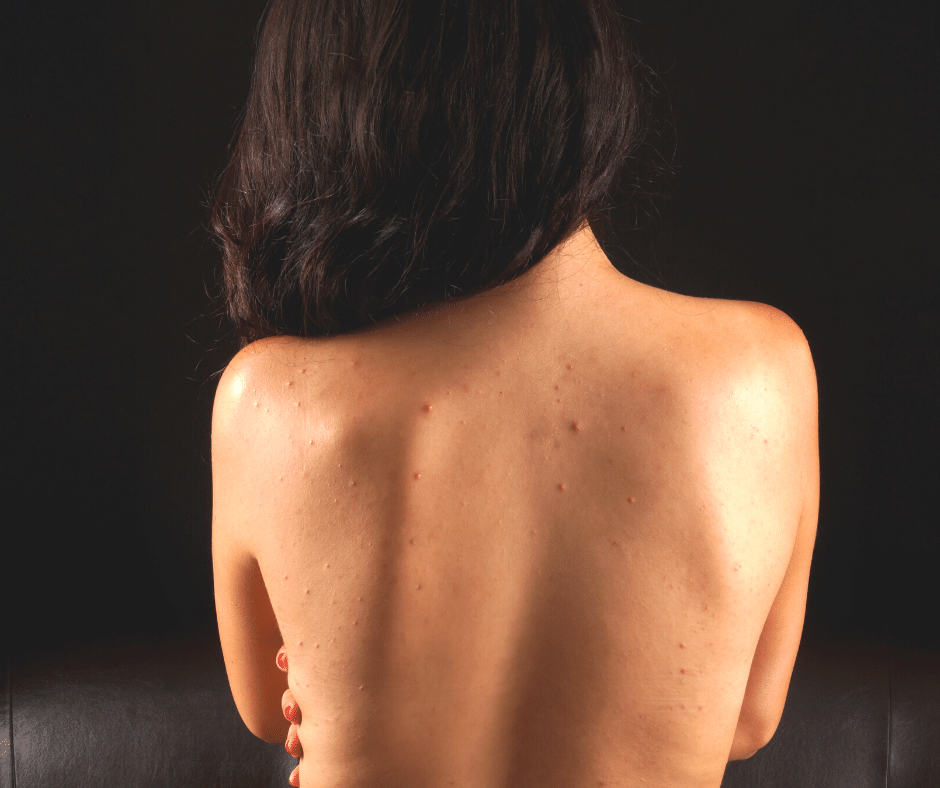 If you're looking for the best body wash to treat acne, you're in luck. Several great products on the market can help clear up acne for your skin but not just for your face. We'll talk about the best acne body washes and how they differ or are the same as you would use for your face.
Best Body Wash for Acne
Whenever someone is looking for an acne body wash we have to keep a few things in mind when deciding which would be best for you. We want to review if you are on any medications that might impact the product's use or make the product a poor choice. We need to look at your exercise activity and lifestyle factors. We want to look at stress levels as well as diet. Are hormones a factor and to what degree of severity is your body acne? What does your hygiene look like? Is the acne inflamed? Are there active lesions? Is the acne a combination of dry and oily skin types? Are there any digestion problems? What does your vitamin and mineral intake look like?
Acne Body Wash
Now that we have looked at some potential factors that can trigger acne, we can better understand which ingredients will help the most for which form of acne being treated. One of the primary components of treating acne skin or any skin type is to normalize the pH. Without doing that the skin will always try to overcompensate in some way.

Oily Skin
One thing  to remember for oily skin is to always use non-comedogenic products. Oily skin can easily become congested and therefore only non-comedogenic products should be used for oily skin types. Depending on whether the skin is moderate to severe, each requires a different approach. You will want to look for ingredients that disinfect and soothe the skin as well as refine the skin's texture without overly drying the skin.

Disinfection
An acne body wash should have ingredients that offer disinfection and help cellular turnover. Essential oils like tea tree oil, citrus oil, lavender, and rosemary   can help when combined in a formula. Salicylic acid is great for acne-prone skin on both the face and body. It is antibacterial, exfoliating and helps unclog pores and congestion.
Ingredients that Help Oily Skin
Niacinamide (B5) is beneficial for skin moisture. Allantoin is soothing, healing and is an anti-irritant. Chorophyll is healing and soothing. Sulfur is an antiseptic and healing. Algae is a nutrient dense humectant that also stimulates the skin. Vitamin A is considered a skin normalizer. It can help suppress oil production. Often Retinoids are prescribed by doctors for the treatment of severe acne.
Vitamin A can also be found in many foods such as sweet potatoes, carrots, and fish. Most Vitamin A should be used in the evening due to increased sun sensitivities in some people. Omega 3's, Zinc, and Vitamin E are all helpful. Probiotics are often beneficial as well since recent research suggests a direct link to gut health and acne. Kombucha's can be beneficial.
Benzoyl peroxide is often used as well. Salicylic Acid is a great acne ingredient for most people, however, if you are allergic to aspirin it's best to stay away as this is a derivative from the same willow bark tree. The skin on the body is thicker than the skin on the face, therefore body washes that contain benzoyl peroxide and salicylic acid are generally more tolerated on the body in a body wash.
How Long Before I see Results
Generally, most people will see results within a few weeks of using an acne body wash. However, it's important to keep in mind that everyone's skin is different, and some people may take longer to see results.
Nutrition
Eating whole foods and cutting out processed foods can help oil skin. Increasing hydration is also helpful. Caffeine, alcohol and refined sugars can be reduced or eliminated when appropriate.
Body Wash
Whether you want a body scrub or body wash will depend on the health of your skin and if it is irritated or not. The body washes we'll talk about here are not harsh and would not typically be considered a body scrub. Generally speaking we don't want to further irritate the skin with harsh products by too much exfoliation to the skin and cause damage to irritated acne skin.
Sensitive Skin
If you have sensitive skin but are prone to acne you will want to look for ingredients that can help to calm and soothe the skin. Aloe Vera is often added to many ingredients to calm and soothe the skin. Allantoin and chlorophyll are some others. If you have dry skin you will want a product that can add hydration without disrupting the acid mantle-the protective film that covers the skin. Hyaluronic acid is another ingredient that can help. Sodium hyaluronate- an absorbable form of HA adds hydration without clogging pores.
What makes body washes for acne different than facial acne washes?
For one thing, body washes are typically more moisturizing. This is important since the skin on the body is thicker and has a higher oil content than the skin on the face. In addition, it's important to use an acne body wash regularly to see results. Most people will need to use it once or twice a day to get the best results. Truthfully, the same applies to your facial acne.
Acne Body Washes
We will look at many ingredients that can help to target acne skin like salicylic acid, benzoyl peroxide, tea tree oil, glycolic acid, and botanical body washes for acne. All can offer something a little unique so look for qualities that best resemble your main issues. Looking at ingredients that do not clog pores and ingredients that exfoliate with antimicrobial or antibacterial characteristics are often beneficial to acne skin types.

Best Body Wash for Acne
Keep in mind that not all body washes are created equal. Some products may contain ingredients that can irritate the skin, such as sodium lauryl sulfate. If you have sensitive skin, be sure to choose a product that is free of harsh chemicals and sulfates. For more information on essential oils with acne read this article, Best Skin Loving Oils for Your Acne.
Acne Body Wash
When choosing an acne body wash, be sure to read the label carefully and choose a product that is tailored specifically for your needs and especially your skin type. The biggest mistake we see our clients make is choosing an acne product that their friends use or one they've seen commercials on. Unfortunately, this is not helpful for many people. Often acne has different triggers for different people. Figuring out what triggers or causes your acne is usually a solid beginning point.
The skin on the body is thicker than the skin on the face, as such body washes that contain benzoyl peroxide and salicylic acid are generally more tolerated on the body in form of a body wash than on the face.
What Causes Acne
There are several factors can contribute to acne and increased sebum production. We've talked about some of the connections. If you have Grade III of Grade IV severe acne we recommend you work with someone qualified and trained to help you. It takes time for the skin to rebalance and there is often more than one cause. Some people experience acne as a result of medical conditions. Some can experience it as a result of medications. Many are caused by genetics. We highly encourage anyone with this condition to seek a dermatologist as often hormones  and other causes may be involved and you may need medical attention for treatment.
What is Acne?
Watch this video for more information.
Why Is Acne Such a Complex Condition
Not all cases of acne are overly complex with varying layers. Often many cases are fairly straightforward. It's much like piecing a puzzle together as you dissect what some of the reasons or potential causes can be.
Salicylic Acid is a great acne ingredient for most people, however, if you are allergic to aspirin it's best to stay away as this is a derivative from the same Willow Bark tree.
As stated earlier Grade III and Grade IV acne should be treated by a dermatologist as medication may be necessary, especially for Grade IV acne. This guide should not be considered a substitute for medical care.
Check Out Our Top Acne Body Wash Picks
Top Picks for Best Body Wash for Acne
Chosen from multiple products, we selected these based on the quality ingredients and efficacy. We selected these based on many different factors and based on different acne skin types. Be sure to read the breakdowns to select the right body washes for your acne.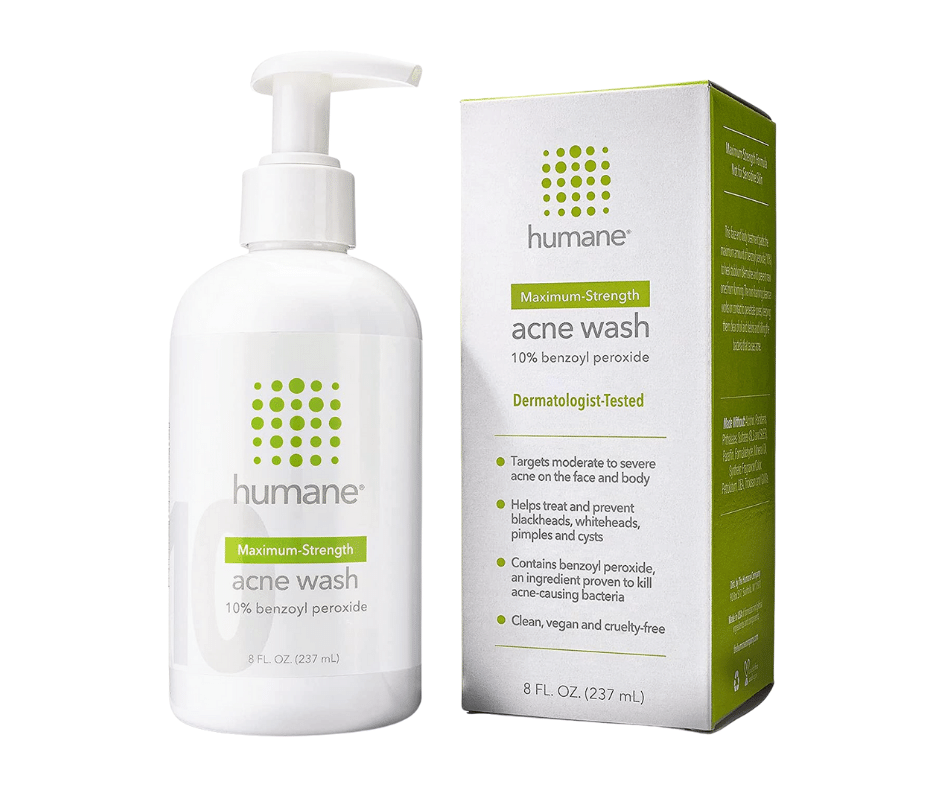 This body wash does not contain any harsh chemicals, it's formulated with 10% benzoyl peroxide to help kill the bacteria that cause acne. It also includes moisturizing ingredients like lanolin and honey extract which are gentle and will keep your skin hydrated while preventing breakouts from happening in the first place!
Formulated for use on body acne this body wash helps to treat the acne-causing bacteria that can cause body breakouts and is dermatologist tested. Tested for p. Acne and can help treat blackheads, whiteheads, pimples, and cysts. Helps to keep pores clear and prevent future breakouts helping to rid the body of skin impurities.
One of the reasons this made our cut was the use of more natural ingredients without so many fillers. This body wash hits many high marks for treating body acne. A maximum amount of 10% Benzoyl peroxide makes our list of top body washes for acne.
Visit the Humane Store for more products.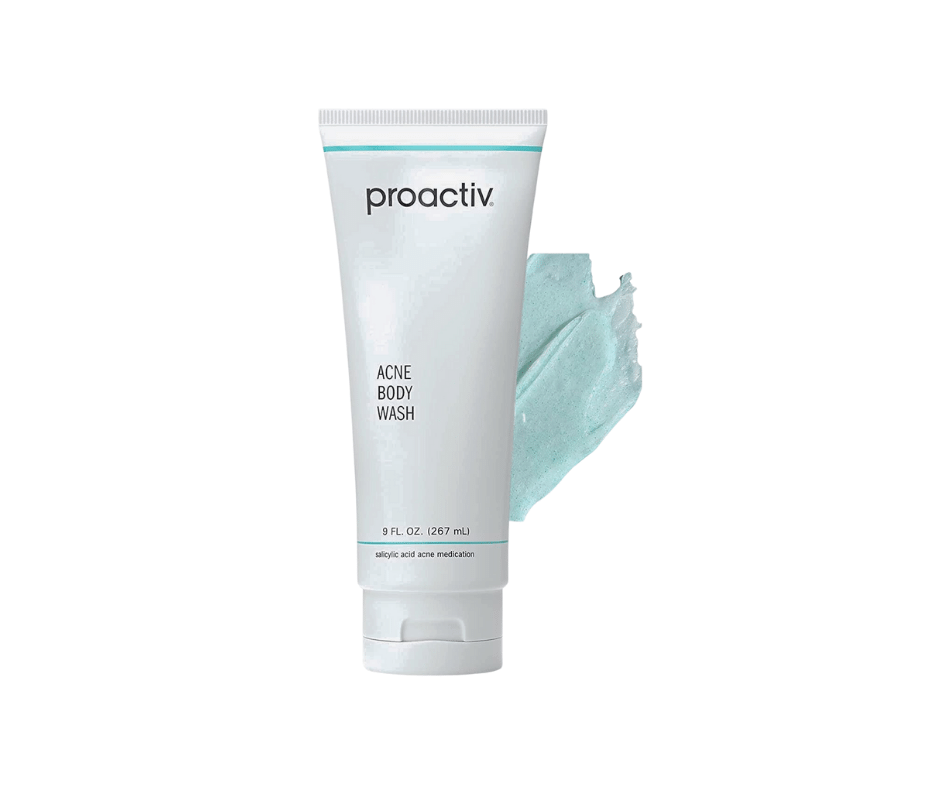 The Proactiv body wash is formulated for acne skin that leans on the dry side. With Shea and Cocoa Butter adding more moisture to the skin, this is ideal for those that are prone to dry acne skin. Salicyclic Acid helps to slough off dead skin cells and helps to unclog the pores while also treating bacteria that may be present. This body wash might also help for sensitive dry skin types and the salicylic acid present does wonders to unclog pores for body acne. Glycolic acid is another exfoliating ingredient to help skin acne as well as helping to gently exfoliate the dead skin cells to help unclog pores. This formula would be ideal for most acne skin or combination skin types.
Visit the Proactiv Store for more products.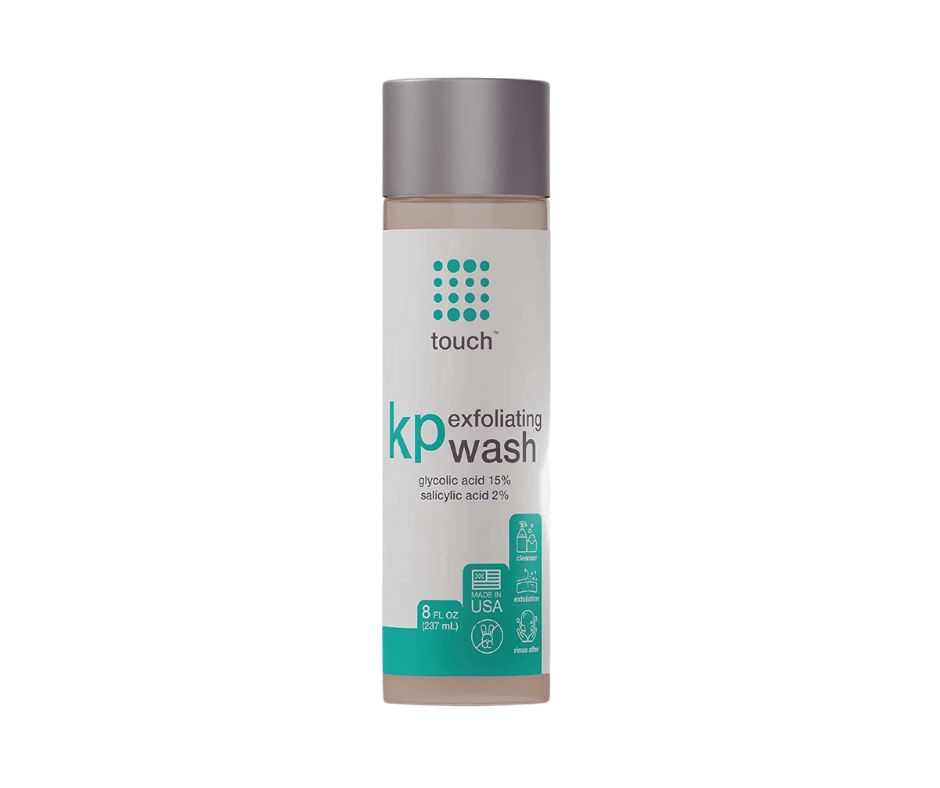 The Touch KP Exfoliating Body Wash for acne has numerous ingredients to help unclog pores, exfoliate the skin, reduce redness and help overall body breakouts. This body wash can help sensitive skin with acne skin types due to the formulation with Vitamin E, a powerful antioxidant, and Aloe Vera a soothing and moisturizing ingredient that will help keep unclogged pores at bay. Body acne that is also rough in appearance will also find some relief with this combination of salicylic acid and glycolic acid. While the salicylic acid is busy providing antibacterial relief to inflamed skin the glycolic acid is gently exfoliating the skin and helping to reduce any irritation with the aloe vera.
This best acne body wash is great for all acne skin types- combination skin, dry acne skin, sensitive skin as well as oily skin. Salicylic acid is great for balancing sebum production so this formula will help oily-prone skin types as well. One additional function to point out is the ability of these exfoliators to help with skin that may be more prone to clogged pores.

Visit the Touch Store for more products.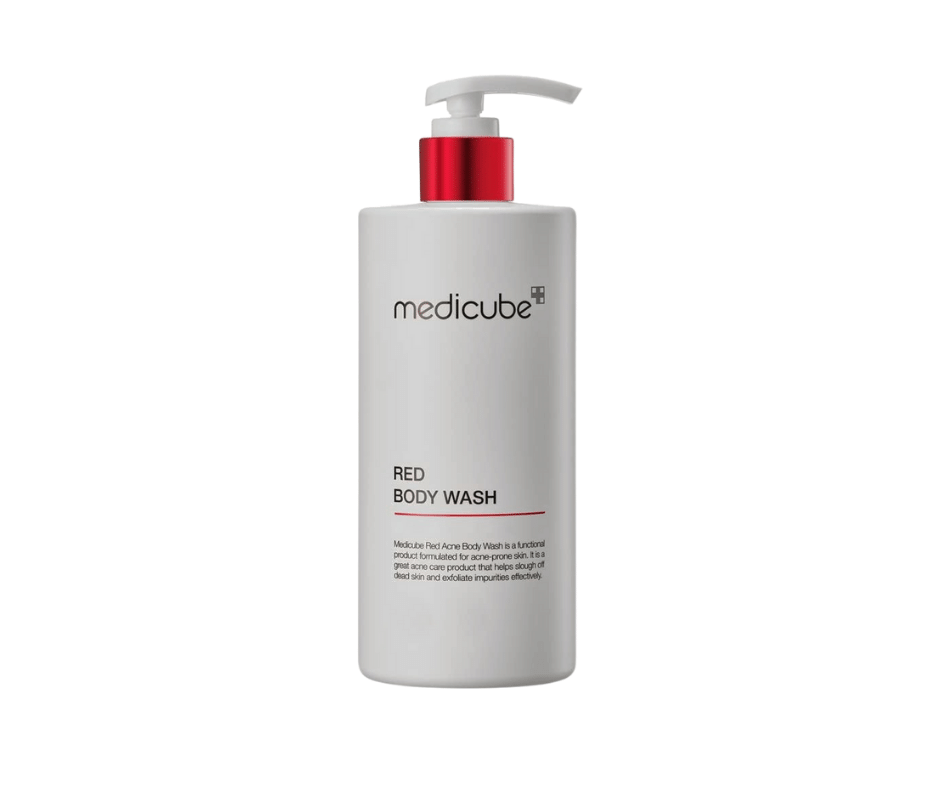 Rounding out one of our best body washes for acne is Medicube Red Body Wash. We like this formula because of the star ingredients of salicylic acid, niacinamide, hyaluronic acid, panthenol, and natural botanical extracts from plants. This Korean acne body wash has clean ingredients that target p acne and regulates sebum production with niacinamide. Hyaluronic acid and panthenol add moisture back to the skin without causing more body breakouts. Hyaluronic acid naturally occurs in the skin to keep it hydrated which in turn helps to protect the skin from foreign invaders like bacteria.
A little-known secret is that all skin types need hydrated skin to keep the skin barrier function working and keeps the acid mantle in check. In case you're not familiar with the acid mantle it's the slightly acidic film on our skin. This film helps to protect us from bacteria, viruses, and other icky contaminants. It's super important for our skin to have a properly functioning acid mantle.

Often for acne skin, we think we have to strip all the oil down to combat the acne, however, we need some oils for the acid mantle to perform and keep us protected. Hyaluronic acid is one way to achieve this for acne skin types. While salicylic acid and benzoyl peroxide are also great for killing bacteria we need ingredients that will help to keep the acid mantle in check to prevent future breakouts from occurring and help to offset excess oil from being produced by way of trying to protect the delicate acid mantle.
Visit the Medicube Store for more products.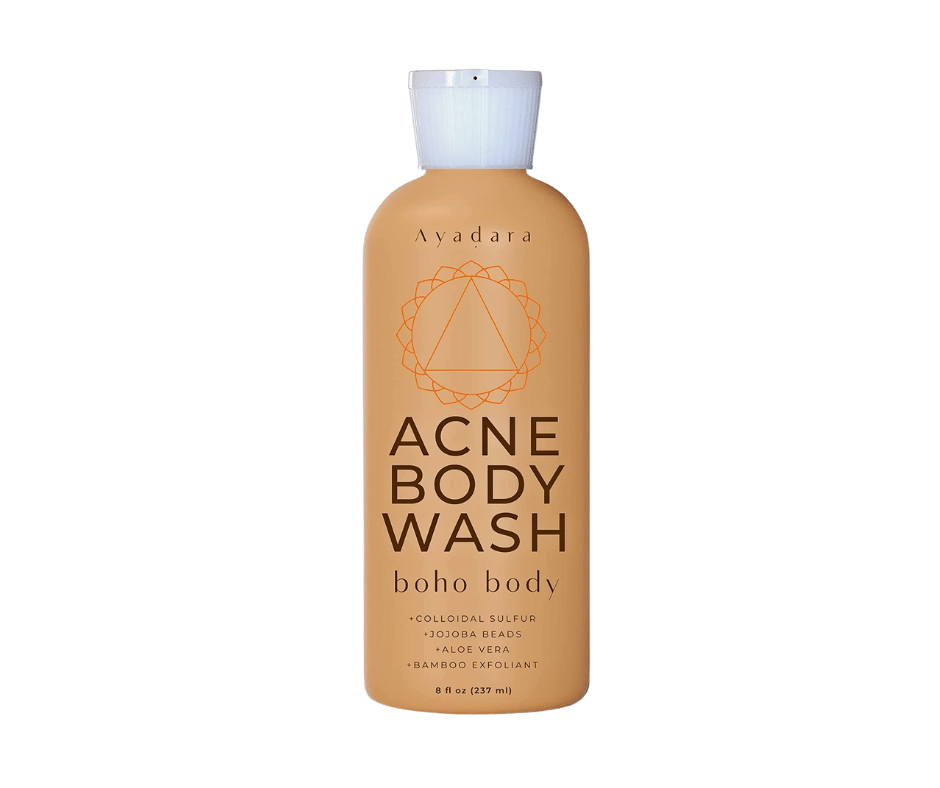 What we love about this body wash is the natural ingredients in the formula. Colloidal sulfur is a gentle drying ingredient that helps to dry out the surface of the skin and absorb the excess oil (sebum). It can also help to dry out dead skin cells and help to unclog the pores. This formula will work well for those who typically have mild whiteheads or blackheads. This would be good for someone with more sensitive skin or someone who might have non-inflammatory acne. Moderate to severe acne skin may find this is not strong enough to treat.
The jojoba beads and bamboo can help to gently exfoliate the skin helping to reduce whiteheads and blackheads which can be formed from clogged pores that have become infected. Aloe vera is a gentle moisturizer that can help keep the skin hydrating without clogging the pores. This organic formula is sustainably sourced and is free from parabens, phthalates, sulfates, palm oil, and other harmful chemicals, making them safe and clean for daily use.
Visit the Ayadara Store for more product options.
A Word of Caution
We'd like to point out that we are not medical providers. We are aestheticians. If you are experiencing a medical condition we advise you to seek medical care. Use this as a guide that you can talk with your provider about. If you have any skin reactions discontinue use of the product and seek medical care. Always follow the directions from the manufacturer. We advise to perform a patch test for any new product before using on your whole body.

Acne Body Wash Recap
Now that we have discovered some great OTC formulas that can help with your body acne, we encourage you to check with your provider if you have any additional questions.
We hope you have found some useful information that can help you on your quest for great skin.  Not only are these body washes gentle on your skin, but they also work to fight off bacteria and inflammation while also calming and hydrating the skin for a functioning skin barrier. Be sure to find the right formula for your skin and click the button today to order right from Amazon!
If you'd like to comment on this article or any others feel free to do so below. Check out this article for Best Drugstore Shampoos and Conditioners.
Stay in the know. Follow us on Twitter, Facebook and Pinterest!
PAID ENDORSEMENT DISCLOSURE: As a staff of licensed aestheticians we review products based on their merit about our professional expertise. This is not a replacement for your own skin therapist's advice for your skin or any medical claim or endorsement. We encourage you to seek medical care when appropriate. To support our website activities, we may receive monetary compensation or another form of recompense for our endorsement, recommendation, testimonials, and/or links to any products or services from this website