An Estheticians Top 5 Picks for Bakuchiol Serums
Want better looking skin but need a retinol alternative, Bakuchiol serum can help. Learn how it can help your skin!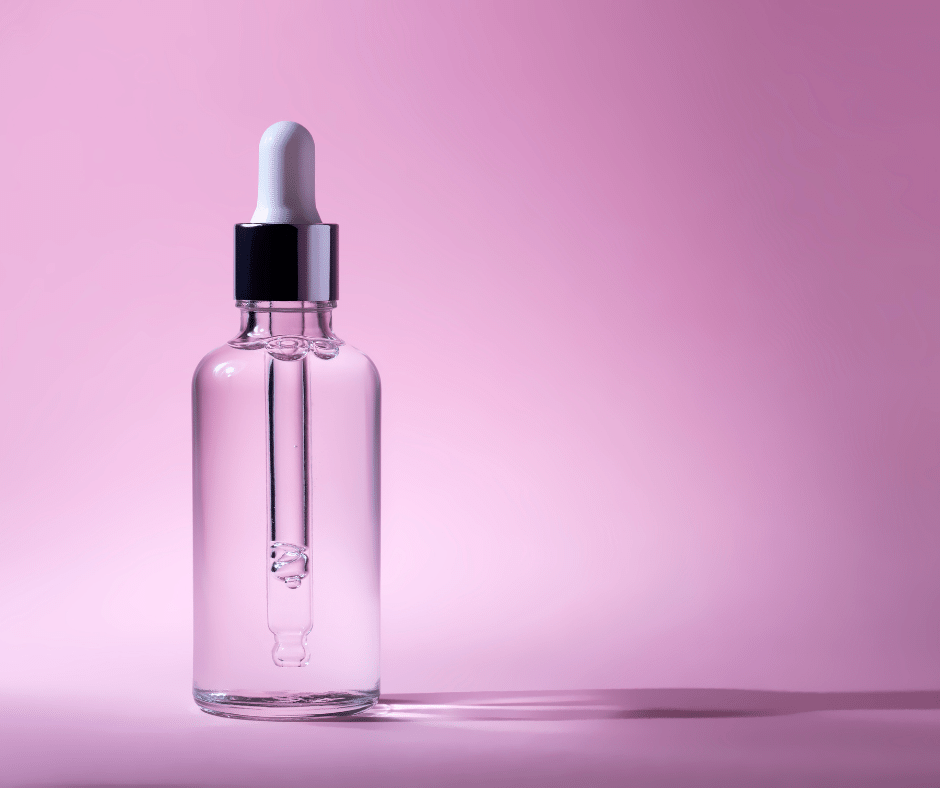 If you're looking for a natural retinol alternative, bakuchiol may be just what you need. This powerful ingredient has been shown to provide many of the same benefits as retinol, without the associated skin irritations and risks retinol has. Bakuchiol is also an antioxidant and anti-inflammatory, as well as a melanin inhibitor making it ideal for those with sensitive skin as well as acne-prone skin, hyperpigmentation, and mature skin types who want to target fine lines and wrinkles.
What is Bakuchiol
Bakuchiol is a naturally derived plant compound with the potential to provide similar benefits as retinoids and Vitamin A–based chemicals like Retinoic Acid (RA), which has been shown in research studies. The botanical name is  Psoralea corylifolia, also known as the babchi plant.
Antioxidant Rich Essence
Bakuchiol has been in use within Ayurveda and Eastern medicine for many centuries. Today we see it in skincare as an ingredient used for antiaging treatments to target wrinkles and skin discoloration. Bakuchiol also has antioxidants and is anti-inflammatory.
Collagen Production
Traditionally Retinoids, a prescription strength Vitamin A derivative, have been used to address wrinkles. These are often associated with side effects like burning, stinging, flaking skin, redness and dryness, and increased skin sensitivity as well as photosensitivity.
Retinol Less Strength Retinoid
Retinol, a lesser strength form, is available over the counter and has been predominantly used in skincare for decades for anti wrinkles and skin discoloration as well as acne. Unfortunately, retinol also has increased skin sensitivities, particularly for those with sensitive skin.
Improved Skin Tone
Bakuchiol is believed to activate the same cellular pathways to promote collagen and elastin as Retinoids. Retinoids have been the go-to for addressing wrinkles and fine lines because of their strength and ability to increase cellular turnover.
Bakuchiol is considered to be an alternative that may work similarly to over-the-counter products such as Retinol by activating pathways related to collagen production - meaning it could improve skin tone/texture just like they do!
Improves Hyperpigmentation
Bakuchiol is a naturally occurring plant compound that can help renew collagen and improve skin tone and texture. Resulting in brighter skin and improvement of fine lines and wrinkles as well as a reduction in acne. It's also safe for people who experience acne or hyperpigmentation as well as sensitive skin! Traditionally people who suffered from sensitive skin, rosacea, or other sensitizing issues have had difficulty with retinol and retinoids due to their increase in skin sensitivities.
Limited studies have shown the effectiveness of bakuchiol in pretty comparable degrees to topical retinols. However, retinoids and bakuchiol have not been studied well enough to conclusively determine if they fare the same.
How Often Should You Use Retinol Alternative Bakuchiol
Bakuchiol serums appear to be a safer alternative for most skin types although if you have sensitive skin you should still use caution and start with lower concentrations. We recommend always performing a patch test before full use on the face.
To begin use start with using it only once or twice a week until your skin can adjust to an increased usage of once a day. Always remember to use broad-spectrum sunscreen in the morning after applying your moisturizer.
When Will I See Results
The studies we reviewed showed noticeable changes to the skin within 12 weeks, however, every person has a different extent of damage and factors that contribute to their skin issues and results may vary. We encourage you to take before and after photos so you can compare changes as they occur.

Best  Bakuchiol Serums Top 5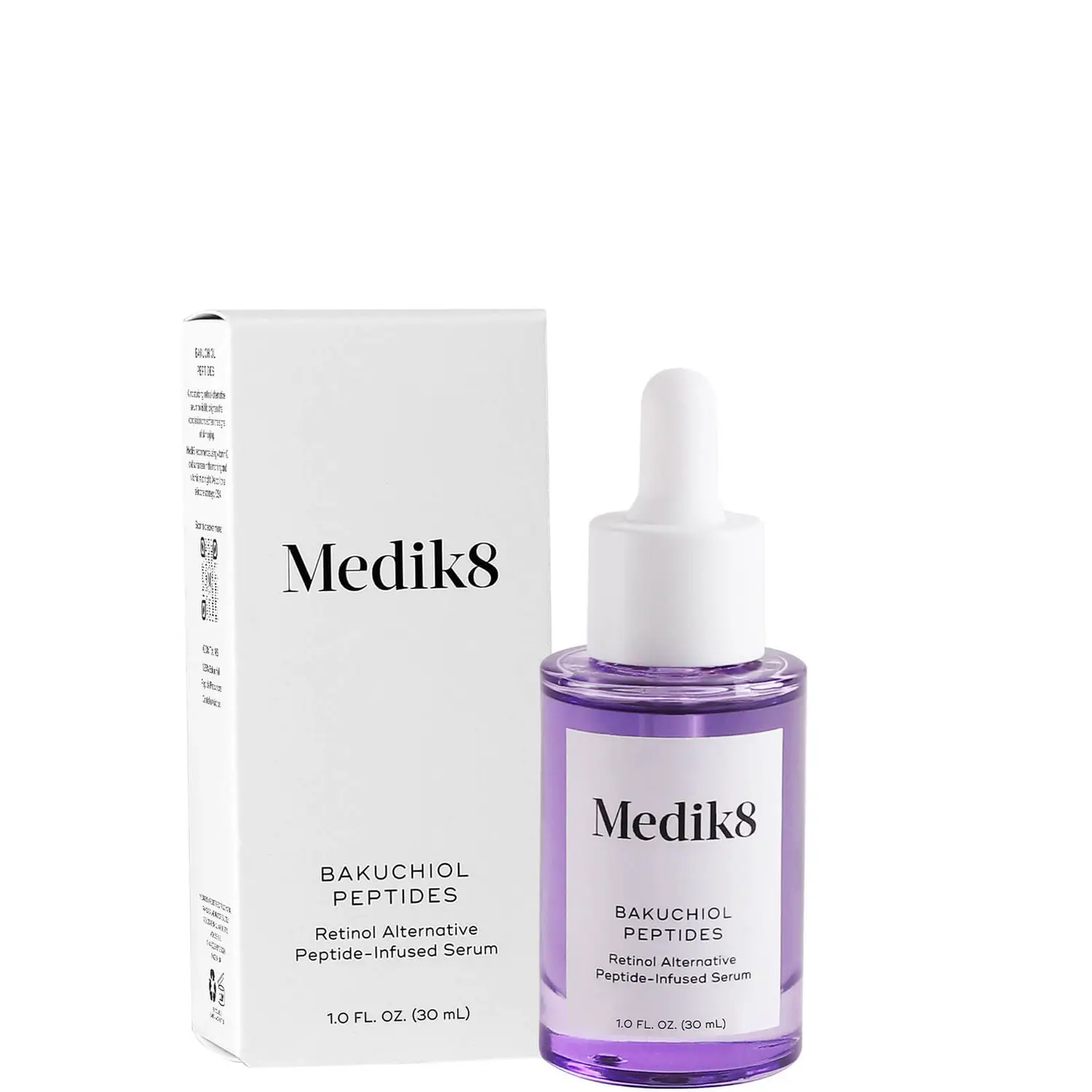 Dry Skin-Sensitive Skin
Bakuchiol Peptides are the ideal solution for those seeking an alternative to retinol and who want brighter skin without feeling greasy or heavy. This bakuchiol serum combines 1-25% pure bakuchiol with brightening peptide precursors, cica extract (a natural mushroom ingredient) giving it a gentle but powerful ability to soften visible signs of aging while also making your complexion look more even-toned - all-day long! Get radiant, soft skin with this retinol alternative formula by Medik8 Bakuchiol Peptide Infused Serum. Safe for all skin types. This nourishing oil can be used day or night.
Benefits
Softer skin texture
Improved appearance of fine lines and wrinkles
Gentle enough for all skin types
Improvement in skin discoloration
Anti-aging Peptides
Moisturizing
Key Ingredients
Bakuchiol
Triglycerides
Sunflower Seed Oil
Jojoba Seed Oil
Indica Fruit
Moringa Oil
Aloe
Olive Fruit Oil
Cica
Inca Peanut Extract
False Daisy
Vitamin E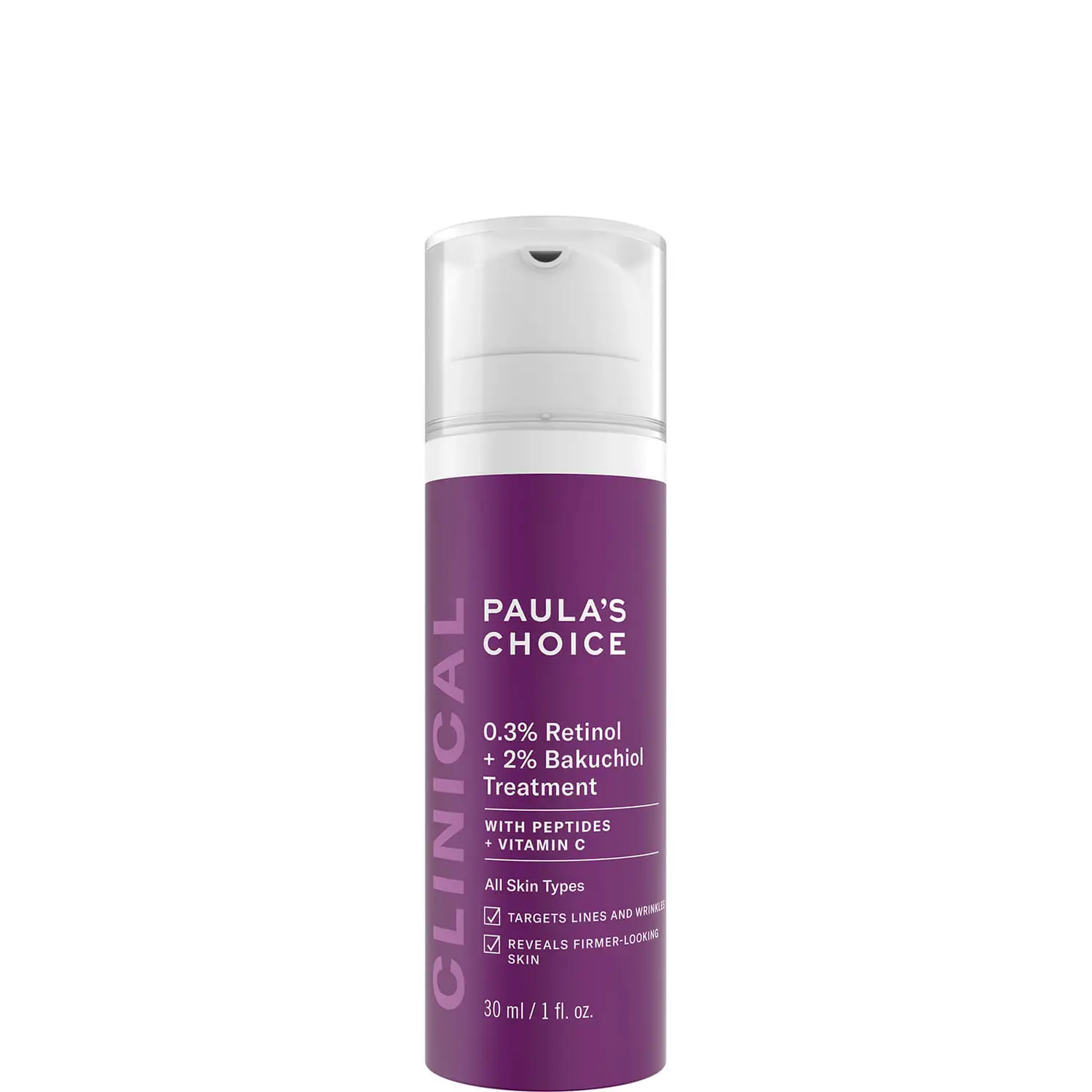 Mature  Skin Types
Bakuchiol Serum and Peptides are the ideal solutions for those seeking an alternative to retinol and who want brighter skin without feeling greasy or heavy. This phyto retinol serum combines 1-25% pure bakuchiol with brightening peptide precursors, cica extract (a natural mushroom ingredient) giving it gentle but powerful power to soften visible signs of aging while also making your complexion look more even toned - all day long! This gentle retinol serum is safe for those with uneven skin texture and those who want to more even toned skin. Paula's Choice helps to improve the appearance of fine lines and wrinkles with this gentle Bakuchiol and Retinol serum.
For more information on Paula's Choice Clinical Retinol and Bakuchiol formula. Watch this Youtube video.
Benefits
Softer, smoother skin texture
Improved appearance of fine lines, wrinkles and deep wrinkles
Improvement in skin discoloration and uneven skin tone
Anti-aging Peptides
Light Moisturizing
Key Ingredients
Bakuchiol
Shea Butter
Glycerin
Retinol
Peptides
Hyaluronic Acid
Licorice Root
Olive Fruit Oil
Willow Bark Extract
Burdock Root Extract
Soybean
Vitamin E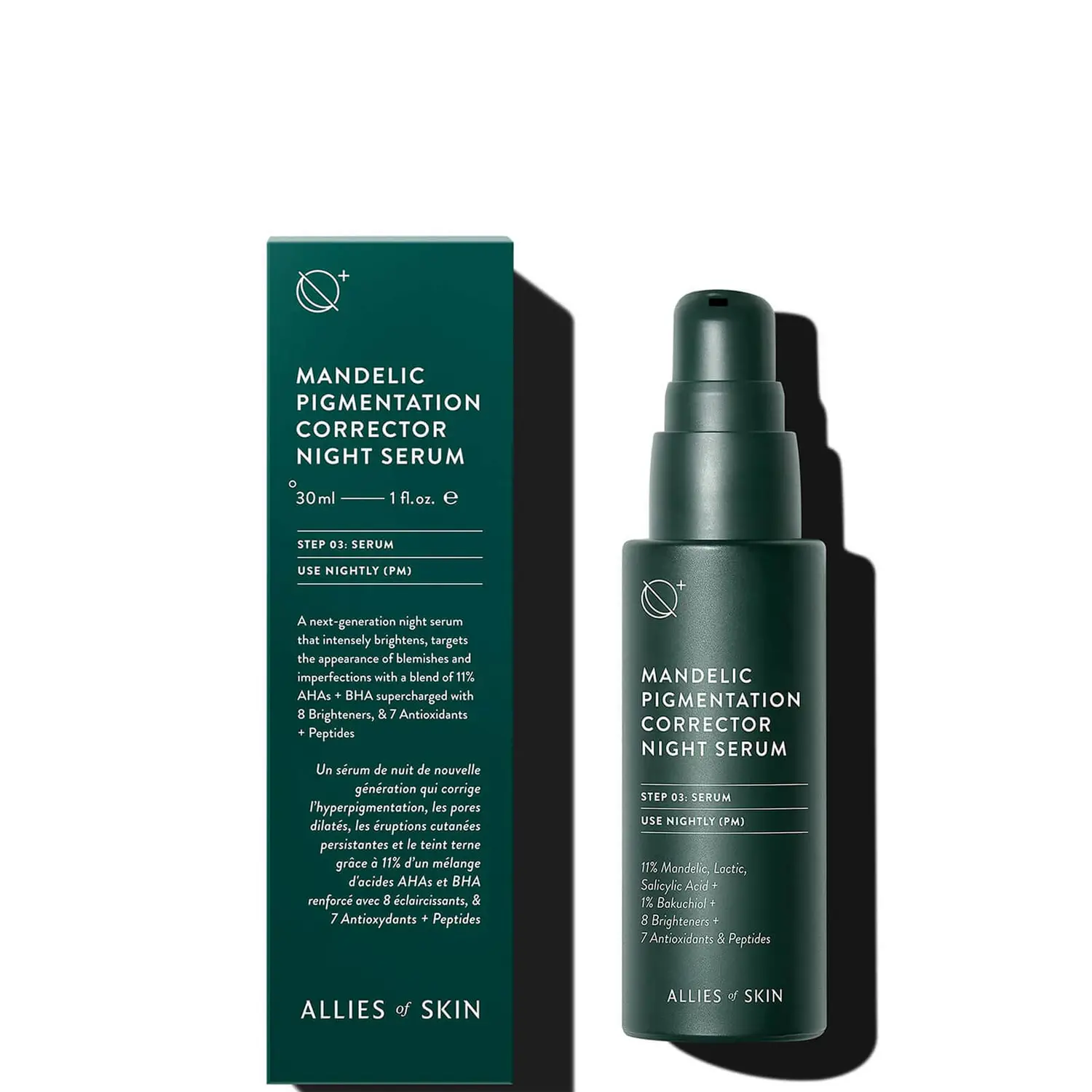 Acne Prone & Mature, Hyperpigmentation
An anti-aging bakuchiol serum that brightens and fades the appearance of stubborn dark spots. Designed for all skin types, this Mandelic Pigmentation Corrector Night Serum from Allies of Skin is just the ticket to achieving a healthier natural glow by speeding up the cellular renewal process. In addition, it helps fade and lighten dark spots and increase skin elasticity. For oily skin types and acne-prone skin this highly concentrated facial serum has 11% mandelic acid, lactic, and salicylic acid (AHA's also known as alpha hydroxy acids). These work together to reduce blemishes or blackheads as well as refine large pores with their powerful AHA properties that also help Speed Up Cellular Renewal and strengthen the skin's barrier with increased hydration. Unlike retinol, this formula is designed with anti-aging benefits that help promote healthy skin increasing cell turnover for radiant skin.
Key Benefits
Reduction of age spots, melasma and skin discoloration
Improved radiance and more even skin tone
Reduction in the appearance of pores
Increased cellular renewal through exfoliation
Improvement in fine lines and wrinkles
Reduction in acne, blemishes and blackheads
Reduces breakouts and acne scarring
Reduces inflammation and excessive melanin production
Repair damaged skin cells
Key Ingredients
Bakuchiol
Mandelic Acid
Salicylic acid
Lactic Acid
Peptides
Rumex Occidentallis Extract
Rosehip Fruit Oil
Hyaluronic Acid
Niacinamide
Superoxide Dismutase
White Tea Leaf Extract
Resveratrol
Vitamin E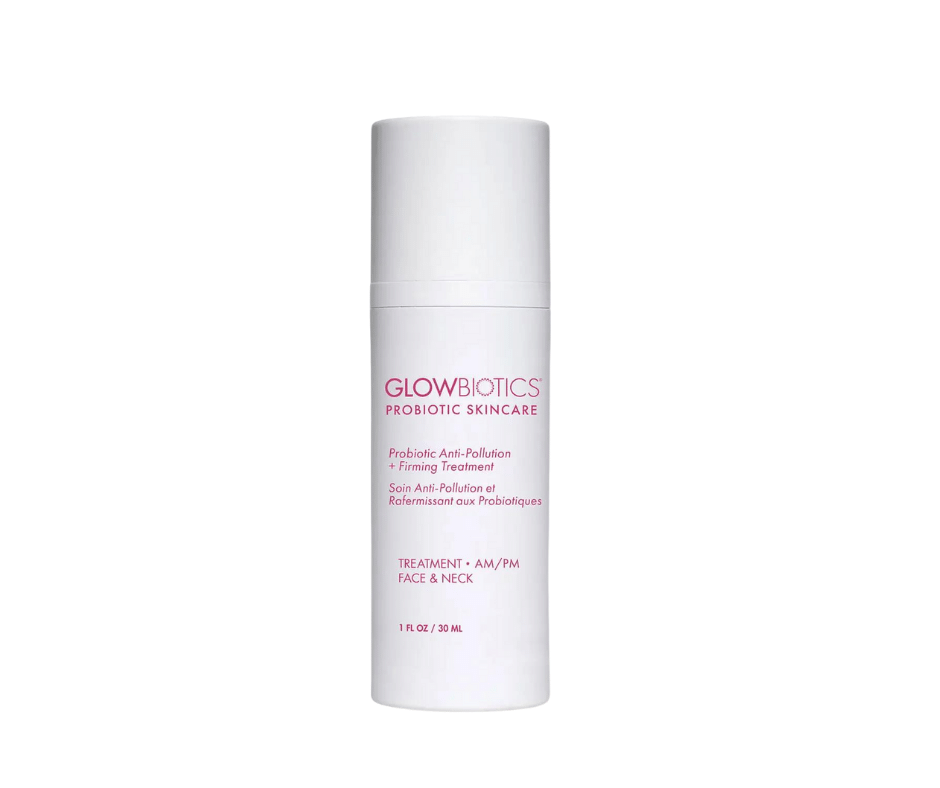 All Skin Types- Pollution Fighter
GLOWBIOTICS Probiotic Anti-Pollution + Firming Treatment is a powerful and innovative way to keep your skin looking young. This treatment creates an instant defensive layer on the face and neck area that protects against environmental factors like pollution or dirt which can cause signs of aging such as wrinkles with its exclusive anti-pollution complex powered by probiotics for a healthier-looking complexion in all areas! Get a younger, more vibrant complexion with the help of this exclusive anti-pollution complex! It's made up of not just one but two different compounds; an effective skin barrier from toxins AND protection against eco factors. The probiotics and Bakuchiol also help balance out your microbiome so you get all this great treatment without any side effects or worries about problematic ingredients like harsh chemicals found in many skincare products today.
Key Benefits:
Acts as a natural barrier against eco-factors and toxins
promotes youthful-looking skin
Helps balance the skin's microbiome to improve skin health
Key Ingredients:
Exclusive Anti-Pollution Complex
Skin Tightening Complex
Infrared Anti-Aging Complex
Probiotics
Bakuchiol
Jojoba Seed Oil
Beta Glucan
Tomato Seed Oil
Vitamin E
Lavender Oil
Eucalyptus
Cranberry Seed Oil
Sunflower Seed Oil
Red Algae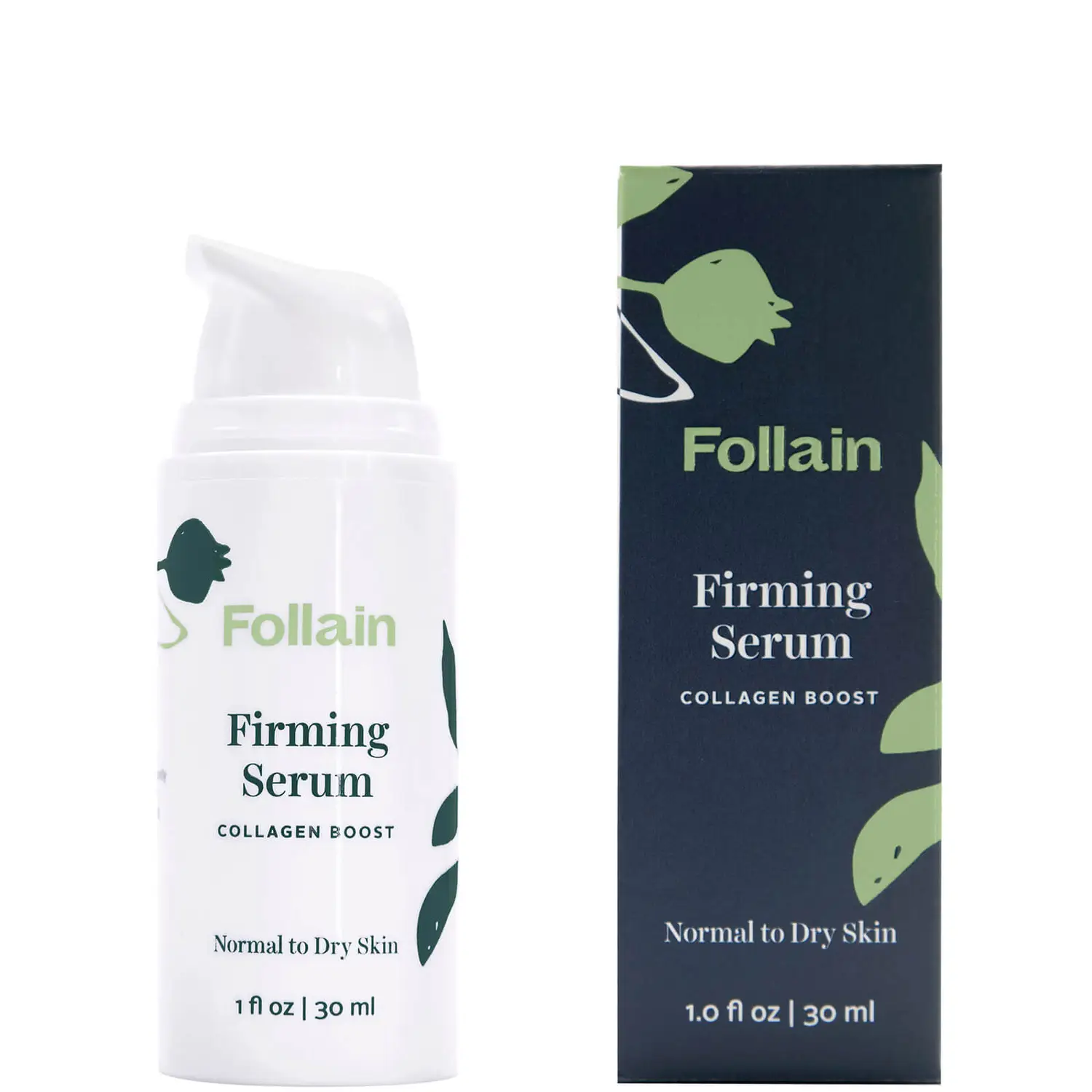 For Normal to Dry Skin Types
Follain Firming Serum- This Collagen Boosting serum is powered by 1% Bakuchiol (natural Retinol alternative), 2% Peptides, and Niacinamide to visibly help firm and plump the skin. Rose Flower Water helps to soften and hydrate the skin and infuse the healing benefits of rose. Bakuchiol is an anti aging ingredient that can help promote collagen boosting effects to your skin with this formula.
Key Benefits
Increased hydration
Soft supple skin
Increased skin firmness
Improvement to discoloration
Key Ingredients
Bakuchiol
Rose Water
Peptide
Niacinamide
Rosehip Oil
Brown Seaweed
Hyaluronic Acid
As you can see there are plenty of options for every skin type with these best Bakuchiol serums. When deciding which formula to use simply look for the right formula geared for your own skin type. For skin conditions like  hyperpigmentation look for products that help to reduce melanin production or increase skin exfoliation with ingredients like mandelic, glycolic or lactic acids.
Don't forget to wear your daily broad spectrum sunscreen to protect your skin from damaging UV rays.
Follow us on Twitter, Facebook and Pinterest!
PAID ENDORSEMENT DISCLOSURE: As a staff of licensed aestheticians we review products based on their merit and our professional expertise. This is not a replacement for your own skin therapist's advice for your skin or any medical claim or endorsement. We encourage you to seek medical care when appropriate. To support our website activities, we may receive monetary compensation or another form of recompense for our endorsement, recommendation, testimonials, and/or links to any products or services from this website as an Amazon Associate or other affililiate.