Stacked Skincare: Best At Home Microneedling Tool for Antiaging
If you're concerned about your aging skin read our guide. Learn how to fight aging with the Stacked Skincare Microneedling Kit now!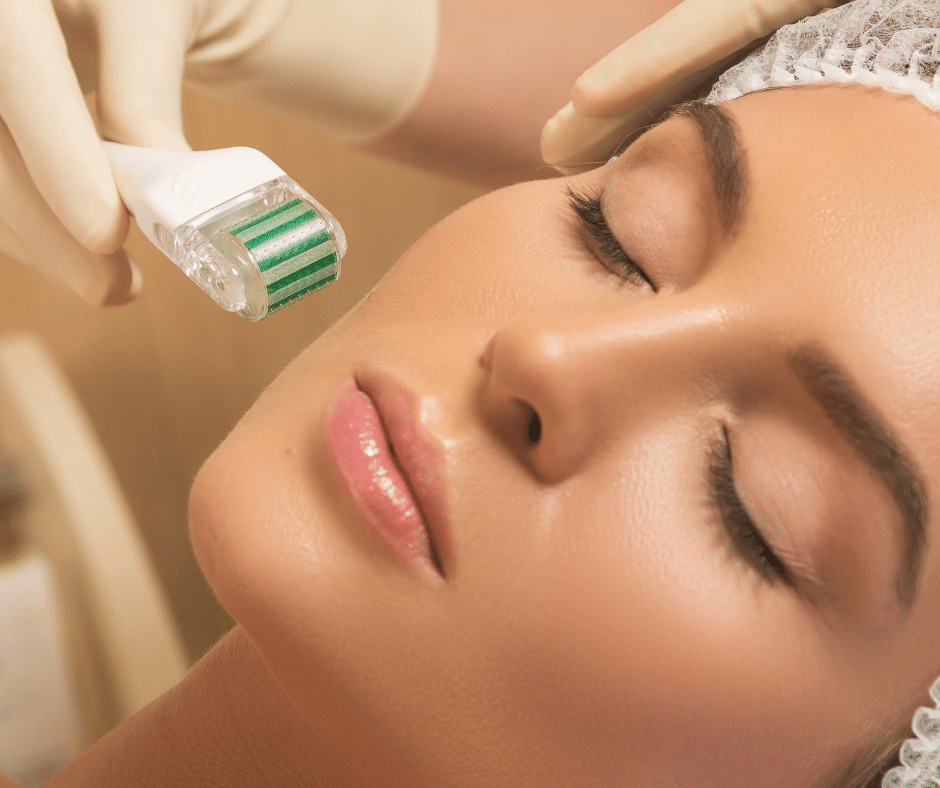 This article may contain affiliate links.
For anyone concerned about aging skin, we have the answers for you. Dull aging skin gets so old. Quite literally and yes the pun is intended. You see so many commercials and information for skincare. What do you do? What really works? If you want brightened skin, refined pores and skin texture, and an improved appearance in fine lines and wrinkles then read on to learn more.

The first signs of aging are often minor, such as dark spots on the skin or uneven texture. But these could be a sign that deeper issues exist - which is why it's important for all adults over 25 years old to begin an antiaging skincare routine when the aging process begins.
Microneedling was pioneered by Dr. Des Fernandes, a world renowned plastic surgeon in the early 1990s as a means to correct skin issues like fine lines, wrinkles and age spots while improving skin texture. He determined conclusively that microneedling regenerates skin tissue and restores our collagen within the dermal layer of our skin.  As we know it today it is also one of the only ways known to improve our elastin production.
Most of us know about collagen production in the skin and increasing collagen can help with fine lines and wrinkles. But a loss of elastin production is connected to the sagginess we might see in our jowls and loss of elasticity of drooping of our faces. Microneedling is one of the best ways to improve most aspects of visual aging of our skin. It can help with aging, fine lines and wrinkles, uneven texture, pore congestion, dark spots, and more. By creating small wounds in the skin, the body is triggered to begin a healing process that produces a chemical release.  Making our bodies create more of these vital anti-aging warrior chemicals like collagen, elastin and growth factors.
The skin of our face and body naturally begins to age around the age of 25 according to scientists. As we grow older, dark spots, facial lines, and uneven skin tone on our facial area becomes more prominent due in part to decreased circulation, a decrease production of stem cells and growth factors, and overall cellular degradation that begins at about this age. This results in uneven texture and increased facial lines that happen over several years. Eventually, we see fine lines and wrinkles that will develop into deeper wrinkles as well as age spots or dark spots and uneven skin tone and loss of elastin that affects our facial contours and sagging associated with aging.
Get the brightening and plumping benefits of a micro-needling facial by micro-needling at home with a derma roller. This advanced Microneedling Tool gently produces micro-channels to support younger-looking skin. Use micro-needling for acne scars, fine lines, visible pores, and dark spots. There is even evidence to suggest it  may benefit stretch marks. Apply your favorite anti aging serum  before and after micro-needling for the best results.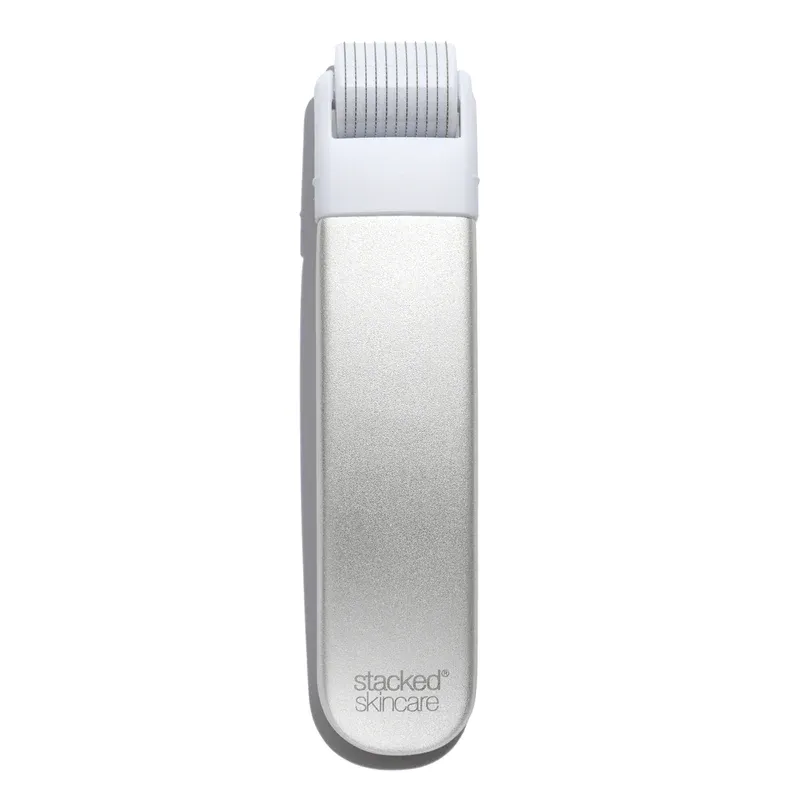 When combined with the right combination of skincare products you can get professional results in the comfort of your own home and who doesn't want that?
Designed by an aesthetician, this three-pack set will deliver the results you have been hoping to achieve. By combining the modalities of this three-pack set you exponentially increase your results.  This best value, professional set includes a dermaplane tool, microneedling tool, and ice roller so you can have a truly professional experience.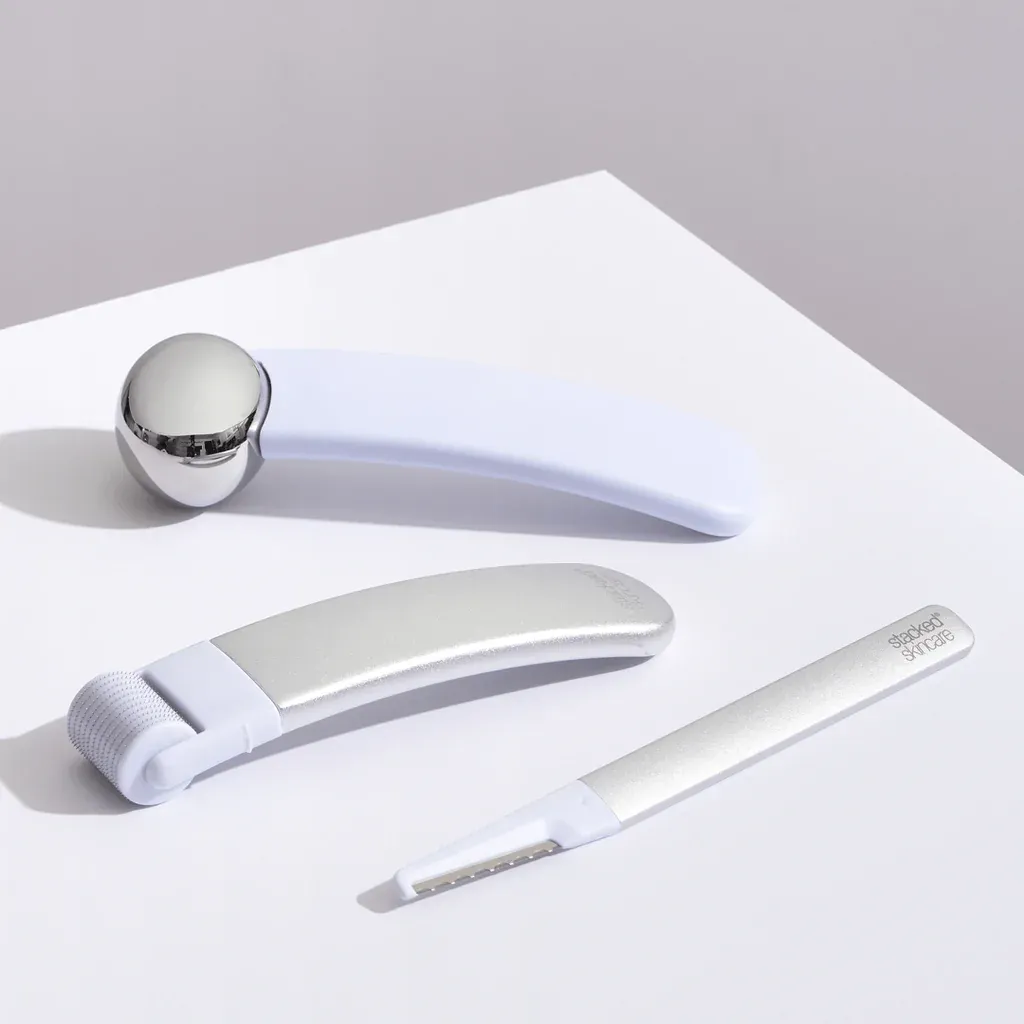 If we can increase stem cell production and trigger growth factors we can initiate a reaction in our body to produce more of these mechanisms that promote collagen and elastin production and help the skin look younger.
Your skin will see an improvement in the appearance of pore refinement while also improving the appearance of the skin by minimizing fine lines, wrinkles, and dark spots caused by the aging process! The Ice Roller helps to soothe irritated skin by decreasing the circulatory response and calming the skin.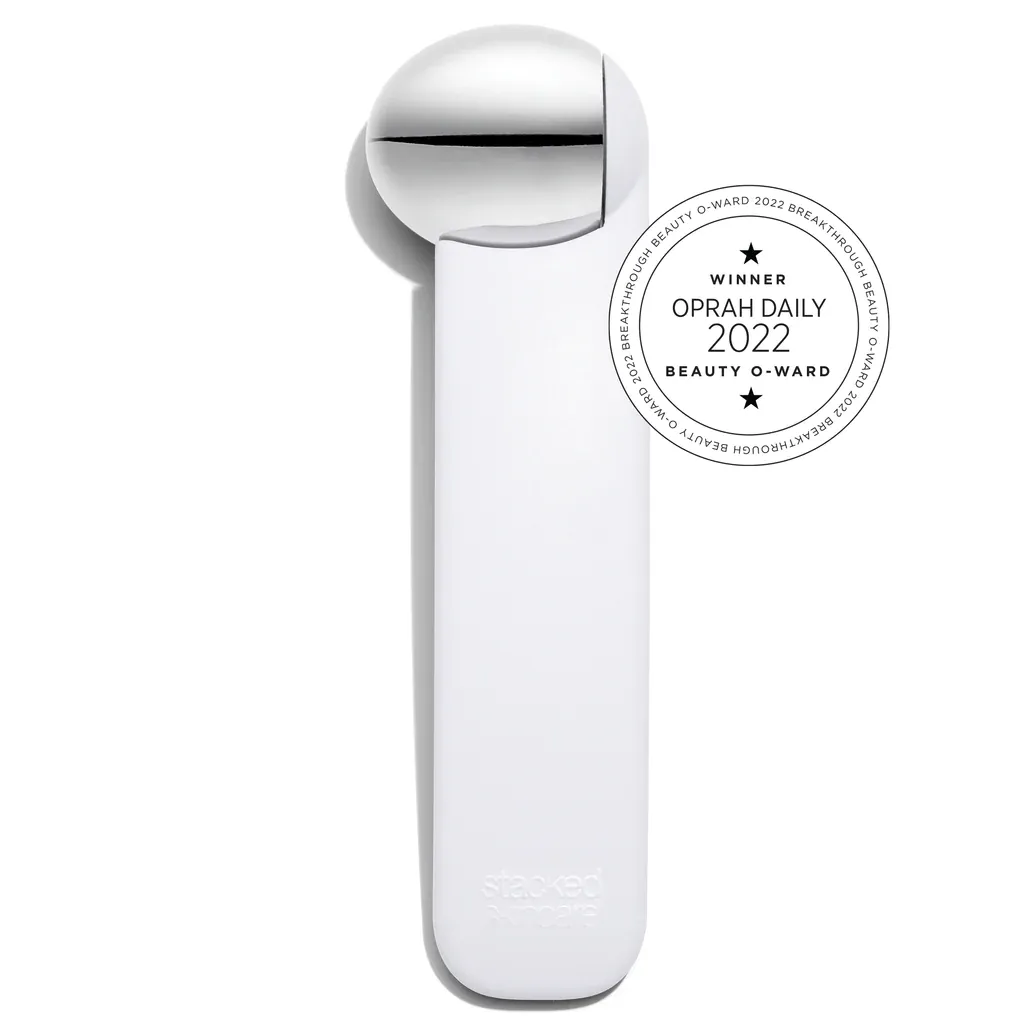 You will thoroughly enjoy your skin's new plumper appearance  that is  youthful and brighter and with minimized signs of aging with this aesthetician-developed set. A 2022 new beauty award winner.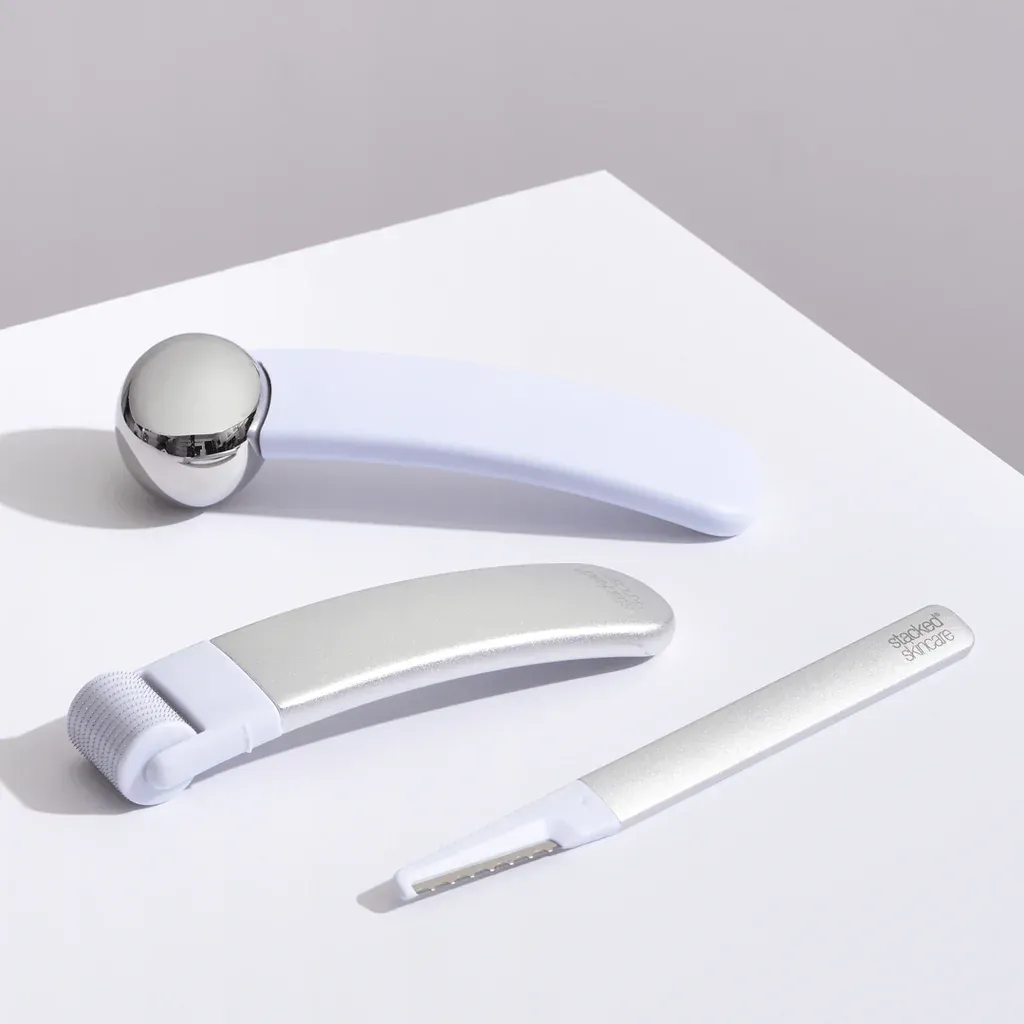 Stacked Skincare: Best At Home Microneedling Tool for Antiaging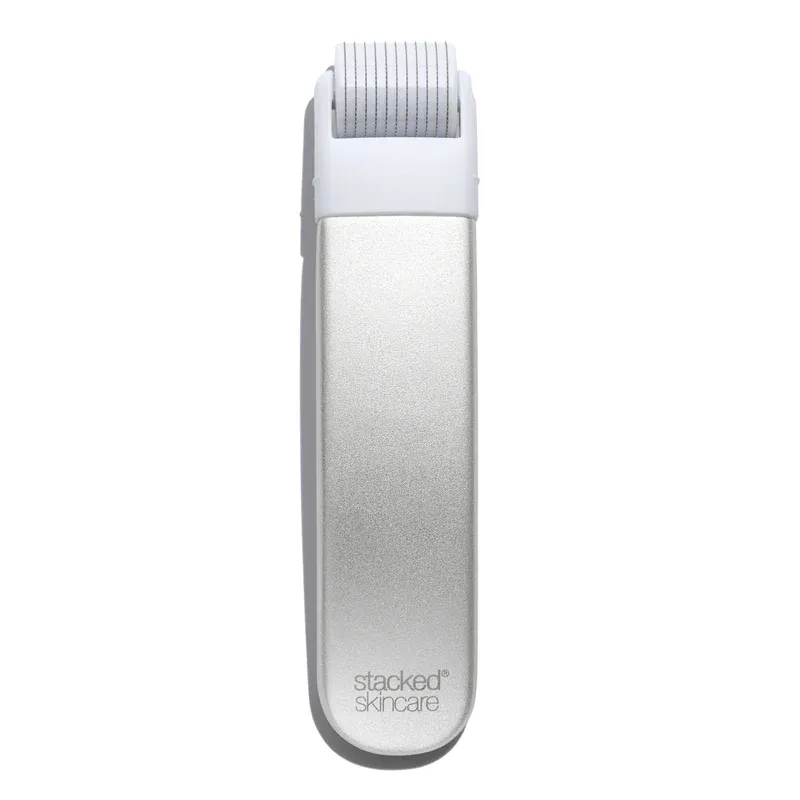 If we can increase stem cell production and trigger growth factors we can initiate a reaction in our body to produce more of these repairing processes that promote collagen and elastin production and younger looking skin.
This asthetician developed Dermaplaning Tool is an  exfoliation device that uses a sterile blade to safely remove the buildup of dead skin cells and facial hair. As it removes excess dead skin cells this allows for skincare products to more effectively penetrate the  epidermal layer of skin and provide better efficacy.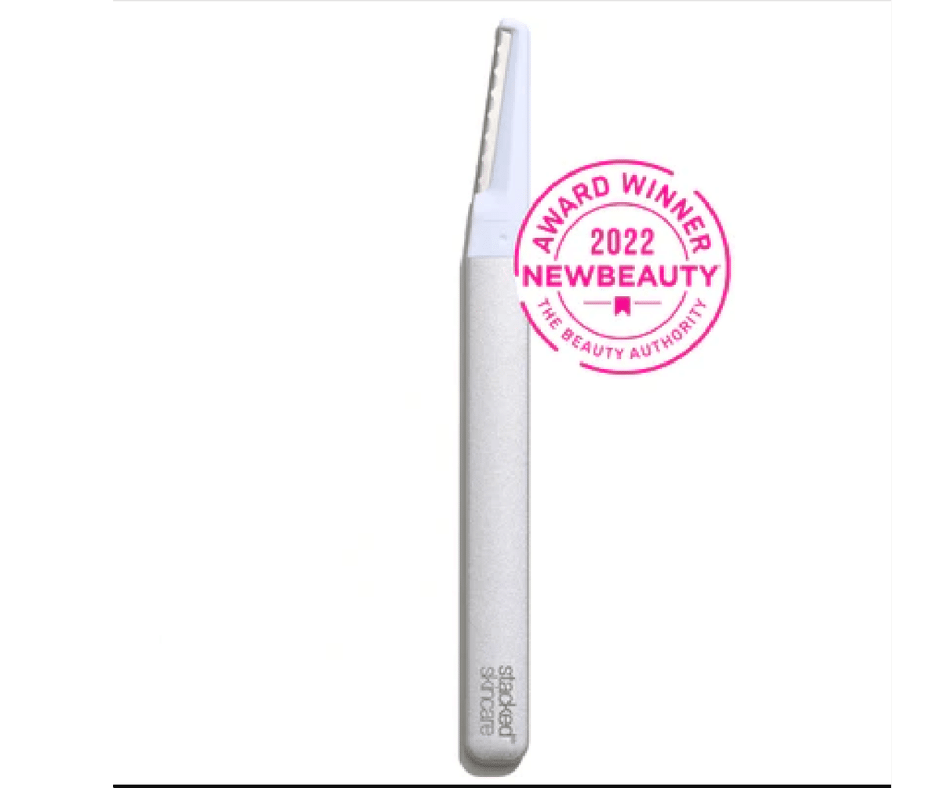 As an aesthetician, I also give this set a 5-star rating. This beauty secret should be a staple in your antiaging arsenal. If you have been wondering how to get that glass skin look, this is one of the best ways to improve your skin.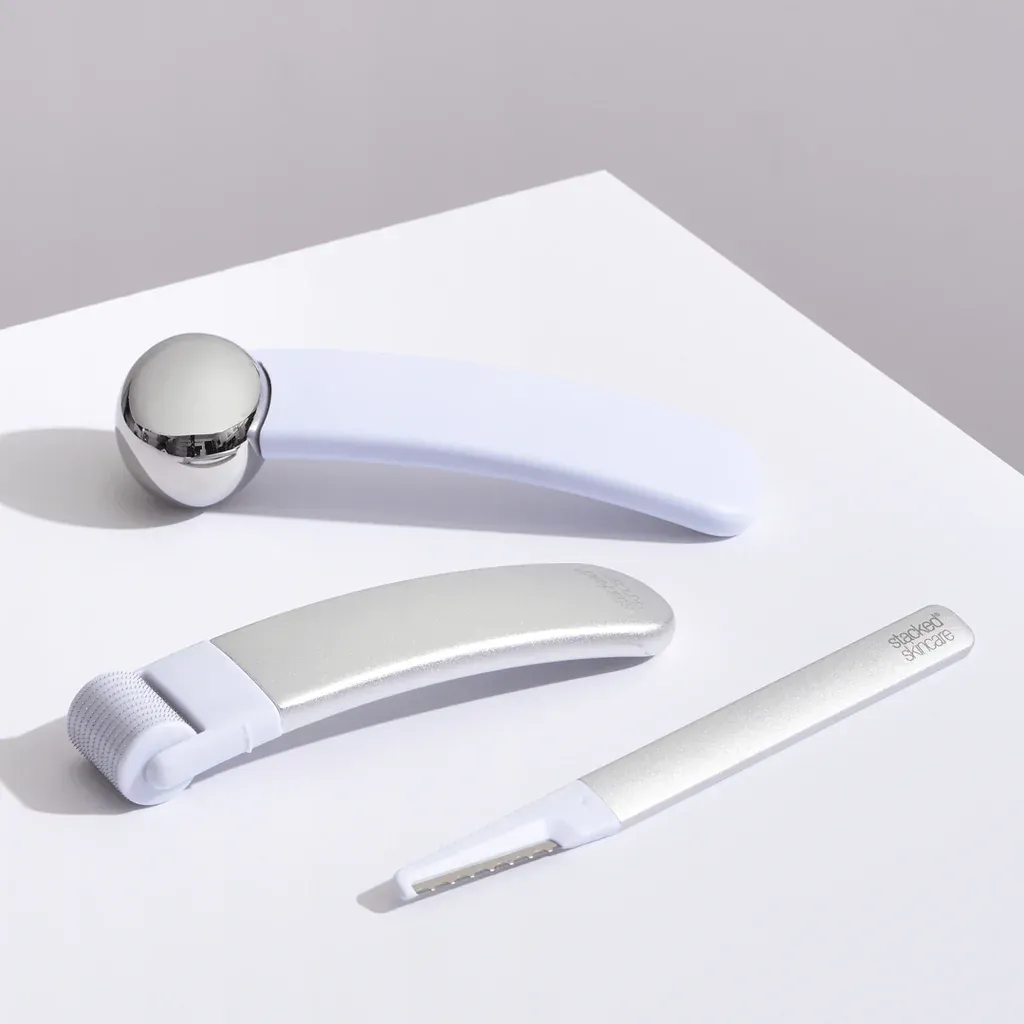 Stacked Skincare: Best At Home Microneedling Tool for Antiaging
Stacked Skincare also offers afterpay with 4 interest-free installments so it can easily fit into your budget. Don't wait,  order your professional skincare set today and experience better skin tomorrow! Click on the links to order your kit today. Or if you want a single product click on the image and you'll be taken directly to the website to order.
What are you waiting for... Order your set today and watch your skin transform.
P.S Be sure to take before and after pictures and track your progress.
Follow us on Twitter, Facebook and Pinterest!
PAID ENDORSEMENT DISCLOSURE: As a staff of licensed aestheticians we review products based on their merit about our professional expertise. This is not a replacement for your own skin therapist's advice for your skin or any medical claim or endorsement. We encourage you to seek medical care when appropriate. To support our website activities, we may receive monetary compensation or another form of recompense for our endorsement, recommendation, testimonials, and/or links to any products or services from this website