Got Thinning Hair? These Red Light Therapies Can Help!
If you've experienced hair loss, we feel your pain. We have compiled the best treatments to help you from estheticians who know. Learn more now!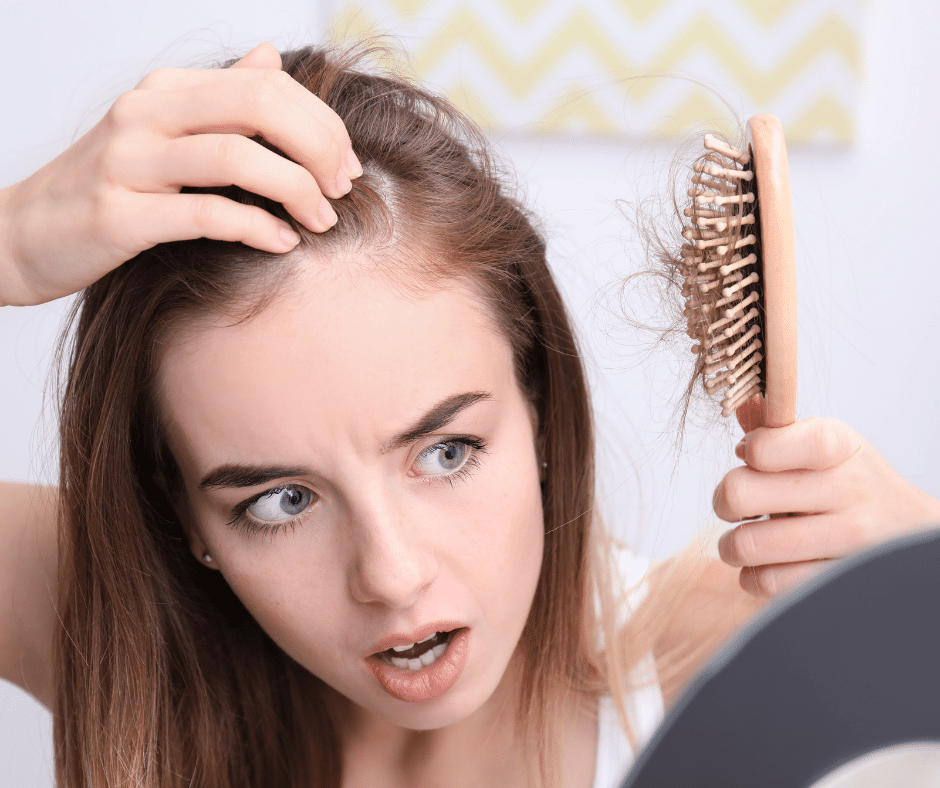 Red light therapy for hair loss
Are you concerned about thinning hair? You're not alone - according to the American Academy of Dermatology, 40% of women begin to experience hair loss by the time they turn 40. Fortunately, there's a new wave of red light therapies that can help. Here's what you need to know.
Does it Work?
Have you ever wondered how those miracle hair regrowth products work? Do they actually regrow hair, or do they just make your existing hair look fuller? The answer, it turns out, is a little bit of both. In this blog post, we'll take a look at the science behind hair regrowth,  the role that DHT plays, genetic and certain contributing factors as well as LED Red Light Therapy and Visible Red Light Therapy for hair growth.
What is DHT?
DHT, or dihydrotestosterone, is a hormone that's produced when testosterone comes into contact with an enzyme called 5-alpha reductase. DHT is often blamed for hair loss, but it's not the whole story. While high levels of DHT can lead to hair loss, it's also necessary for hair growth. In fact, without DHT, you wouldn't be able to grow facial or body hair at all!
Hair Follicles
So how does DHT cause hair loss? It seems to be related to the size of the follicles. When DHT levels are high, the follicles become smaller and the hair shafts become thinner. As a result, the hair follicles are less able to support normal hair growth. So while DHT is necessary for hair growth, too much of it can actually lead to hair loss.
Treating the cause of hair growth through the hair follicles seems to be the answer. Combining red light therapy for hair loss with products that promote proper hair growth is the solution. When used topically there are several products that can help promote your hair follicles producing new hair growth. If you have female pattern hair loss we understand the stress and heartache hair  loss and thinning hair can cause. This is why  red light therapy and laser therapy in addition to hair growth products can help.
DHT for Hair ReGrowth
With Red Light Therapy
Fortunately, there are ways to lower DHT levels and reverse hair loss. DHT products are most commonly used to treat baldness, and hair loss but they can also be used to promote hair growth. DHT is an androgen, which means that it stimulates the development of sexual differentiation in the embryonic stage and as we age it stimulates the development of male characteristics. It is also responsible for things like prostate health, sebaceous gland activity (oil production for the skin and hair) as well as facial hair and male pattern baldness. DHT blocking products are typically applied to the scalp, frontal hair line, or crown for hair loss in addition to the use of a light therapy device. This can trigger hair growth or provide a decrease in thinning hair.
How to Use DHT
DHT products are typically applied to the scalp, but they can also be used in combination with Led Infrared Light therapy to promote hair growth. Led infrared light therapy is a type of light therapy that uses LEDs to emit infrared light. Some women with female pattern hair loss may also need to use DHT, minoxidil or other products for their hair loss.
Male Pattern Baldness
When using DHT blockers in conjunction with infrared light therapy, it is important to follow the manufacturer's instructions for application as well as using safe handling techniques when applying products topically or using light therapy treatments.
What Causes Hair loss for Females?
The reason for female pattern baldness is not well understood, but may be related to aging and changes in levels of androgenic hormones. Use of contraceptives  or certain medications may also be a contributing factor. A family history with either men or women who have lost their hair also seems likely candidates as does heavy blood loss during menstrual periods since these factors affect the growth cycle of follicles.  This ultimately leads them down a path towards hair loss or hair thinning.
Female Pattern Baldness or Thinning Hair
Hair loss is generally tied to the hair follicle shrinking in both male pattern baldness and female pattern baldness or hair loss.
Hair follicle stimulation through the use of red light therapy or laser therapy has been FDA cleared for home use. By stimulating the hair follicles these devices can signal your body to secrete biomodulators that stimulate hair growth by improving the health of the hair follicle.
Is Female Hair Loss Common?
Female pattern hair loss (FPHL) is a distinctive form of diffuse hair loss that occurs in women with androgenetic alopecia. Many women are affected by FPHL. Around 40% of women by age 50 show signs of hair loss and less than 45% of women reach the age of 80 with a full head of hair.
In FPHL, there is diffuse thinning of hair on the scalp due to increased hair shedding or a reduction in hair volume, or both. It is normal to lose up to 50-100 hairs a day. Another condition called chronic telogen effluvium also presents with increased hair shedding and is often confused with FPHL. It is important to differentiate between these conditions as management for both conditions differ.
How is Female Pattern Hair Loss Different Than Male Pattern Baldness?
Female pattern baldness is different from that of male pattern baldness in two major ways. First, female hair loss usually begins with a widening through the center part and progresses to thinning on top while other areas remain untouched by illness or damage
Hair loss in females generally  does not progress beyond total baldness as it can in men. However, thinning hair in women can be permanent if left untreated. Most often with female pattern hair loss it's usually mild to moderate.
Hair Transplants
While hair transplants can help for male pattern baldness, women can also get hair transplants particularly for alopecia areata. Use of Minoxidyl for female hair loss is also available over the counter as are other hair loss treatments such as ketoconazole. Red light therapy treatments in addition to stem cell topical applications or low level laser therapy can help when used consistently.
Emotional Tolls of Hair Loss
Hair loss can be a very emotional topic for many people. The impact of hair loss on mental health can be significant, and it is not solely a cosmetic issue. Those who are affected often have an increased feeling that their physical appearance lacks attraction or appeal which could lead them into feelings such as depression. This distress causes problems with daily functioning in addition to impacting self-esteem; these challenges may make life difficult both socially (evaluated by others) but also personally--due specifically to one's own thoughts about himself/herself.
Hair Follicle Treatment Options
Minoxidyl as we discussed earlier has been approved. Another option is red light therapy or low level laser therapy. The one treatment that is currently being studied is platelet-rich plasma injections. These studies are still underway, but if they're successful it could be another option for people looking to recover from hair loss.
How Long can it Take for Results?
Both low level laser therapy and red light therapy treatments can take several months to see results. Some people have seen results in just weeks and up to 6 months.
Red Light Therapy for Hair Loss - How Does It Work?
Red light therapy is based on the premise that exposed skin cells absorb red and near-infrared light, this light then stimulates cell regeneration and growth through a process called photobiomodulation. In other words, it helps your body to grow new, and healthy cells. And when it comes to hair loss, this regenerative effect can be harnessed to help regrow thinning hair.
There are two main types of red light therapy for hair loss: laser therapy and LED therapy. Both work by exposing the scalp to low levels of red or near-infrared light. These wavelengths of light are believed to stimulate mitochondria (the "powerhouses" of cells), which then leads to increased production of adenosine triphosphate (ATP). ATP is essential for cell function and plays a key role in cell regeneration.
So, by increasing the production of cellular ATP, red light therapy can help your body to grow new cells - including hair cells. In fact, studies have shown that red light therapy can increase the number of hairs in the anagen (growth) phase by more than 40% and with healthier hair follicle.
Which at-home devices are best for Red Light Therapies for Hair Loss?
If you're looking for a red light therapy device to help with hair loss, here are  our top three recommendations for the best options on the market:
We have found the top three results based on customer satisfaction. These are medical grade with FDA-cleared technology.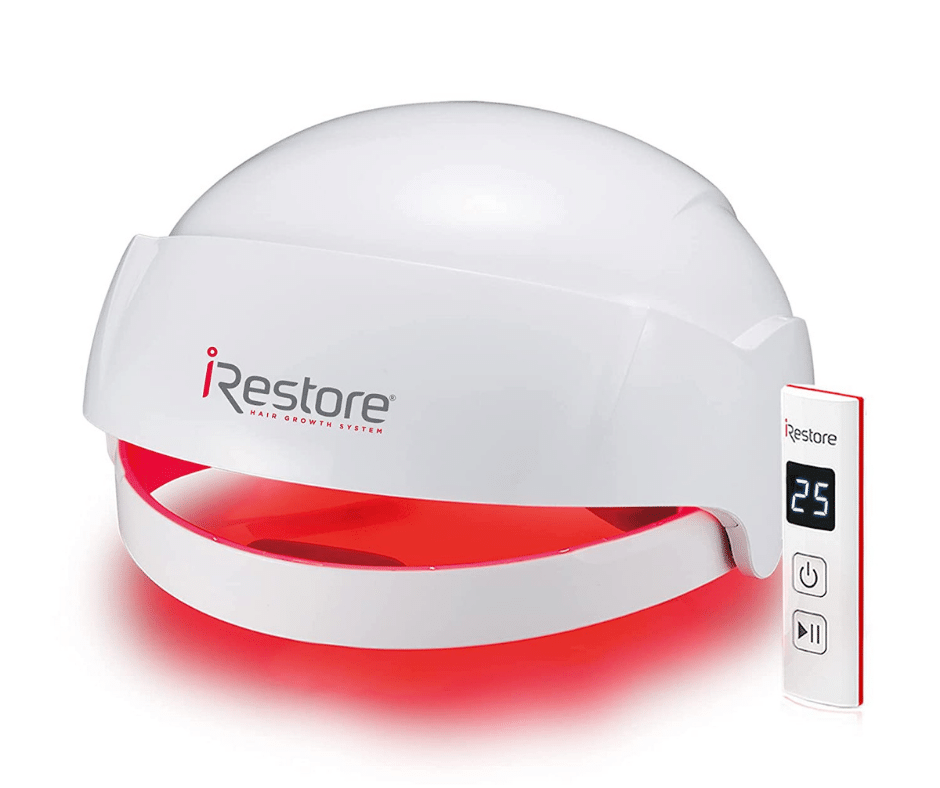 The iRestore Laser Hair Growth System is an FDA-cleared device that uses clinical-strength laser therapy to treat hair loss and promote hair regrowth. It is effective in treating both genetic and pattern baldness in both men and women and can be used without a doctor's prescription.
iRestore is a laser hair growth system that helps women and men suffering from Alopecia, Receding Hairlines or BALDNESS. The 6 month guarantee allows you to get back your confidence with 3-6 months of visible results. If after using iRestores's FDA cleared devices you don't see hair improvement send them back; they will refund you the cost of the equipment less a  10% restocking fee!
iRestore has been clinically studied by doctors and proven to promote hair growth for men & women in a 2017 research study. In this clinical trial, 100% of active male users saw visible progress with an average increase from 43%. Additionally, females also reported increased counts after using iRestore visible red light laser treating hair loss to stimulate hair follicles. See for yourself an increased hair density, and hair count with reduced thinning hair loss when using this red light treatment.
Just look at the results.
When you click the link above you  can opt for the most popular version which has 120 medical grade laser and red light therapy or get a professional version at 282 medical grade lasers and led. And they have payment options that can also work with your budget. Click the link above to learn more.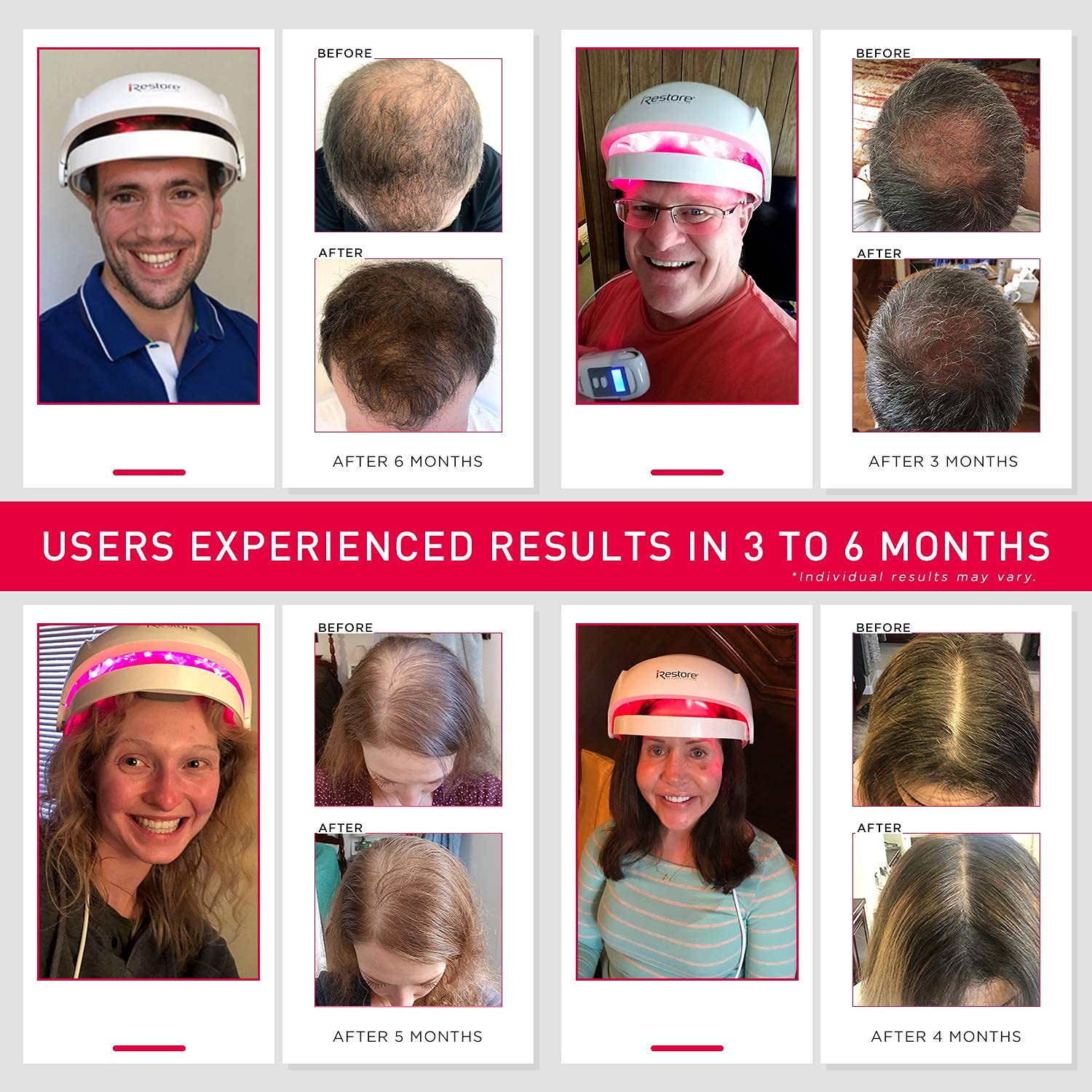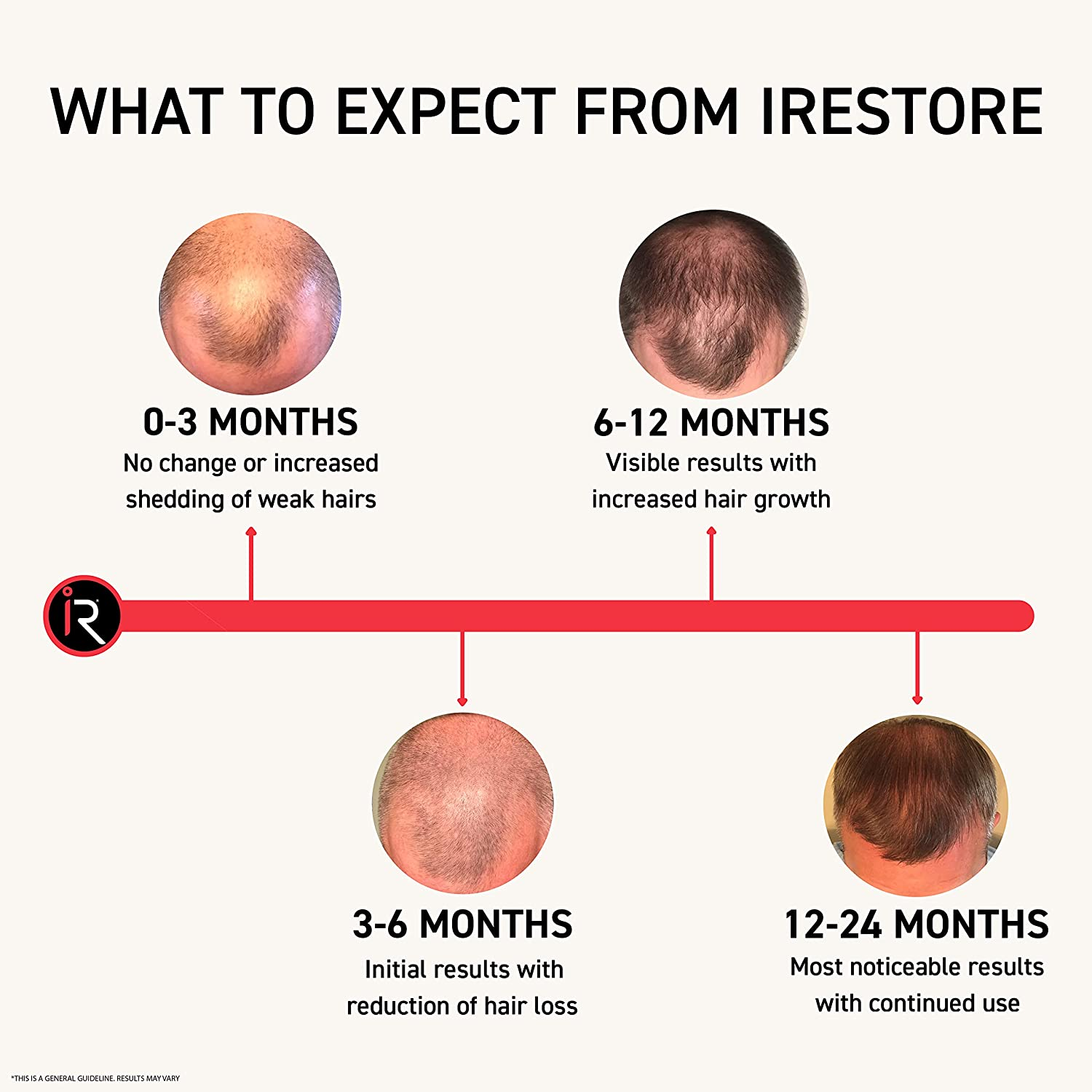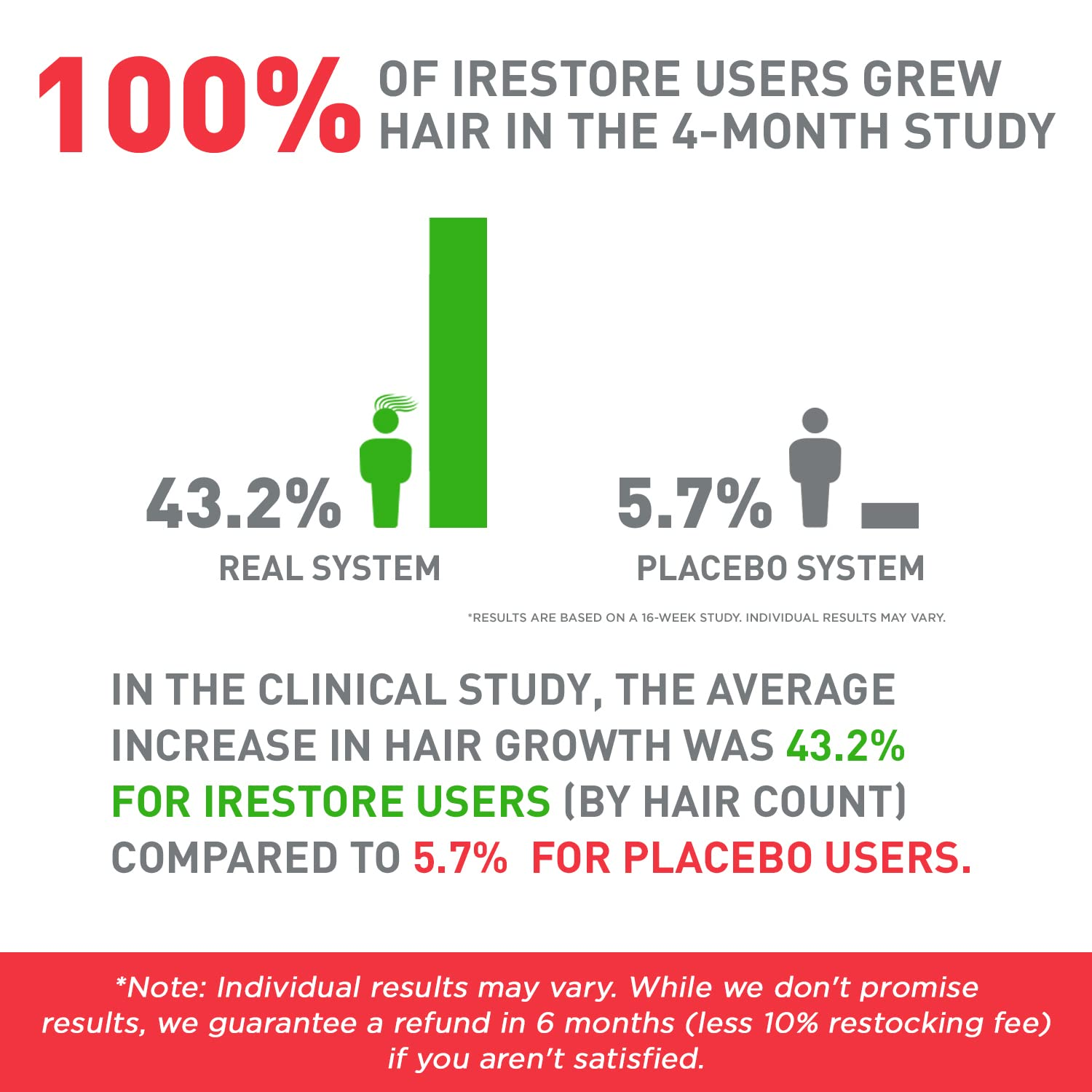 For more information about iRestore Laser Hair Restoration in this YouTube Video.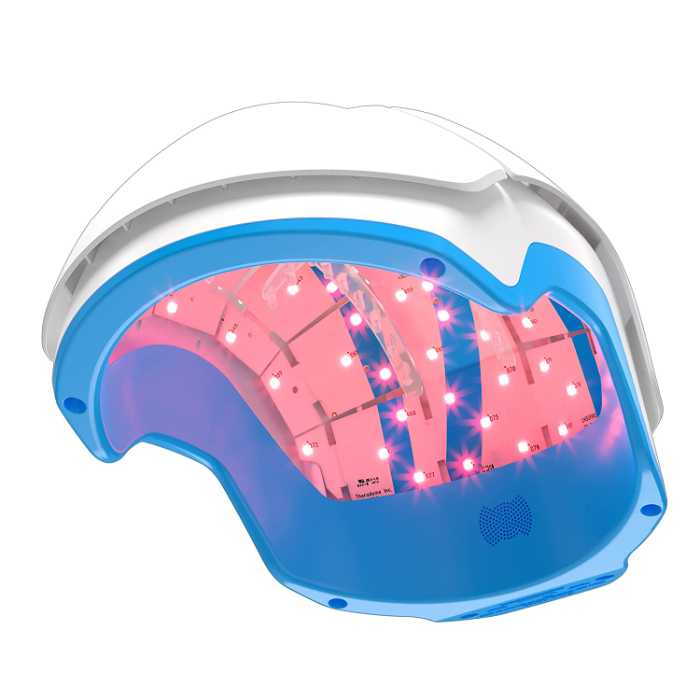 The Theradome LH80 PRO Laser Helmet is another FDA-cleared device that uses low-level laser therapy (LLLT) to treat hair loss and promote hair growth. It is clinically proven to be effective in treating genetic baldness in both men and women and has been shown to increase the density of hairs by up 28%.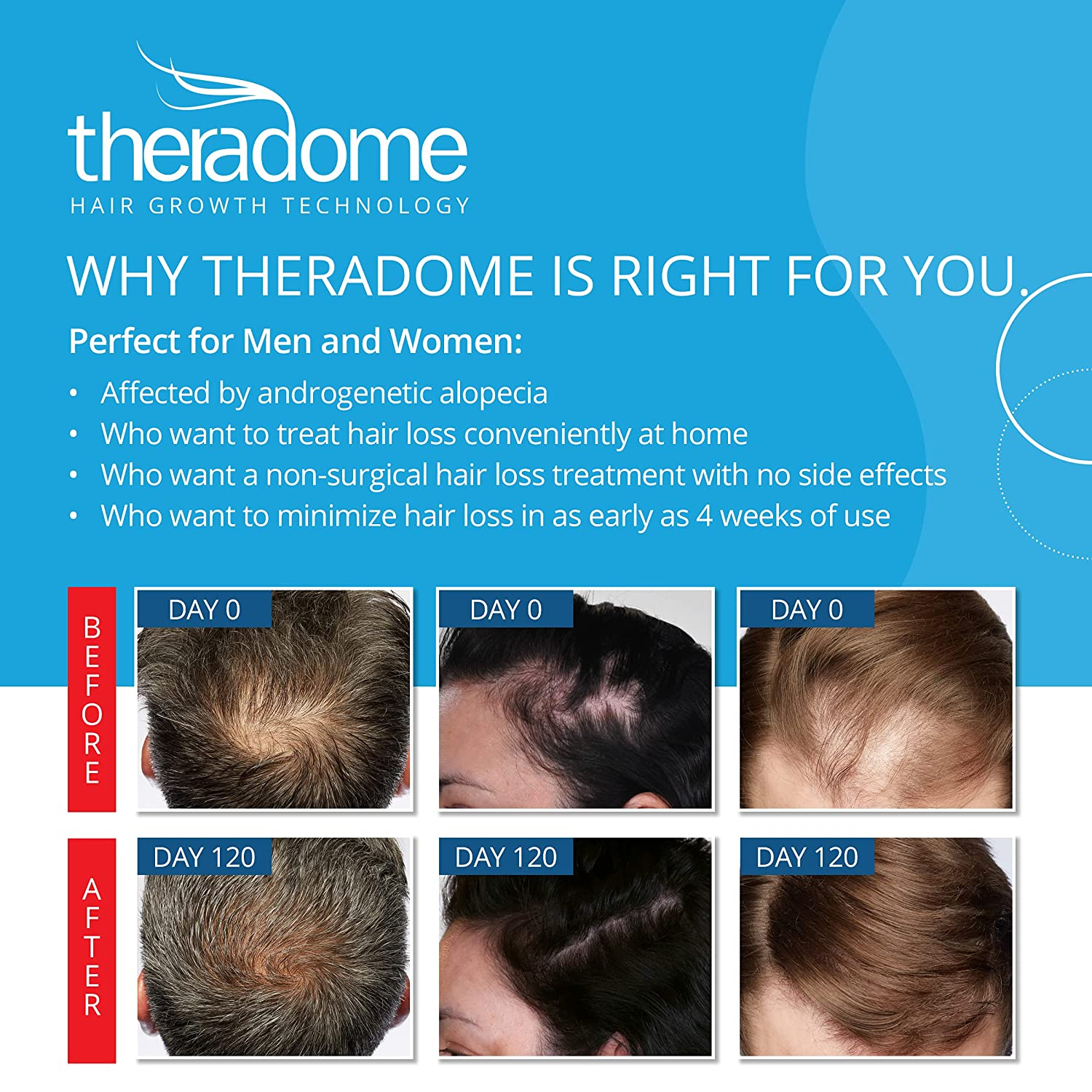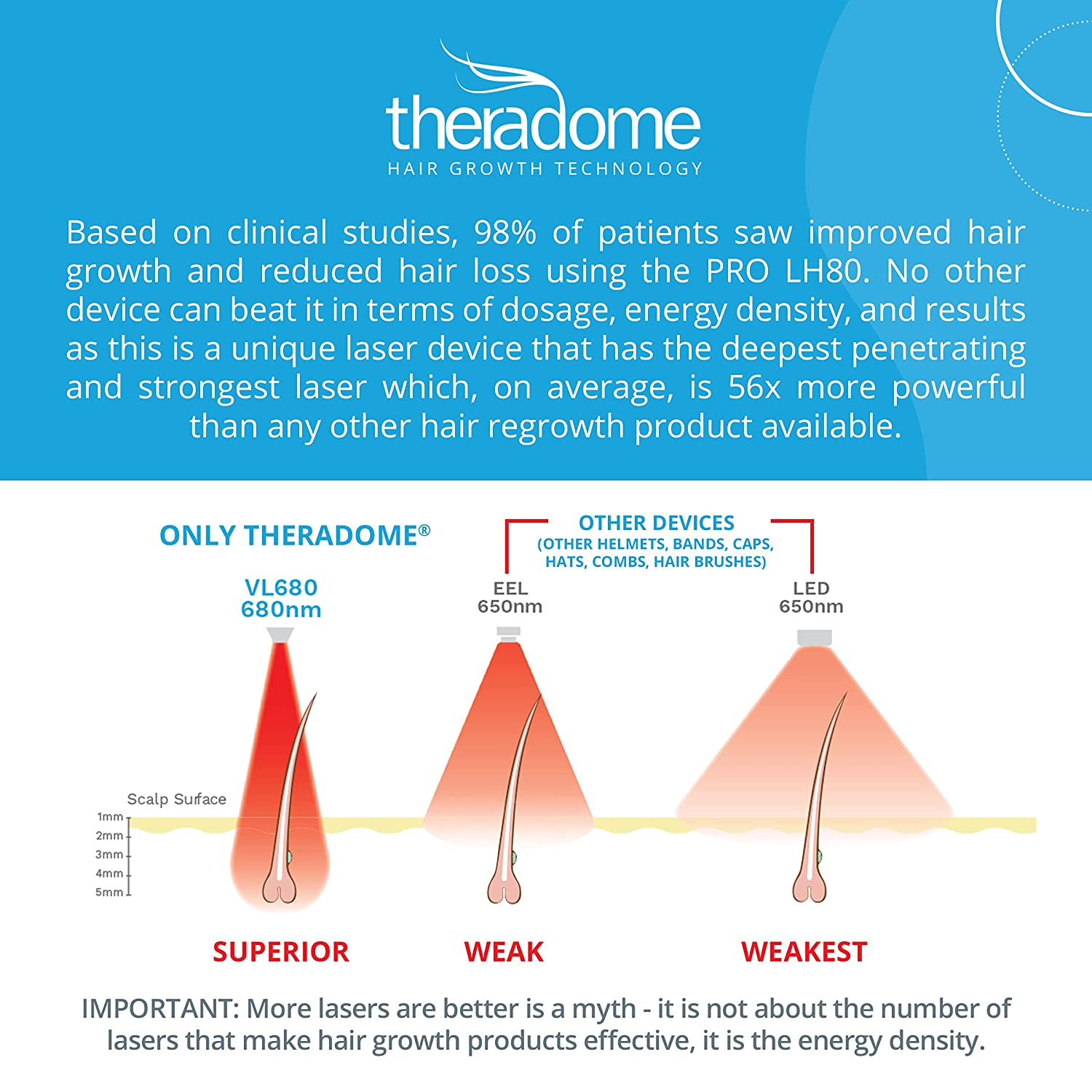 Theradome PRO LH80 Laser Hair Growth Helmet is a must-have for those suffering from hair loss and thinning hair. The high energy density of 80 premium laser emitters stimulate healthy hair follicles to produce keratin, speed up growth cycle lengths while maintaining existing hairs! Order and register your device today with TheraDOME so you can enjoy this amazing product at its full potential - Including 1 year on all parts except batteries which have an additional 10 months warranty.
Theradome laser Hair Growth Helmet is a new revolutionary hands-free, wearable device that can be worn while you are out and about. It enables early hair improvement as soon as 4 weeks of use with no need for prescriptions or surgery! The lightweight painless helmet does not interfere during your daily activities and it's safe too - this means you won't have painful side effects like any burning sensations sometimes experienced from chemical treatments; or discomfort after having had wigs/pieces removed due to thinning locks because of medical disease ( cancer treatment); or any unpleasant side effects caused by heating rods applied directly onto skin. For best results use this low level red light laser treatment consistently, every day for 20 minutes.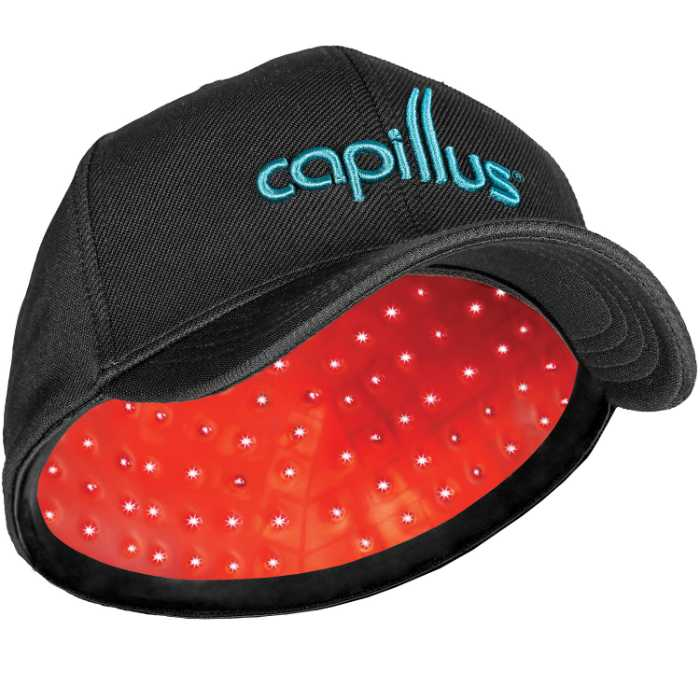 The Capillus82 Laser Cap is a portable device that uses laser phototherapy to treat genetic baldness in both men and women. It has been cleared by the FDA for use without a doctor's prescription and is safe and effective in treating baldness with no side effects.
Capillus PLUS is the latest and greatest from Capillus. A Clinically-proven technology with FDA clearance, it provides safe treatment for hereditary hair loss ( identified by an overall thinning hair scalp, receding hairline and male or female pattern baldness). Now you can grow your hairs at home or on the go with ease! The Medical grade silicone fits comfortably onto this 202 laser diodes 1010 mw of total energy output so that even those hard to reach places get treated conveniently through daily use on the go. Super Portable and easy to use.
The Capillus PLUS is the only laser hair regrowth product that has been recommended by a network of physicians to help grow thicker, fuller looking hair. With its innovative design and precision growth capabilities it can be used in conjunction with topical foam treatments or prescription medications for those who may have had surgery like FUT or PRP injections - but not all devices are created equally! This clinically-proven medical aesthetic features ONLY LASER TECHNOLOGY without any LED lights so you know this will make YOUR HAIR Healthier without any burning or sensitive skin tissue.
Capillus82 Laser Cap Results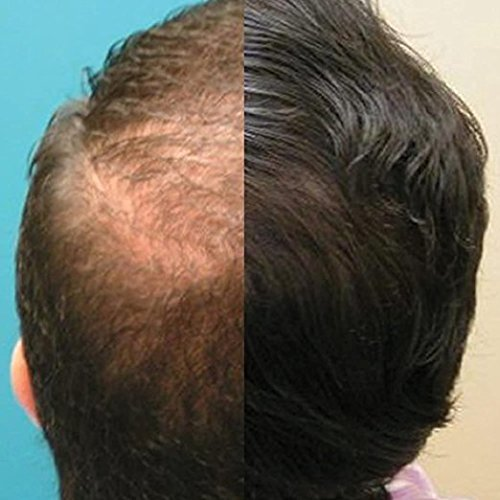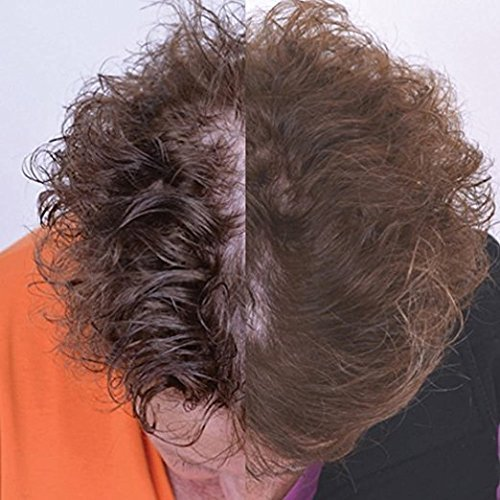 Recap to Regrow Hair Lost
If you are experiencing any hair loss, thinning hair or male or female pattern baldness take a look at these treatments and see how they can help you get back your hair loss. Recommended use is 3 times a week for 25 minutes each time.
If you're concerned about thinning hair, don't worry - there are plenty of effective treatments available, including red light therapies. Red light therapy is a safe, non-invasive treatment that can help to regenerate thinning hair by stimulating cell growth and repair the hair follicles. If you're considering trying red light therapy for hair loss, talk to your skincare professional, or doctor first to see if it's right for you.
Be sure to check out this article for more information on red light therapy for your skin, Why You May Want to Consider Infrared LED Light Therapy For Your Skin.
Follow us on Twitter, Facebook, and Pinterest for our latest guides on all things beauty, fashion and wellness.
PAID ENDORSEMENT DISCLOSURE: As a staff of licensed aestheticians we review products based on their merit based on our professional expertise. This is not a replacement for your own skin therapist's advice for your skin or any medical claim or endorsement. We encourage you to seek medical care when appropriate. To support our website activities, we may receive monetary compensation or another form of recompense for our endorsement, recommendation, testimonials, and/or links to any products or services from this website as part of the Amazon Associate program or another Affiliate program. We Thank you in advance for your patronage.