Niacinamide B3: The Wonder Vitamin for Your Skin
If you want to know more about niacinamide and the skin benefits it can provide you've found the right place. Learn more now!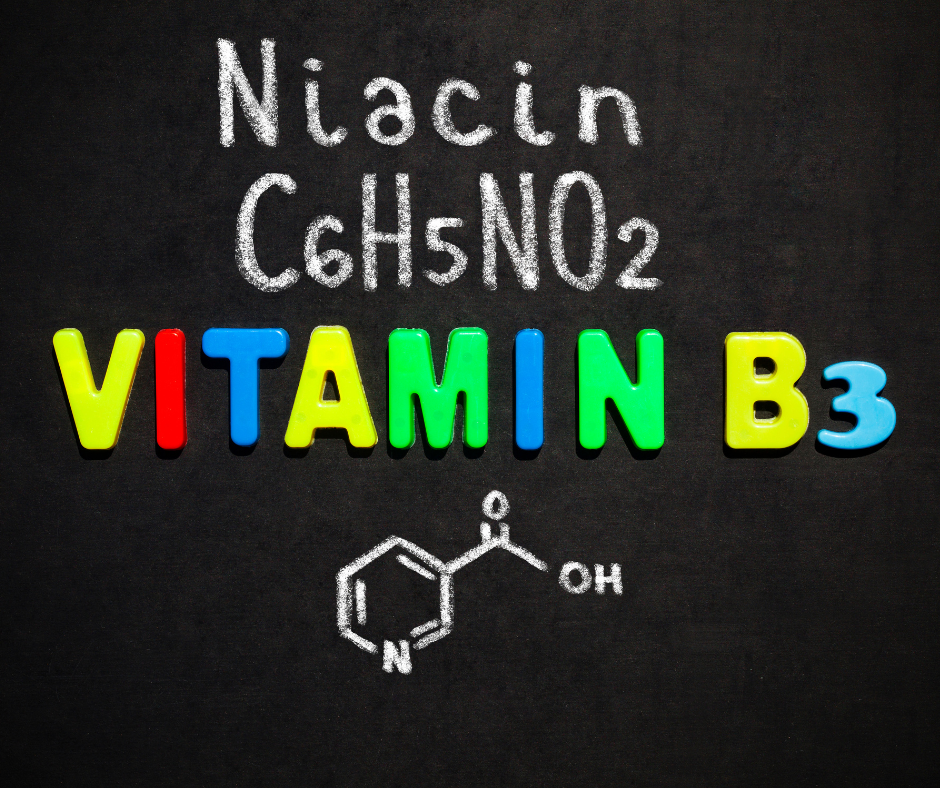 Niacinamide b3 skin vitamin

We all know that vitamins are important for our health. But did you know that there is a vitamin that is specifically beneficial for your skin? That vitamin is niacinamide B3, and it just so happens to be one of the most buzzed-about ingredients in skincare right now. Here's everything you need to know about niacinamide and why you should start incorporating it into your skincare routine.

How We Choose
Our estheticians test and research these products before including them in our recommended products. We don't waste our time or yours listing products that aren't good, have no data or clinical backing or otherwise don't help you. If a product is listed here it's because it made our cut.
What is Niacinamide B3?
Niacinamide, also known as nicotinamide, is a water-soluble vitamin that belongs to the vitamin B family. A derivative of Vitamin B3, it's an essential nutrient our bodies need for healthy cell metabolism and DNA repair. Because it is a water-soluble vitamin our body does not store this vitamin, therefore we need to consume it daily for our body functions to work optimally. Niacinamide can be found naturally in foods like meat, fish, eggs, nuts, and green vegetables.


Benefits of Niacinamide B3 for Skin
When applied topically, niacinamide or B3 has been shown to improve a variety of skin concerns including acne, dryness, fine lines and wrinkles, redness, and uneven skin tone. It can be particularly helpful for acne as it has been shown to help in regulating sebum (oil) production in the skin. It has also been used for people with rosacea. That's because niacinamide B3 is a powerful antioxidant that helps to protect the skin from environmental stressors like pollution and UV damage.
Niacin aka Niacinamide also has anti-inflammatory properties which can help reduce skin care concerns like Rosacea as well as sun damage. It can also help to boost collagen production and increase ceramide levels in the skin, resulting in a more youthful complexion.
Clinical Studies
Numerous clinical studies have been published to show the benefits of this vitamin for health and skin care benefits. Niacinamide benefits almost all skin types with few side effects unlike some other topical vitamins in skin care. Often formulated in combination with other active ingredients like Vitamin C to brighten uneven skin tones caused by sun damage such as hyperpigmentation. Clinical studies have shown niacinamide  aka(nicotinamide) as promising improvements to almost every skin type from oily skin, and acne skin, to dry skin and aging skin. "Use of nicotinamide in dermatology."
How to Use Niacinamide B3 in Your Skincare Routine
If you want to give your skin care routine a boost, incorporate a product that contains niacinamide B3 into your skincare regimen. Depending on which product you select niacinamide can be used in just about every step of your skincare routine. Find a cleanser with niacinamide, toner or serum it's up to your own needs when you want to add this ingredient to your skincare routine.
Niacinamide B3 Skin Vitamin
Considered an active ingredient, niacinamide has been shown to improve atopic dry skin, reduce inflammation and improve many other skin conditions. These anti-inflammatory properties help protect the skin and improve skin health. Topical nicotinamide can improve skin appearance by regulating sebum (oil) production in the epidermis-outer layer of the skin. Some people may want to use niacinamide supplements especially if they have tested low for this vital essential vitamin. Vitamin B3 as an essential vitamin is necessary for our body and skin cells to function properly.
You may find niacinamide in a variety of skin treatments and products including cleansers, exfoliants, serums, moisturizers, and even sunscreens due to their ability to help multiple skin types and safety and efficacy for most skin types. It's particularly helpful for inflammatory skin conditions such as rosacea, and acne and helps improve and refine the pores by helping to reduce the inflammatory response.
Skin Tone
One main benefit of using niacinamide is to help improve uneven skin tone. It has been shown to inhibit melanosomes in skin cells. Melanosomes are responsible for our skin color through melanocyte production in the epidermis. Our pituitary gland is mainly responsible for activating the synthesis of melanin in the melanocyte (skin cells that produce skin pigments in our skin). Vitamin B3 is often used in skin care products in combination with Vitamin A, Vitamin C and Vitamin E. When used as active ingredients they can benefit multiple skin conditions, improving skin health and improving skin tone.
Sensitive Skin
Topical Niacinamide is safe for sensitive skin and can often help sensitive skin types. Incorporating  B3, also known as niacin, into your skin care routine can often protect the skin and help reduce skin redness in sensitive skin. Since it reduces the inflammatory response in the skin this helps reduce skin irritation and improves overall skin health.
Topical Niacinamide
The use of topical niacinamide can be used to treat acne due to its regulation of oil production. It encourages healthy skin cells and can help the skin barrier function.
Over time, the use of topical niacinamide can help with aging to repair damaged DNA. Other benefits can include decreased fine lines and wrinkles. Topical application can help pigmentation issues by repairing damaged dna. Topical preparations deliver antioxidant properties improving cellular energy to reduce sun damage, and dark spots while reducing the signs of aging.
Treat Acne
One of the biggest niacinamide benefits is helping skin types that are prone to acne. Niacinamide works by strengthening and repairing the skin barrier. While it helps restore moisture levels,  it can also improve skin texture, refining the pores and smoothing the skin. Acne skin can benefit from topical use due to the protective nature of this vitamin. Minimizing inflammation and locking in moisture helps the skin to resist bacteria and calms the skin helping acne breakouts.
Our Top Recommended Niacinamide Products
This article contains affiliate links from Amazon and Dermstore. We are participants of the Amazon Associates program and may earn a small commission with use of these links at no added cost to you.
The Inkey List The recipe breakout is an all in one system to treat acne skin with bacteria fighting salicylic acid cleanser, niacinamide serum to control and balance oil production and succinic acid treatment for regulating and balancing acne and oily prone skin for a brighter, smoother appearance.
Sanitas GlycoSolution with Niacinamide toner has active ingredients like glycolic acid to gently exfoliate rough, oily or aging skin.  Formulated with 5% glycolic acid that promotes healthy cell renewal and repair clearing away dead skin cells, dirt and oil. Arginine extract helps promote calming inflammation, and niacinamide to help balance oily skin and brightening effects. The combination of these three powerful ingredients helps all skin types including aging skin for refined lines and wrinkles as well as oily to acne skin types.
Paula's Choice 20% strength niacinamide with glucosamine and purslane to minimize the look of pores, increase skin elasticity and improve surface texture for smoother, brighter and more refined skin.
PCA Hyaluronic Acid offers multiple forms of hyaluronic acid for deeply hydrated skin, refined and plumper looking skin with niacinamide that helps fortify and strengthen the skin barrier for added protection. Infused with ceramides to add lipids to the skin barrier for repair and replenishment. For dehydrated and parched skin.
SkinMedica 2.0 Pigment Correcting Serum works over time with stellar ingredients like  Tranexamic Acid: helps correct the appearance of hyperpigmentation Phenylethyl Resorcinol: helps support melanin balance to correct the appearance of hyperpigmentation Niacinamide & Tetrapeptide-30: helps prevent the appearance of dark spots while visibly balancing the appearance of your skin tone Marine Extract Blend: helps to correct and prevent the appearance of hyperpigmentation while supporting a healthy skin barrier Phytic Acid: enhances skin texture and promotes brighter more even-looking skin
DearKlairs Freshly Juiced Vitamin E Mask Moisturizing mask boosts the effects of vitamin C, niacinamide and adenosine for improved skin tone, refined pores and brighter hydrated skin.
Dermatologist Recommended Replenix helps to target and treat the delicate area of the neck and decollete. Harnessing the powerful ingredients like biomimetic ceramides for deep moisturization, peptides for skin cellular health regeneration and repair and niacinamide with hydrating, skin balancing oil and brightening effects.
Boscia uses expert formulations to increase radiance to the often forgotten skin on our body. This powerful formula works to increase hydration, reduce inflammation and regenerate cellular tissue for more youthful looking skin. Say goodbye to dry, crepey looking skin with this at home serum formulated with hyaluronic acid, niacinamide and peptides.
Sunday Riley Night ZZZ's delivers this star packed powerhouse formulation for professional retinols, niacinamide and what's more actual results. Order yours today and watch your skin defy odds with this rejuvenating skin care set!
The Sente Illumine Eye Cream targets the appearance of aging eyes mainly puffy looking eyes with fine lines and wrinkles. The brightening, calming effects of this eye cream is hard working to regenerate healthy, volumized skin around the thin and delicate eye area. Increased hydration and moisture visibly plump the skin and help to decrease aging concerns with smoothing action of Heparan Sulfate Analog (HSA), Niacinamide for brightening effects and calming inflammation, Peptides to diminish expression lines and Jojoba Butter for deep moisture to dry, dehyrated areas of the skin.
PCA Duo Set targets acne to oily skin types with powerful ingredients like gluconolactone and PHA for exfoliation and benzoyl peroxide to treat and provide antibacterial properties for acne skin. The light, hydrating moisturizer contains 4% niacinamide to balance oil causing acne for clearer skin without harsh chemicals that dry out the skin. Aloe and cucumber calms irritated, inflamed skin and adds moisture safely to oily and acne prone skin. Algae targets cellular renewal and offers high antioxidant to heal and repair skin. Rich in botanicals this healing, exfoliating combination helps to safely detoxify, purify and regenerate skin cells for brighter more balanced and clearer looking skin.
SkinMedica formulated this sunscreen for everyday use for oily to acne skin types that really need UV protection. Designed with oil balancing ingredients like niacinamide, this product delivers SPF protection 47 with broad spectrum protection with green tea to regulate and balance oil control.
Final Words
That's it for our roundup today of the best niacinamide products we highly recommend. We looked at the data, the 5 star customer reviews and researched the ingredients to come up with these highly recommended products.
Let's go over some frequently asked questions that you may also have.
Niacinamide FAQ
What does niacinamide do for your skin?
It does a number of things for your skin. Niacinamide has been shown to improve the appearance of redness, uneven skin tone, and aging. It also helps to improve the look of pores, blemishes, and wrinkles. Additionally, niacinamide helps to increase the moisture content of skin, which can lead to a more youthful appearance.
Which is better niacinamide or retinol?
Niacinamide and retinol are both beneficial for skin, but they work in different ways.
Niacinamide is a form of vitamin B3 that helps improve the skin's elasticity, hydration, and overall appearance. It also helps reduce the appearance of acne, dark spots, and wrinkles.
Retinol is a form of vitamin A that helps fight signs of aging such as wrinkles and fine lines. It also helps improve skin tone, texture, and clarity.
Can I use niacinamide everyday?
Niacinamide is a water soluble vitamin and is generally considered safe for everyday use. It is sometimes used to treat conditions like high cholesterol, diabetes, when taken internally and skin conditions like acne, rosacea, and hyperpigmentation when used topically in skincare.

Niacinamide Summary
We hope you have found this information helpful on your skincare journey. Remember that changes to the skin take time so be patient.
It's clear that niacinamide is a beneficial ingredient for skin health, and it can be found in many different types of products. If you want to start using niacinamide to improve your skin health, take a look at the options we've provided here. With so many great products on the market, you're sure to find one that meets your needs and helps you achieve better skin health. Thanks for reading!

Follow our social media to stay informed when a new product recommends drop on Twitter, Facebook, Pinterest and Quora.
References
Forbat, E et al. "Use of nicotinamide in dermatology." Clinical and experimental dermatology vol. 42,2 (2017): 137-144. doi:10.1111/ced.13021
PAID ENDORSEMENT DISCLOSURE: As a staff of licensed aestheticians we review products based on their merit about our professional expertise. This is not a replacement for your own skin therapist's advice for your skin or any medical claim or endorsement. We encourage you to seek medical care when appropriate. To support our website activities, we may receive monetary compensation or another form of recompense for our endorsement, recommendation, testimonials, and/or links to any products or services from this website.
Best Niacinamide
Niacinamide B3 is a water-soluble vitamin that offers countless benefits for the skin. From improving acne and reducing fine lines and wrinkles to evening skin tone and protecting against environmental stressors, niacinamide can do a lot to help the skin. So if you're not already using a product with niacinamide B3 in your skincare routine, now is the perfect time to start!