What's Not TO LOVE with These Mad Hippie Face Creams
An overview of the best face creams from the Mad Hippie Skincare line. Formulated clean beauty products with science backed ingredients.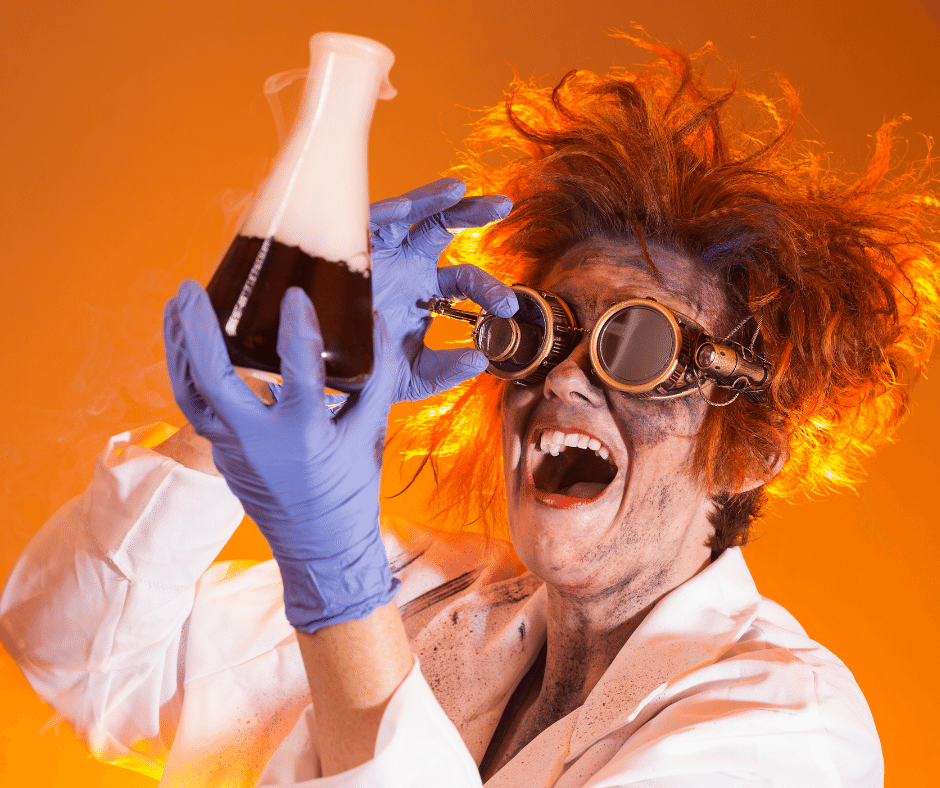 Mad Hippie Face Cream
The Benefits of Mad Hippie Face Cream
In today's world, we are inundated with choices when it comes to skincare products. It's hard and confusing to know which product is the right one for your specific needs. If you have acne prone skin your might be concerned that a product will cause breakouts. If you have sensitive skin or oily skin you might wonder what will work for you. But sometimes, you just need to go back to nature. That's where Mad Hippie face cream and their natural skin care line comes in. Made with natural ingredients and botanicals, Mad Hippie face cream is perfect for those with sensitive skin. You can still work on achieving smooth skin and protect skin from breakouts or an uneven skin tone. Keep reading to learn more about the benefits of this natural skincare product!
Mad Hippie Core Beliefs
Mad Hippie believes in a brighter future for our skin, and we're not going to let anyone tell you that your natural beauty is anything but amazing! With an unwavering commitment toward love (and all things green), Mad Hippie was born. Join the Mad Hippie movement of rebels of the cosmetic establishment - or simply some far-out kids who want everyone's skin care!!
Steam Distilled Lime Extract
The key ingredients in Mad Hippie face cream are steam distilled lime extract, green tea extract, acai extract, camellia sinensis leaf extract, citrus aurantifolia extract, and punica granatum seed extract. These natural ingredients work together to nourish and protect your skin. The lime extract helps to tone and rejuvenate your skin while the green tea and acai extracts provide antioxidant protection. The camellia sinensis leaf extract helps to smooth and brighten your skin while the citrus aurantifolia extract evens out your skin tone. Finally, the punica granatum seed extract helps to prevent damage from free radicals. Mad hippie uses ingredients that are often unknown to most consumers. Ingredients like euterpe oleracea fruit extract, white tea extract, citrus aurantifolia extract, punica granatum seed extract, mad hippie vitamin
Mad Hippie
Mad Hippie face cream is also packed with vitamins C, E, and A. These vitamins help to increase collagen production, protect against environmental damage, and fight fine lines and wrinkles. In addition, Mad Hippie face cream contains coenzyme Q10, which helps to reduce the appearance of fine lines and wrinkles and helps fight signs of aging. And finally, no natural skincare product would be complete without aloe vera! Aloe vera has countless benefits for the skin, including reducing inflammation, hydrating the skin, and helping to heal acne scars.
Mad Hippie has Something for Everyone
Whether you have flaky skin, oily skin or easily congested skin Mad Hippie has a product for you. With antioxidants like acai extract and camellia sinensis leaf extract also known as green tea, mad hippie triple cream can protect your skin from damaging free radicals our skin is bombarded with daily.
We are participants of the Amazon Associates Program. We may earn a commission from a qualified purchase from our reviews.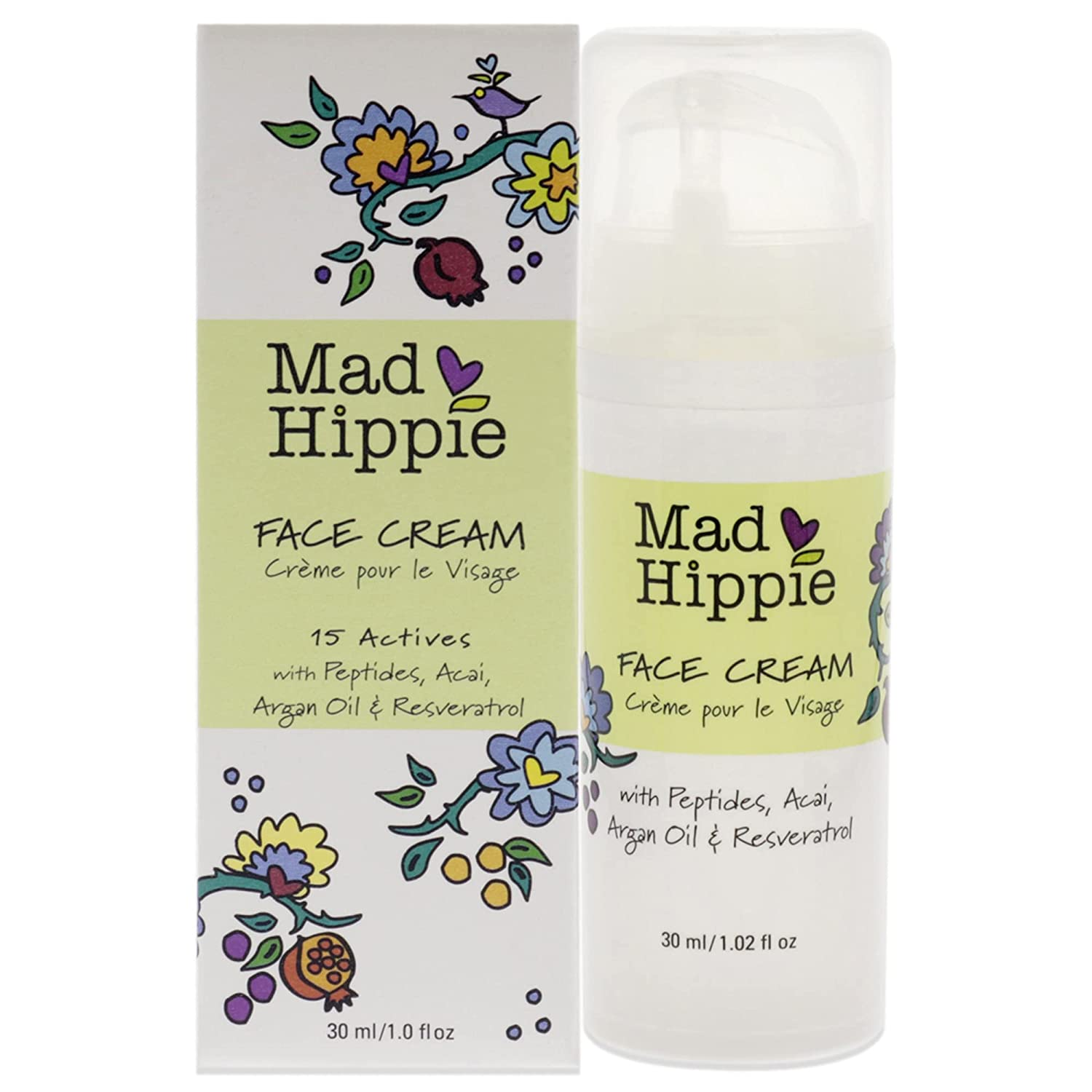 Anti Aging Cream
The revolutionary new form of vitamin A that is bioavailable in its current state without any inefficient metabolic steps, aiding moisture retention and leading to plumped up hydrated skin. Works as both a moisturizer for the face but also reduces wrinkles! Mad Hippie Face Cream is star packed  with cell signaling peptides and antioxidants that fight aging and free radical damage while resveratrol promotes an even skin tone with antioxidants from multiple sources and skin rejuvenating properties. This Mad Hippie face cream uses potent antioxidants for healing skin, argan oil to heal and moisturize, soothe and rejuvenate the skin. Niacinamide helps to regulate sebum production and promotes balanced skin, safflower seed oil helps to condition with triglycerides that deeply moisturize. This face cream is formulated with peptides to increase elastin to fortify and strengthen the connective tissues and help in fighting jowls, and drooping facial contours. Aloe soothes and gently moisturizes and hydrates skin. A star ingredient deck formulated for mature skin with rejuvenating and anti aging benefits for the skin.
Key Ingredients
Safflower Oil
Caprylic/Capric Triglycerides
Niacinamide
Matrixyl 3000
Argan Oil
Syn-Tacks (Peptides that build elastin)
Pomegranate Seed Oil (Punica Granatum)
Green Tea Extract (Camelia Sinensis Polyphenols)
Grape Seed Extract
Acai Berry Extract
Sodium PCA
Resveratrol
Vitamin A Palmitate,
Vitamin E Acetate,
Coenzyme Co Q10,
Vitamin E
Aloe Barbadensis Leaf
Coconut Oil
This product is formulated as clean beauty brand without the cheap fillers and synthetics that many other brands use. Well done Mad Hippie crew!
Acne Prone Skin
Triple Vitamin C Cream
The 3-in1 Ultra Hydrating Night Cream with Vitamin C is a product that can rejuvenate and protect the skin from daily stressors. It contains triple c, which are three different Bioavailable forms of vitamin C each providing distinct biological processes to help brighten your complexion while reducing discoloration or fine lines as well as being able to lessen their appearance when used together in this formula! This triple c night cream is packed with skin loving ingredients without the synthetics and fillers you typically see.
The reishi extract offers rich antioxidant protection against environmental damage caused by factors such as pollution and toxins. The mad hippie vitamin c cream is also formulated with superoxide dismutase while it is effective at fighting aging another key benefit is it's ability to fight and protect against damaging UV rays. This powerful antioxidant is involved in many physiological pathways in health conditions such as cancer, cystic fibrosis, rheumatoid arthritis, diabetes and neurodegenerative conditions with massive therapuetic benefits . This one antioxidant enzyme can help in fighting against oxidative stress, one of the main destructive pathways to both our health and skin aging.
This Mad Hippie vitamin formula is packed with 3 forms of vitamin C, potent antioxidants & adaptogens. 19 cutting-edge actives work together to rejuvenate your skin from daily stressors while lessening the appearance of fine lines and wrinkles! Triple C -in a bioavailable form that's three times more absorbable than others; Tetrahexyldecyl Ascorbates (TBA), Magnesium Ascorbyl Phosphate(MAP) & Acerola Fruit extract are all incredibly effective in battling against free radicals known for their ability reduce oxidative damage caused by UV rays or environmental factors such as pollution in our air causing discoloration. Great for acne prone skin types.
Key Ingredients
Camellia sinensis extract
3 forms of Vitamin C
Beta Carotene-a Precursor to Vitamin A
Sodium PCA
Turmeric
Vitamin E
Chaga
Shea Butter
Cloudberry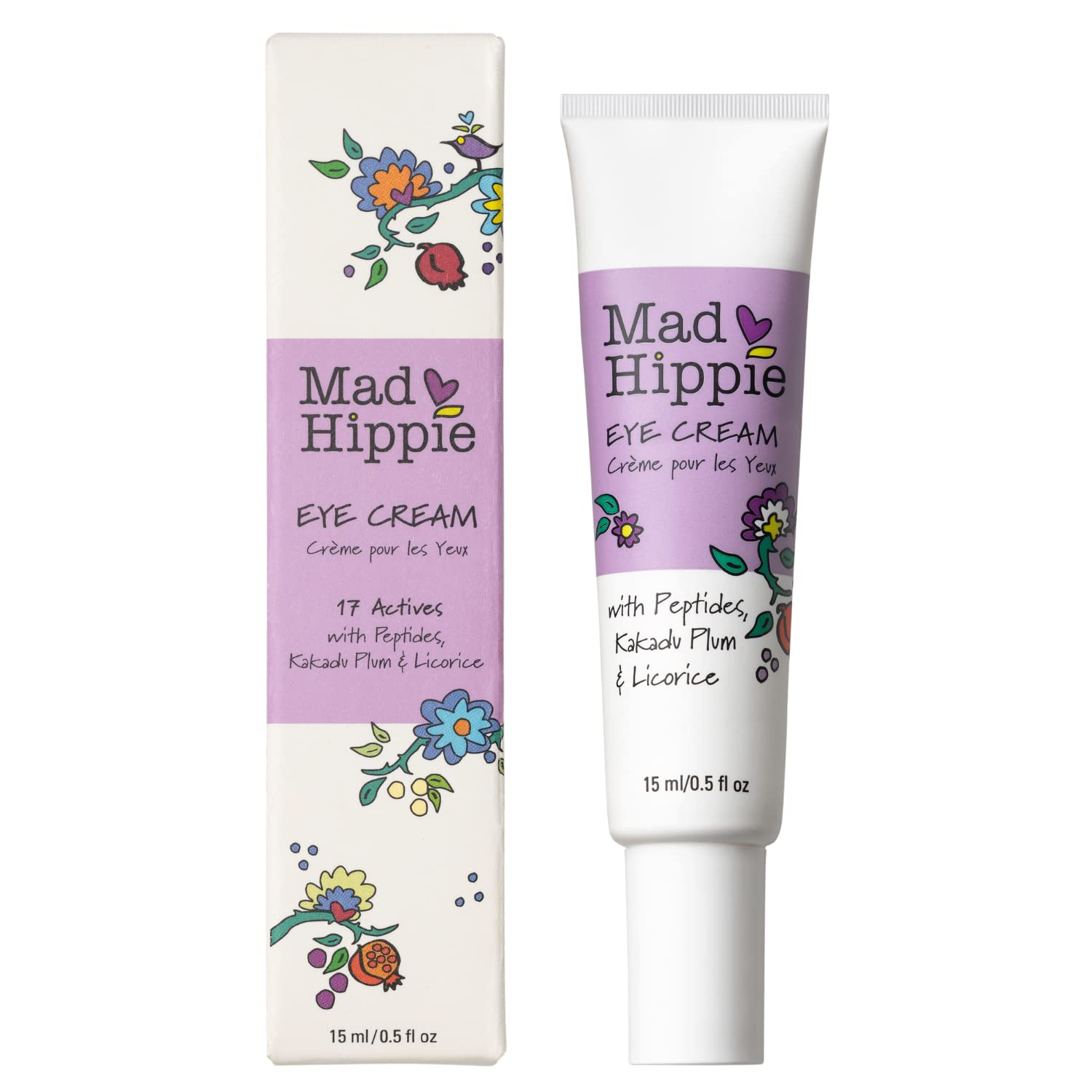 Mad Hippie Eye Cream
The eyes are the windows to our soul, but they also show aging quickly. From crows feet and tired under eye bags this eye cream is uniting the power of peptides & antioxidants offers a product with a punch!  The Matrixyl Synthe '6 is an advanced peptide with skin rejuvenating benefits. It's noted for is ability to address many of the esthetic issues related to your eye area, including wrinkles and fine lines, and crows feet! Look better and feel better too with their new tubes made from sustainably harvested sugarcane plastic. I Love that they are eco friendly as well and a powerhouse.
The key to a younger-looking complexion is all in the details. Matrixyl Synthe '6 - Advanced peptide works naturally with your skin & reduces wrinkles, dark circles and puffiness around eyes while Regu-age helps reduce lines on forehead from expression or stress; Pomegranate extract is a potent antioxidant that fights against UV rays and is believed it mediates its effects towards smoother and younger looking skin!
Key Ingredients
Vitamin C
Peptides
Pomegranate
Ceramides
Lavender
Kakadu Plum
Licorice Root
Vitamin C Serum
It's no secret that the skin is our largest organ and it needs proper care. Steam distilled lime extract has been proven to be a great benefit for all types of skins because not only does this vitamin C-rich ingredient help shed dead cells, but also helps prevent new ones from forming! This will result in glowing, smoother looking skin. A newer you within weeks or months depending how bad your current condition may be. Using antioxidants can help is one of the best precautions to use against aging prematurely.  This ingredient line has plenty of power house ingredients to create effective changes for your skin rejuvenating benefits. No matter if you want a mad hippie eye cream, vitamin c serum  or an antioxidant facial oil I encourage you to try this skincare brand for yourself. The ingredients are top notch and have science backing them.
Just listen to some of the mad hippie reviews,
From Tessa N. April 2022,  "I love Mad Hippie products! I believe they truly are the best products for my skin. Very gentle but effective. I see a major improvement in my skin overall since I started using Mad Hippie 2 years ago. I noticed a difference in the area around my eyes within 3 days of using the eye cream!! Helped my dark circles more than any other eye cream I've ever tried!! Just try any product in the Mad Hippie skin care and you'll be impressed. The cream face cleanser is my number 1 item I never go with out it!!!"
So there you have it! The benefits of Mad Hippie face cream are many and varied. If you're looking for a natural skincare product that will help improve your complexion while providing antioxidant protection, look no further than Mad Hippie!
Follow us on Twitter, Facebook, and Pinterest for our latest guides on all things beauty, fashion, and wellness.
PAID ENDORSEMENT DISCLOSURE: As a staff of licensed aestheticians we review products based on their merit based on our professional expertise. This is not a replacement for your own skin therapist's advice for your skin or any medical claim or endorsement. We encourage you to seek medical care when appropriate. To support our website activities, we may receive monetary compensation or another form of recompense for our endorsement, recommendation, testimonials, and/or links to any products or services from this website as part of the Amazon Associate program or another Affiliate program. We Thank you in advance for your patronage.