Here's Why Your Cuticles Need Some Love
Dry, cracked cuticles got you down? Read our latest to learn how to treat your angry cuticles today!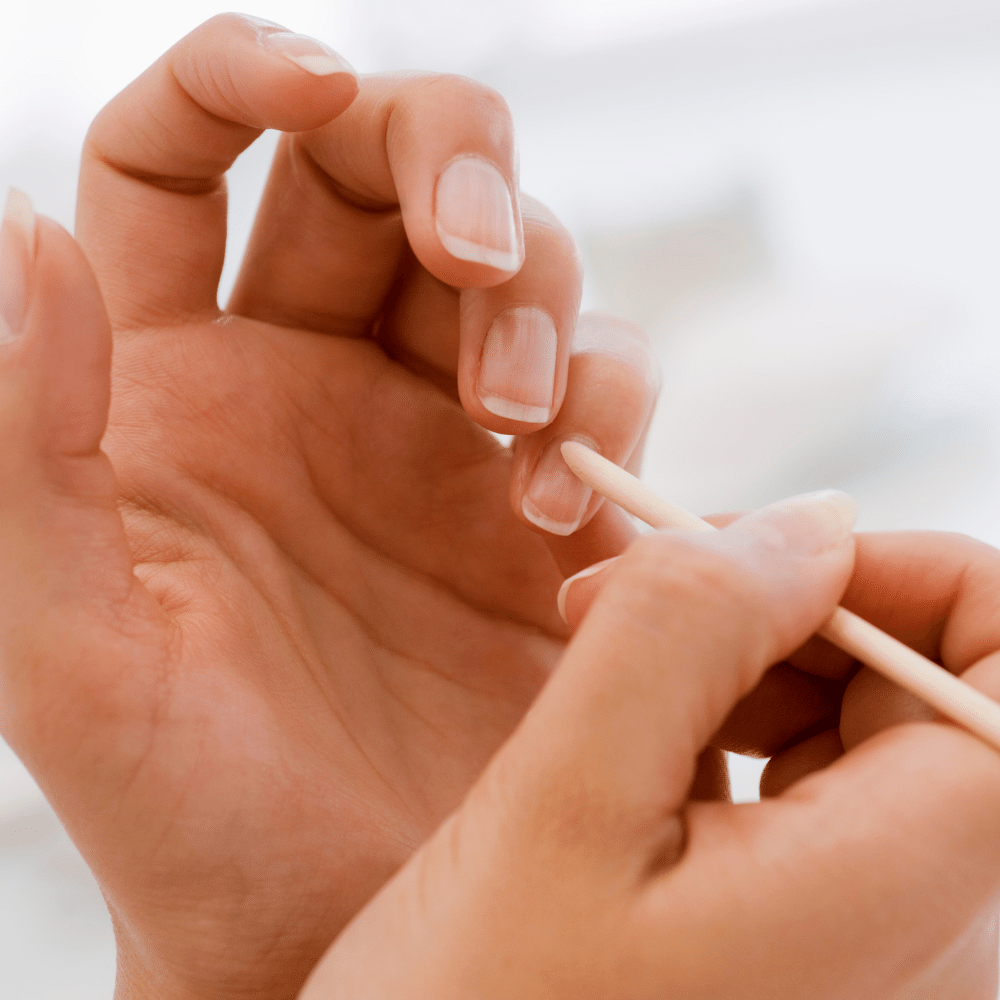 Dry, irritated cuticles can both hurt and look unsightly. For those of us who like to keep our cuticles looking neat and polished, cuticle lotion is a must-have product. But what exactly is it? The benefits of using cuticle lotion go beyond just moisturizing your nails. Cuticle products also help protect your cuticles from dryness and cracking, which could actually lead to nail fungus or other infections!

What is Cuticle Lotion
Cuticle lotion is a thick, oily substance that's designed to moisturize and protect the delicate skin around your nails. It's usually applied with a brush or cotton swab, and it can be used on both natural and artificial nails.

While there are many different brands and formulations on the market, they all serve the same purpose: to keep your cuticles looking healthy and hydrated. So if you're ready to take your nail game to the next level, grab yourself a bottle of cuticle lotion and get ready to reap the benefits.
Why Do We need Cuticle Lotion
If you want your nails to look and feel their best, they must be well taken care of. A great way to achieve this is by using cuticle lotion daily!
Cuticle products are a must-have for anyone who has dry skin, brittle nails, or dry cuticles and hang nails. They moisturize and protect your nails from becoming brittle or breaking, not to mention they provide natural benefits like strengthening the cuticles, nail beds and your fingernails. Cuticle lotion products can help you achieve soft, supple, strong nails when used regularly.

Best Cuticle Treatment
One of the best ways to take care of your nails is to take care of your cuticles. Cuticles are the protective layer of skin that surrounds your nails, and they play an important role in keeping your nails healthy. However, cuticles can also become dry, brittle, and damaged over time. Fortunately, there are several ways to treat and prevent dry cuticles. One of the simplest and most effective treatments is to regularly apply cuticle cream or cuticle oil.

This will help to keep your cuticles hydrated and prevent them from becoming dry and damaged. In addition, it's important to avoid picking at or trimming your cuticles, as this can damage the delicate skin. With a little bit of care and attention, you can keep your cuticles healthy and looking their best.
Best Cuticle Care
We've rounded out some of the best cuticle products to provide moisture and balance to your nails and give you the salon-quality finished look that you can do right at home.

We are an Amazon Associate member. We may earn a small commission from sharing our reviews.
Badger - Cuticle Balm
Key Points
Badger's Shea Butter Cuticle Balm is the perfect way to nourish and protect your dry, splitting cuticles! Made with certified organic ingredients and a blend of essential oils, this balm is perfect for everyday use. Shea butter helps to moisturize and protect your nails while vitamin-rich Seabuckthorn CO2 extract works to restore your skin. Apply daily and experience the difference!

Things to Remember
Badgers know a thing or two about hard work. And they also know a thing or two about taking care of your skin. That's why we love this Badger Cuticle Balm! Made with East African Shea Butter, it's perfect for quenching and protecting dry, splitting cuticles. Plus, the sophisticated blend of pure steam-distilled essential oils delivers a refreshing fragrance that is delightful and pleasing to your senses. Apply daily to keep your hands looking and feeling their best.
Modelones Cuticle Repair Cream
Key Points
Introducing the Modelones Cuticle Repair Cream – the perfect solution for dry, damaged, and peeling cuticles! Made with a synergistic blend of natural vegetable oils and vitamins, their modern formula is fast-acting and provides spa-level care.

Key ingredients – Glycerin, Jojoba oil, Macadamia Ternifolia seed oil, and Vitamin E – are excellent for moisturizing and relieving cuticles. Plus, they've added Portulaca Oleracea Extract to give your nails and cuticles a super boost of strength. The Portulaca Oleracea plant is known for it's extremely potent soothing and antioxidant properties. Rich in Vitamin A, as beta carotene, Vitamins C & E as well as detoxifying properties  of Glutathione make this a powerhouse serum to quickly heal and soothe those tired and angry cuticles.
Use Modelones Cuticle Repair Cream every day to moisturize, soften, and heal your dry, damaged cuticles.

Things to Remember
Enriched with highly potent plant essences to soothe, heal and calm, this emulsifying cream helps to quickly repair damaged nail cuticles andwhile nourishing and adding moisture back to dry nails. Modelones can help with dry, cracked, crusting, chapping cuticles to heal the nail bed and cuticle while promoting the overall health of the skin.
Onsen's Secret Cuticle Conditioning Serum
Key Points
Onsens are the perfect way to relax and rejuvenate your nails! Made with Japanese seaweed, aloe vera, rice bran oil, shea butter, and vitamin E, this nail serum is an excellent way to condition and repair your nails. With regular use, you'll see a noticeable difference in the appearance of your nails - they'll be stronger, healthier, and more hydrated. Plus, the hot-spring minerals give your nails a beautiful shine. Whether you're looking to soothe dry cuticles or simply want healthier nails, Onsens is the perfect solution.
Things to Remember
With nature-based ingredients, you can create a beauty ritual that is so good for you, you can't live without.
Japanese seaweed is rich in vitamins, minerals, amino acids and proteins. This healing potent formulation contains Vitamin B3, hyaluronic acid, peptides and botanicals with a high lipid content. With essential fatty acids to replenish what is missing to improve the health of the skin by improving the skin barrier function. Additionally, japanese seaweed is known for having polysaccarides which can help to lock lost moisture back into the skin.  
This serum is rich in Vitamin E and antioxidants, which help to repair and protect your nails from damage. It's also infused with soothing Aloe Vera, a natural anti-inflammatory, to help keep your nails healthy. And for extra hydration, they added Japanese Seaweed, which is packed with amino acids that are great for preventing aging.

Onsen's Cuticle Conditioning Serum is the perfect way to keep your nails healthy and strong. In just a few minutes, you will see immediate results thanks to the conditioning minerals. This serum is also a Beauty Mag 2021 winner and it is paraben- and fragrance-free.

Want nails that look like they belong in a magazine? Onsen Cuticle Conditioning Serum is the perfect blend of natural ingredients, botanicals, and minerals that work together to make your nails look polished and gleaming. It's also mess-free thanks to its easy-to-use design.

But the best part of this serum is that it doesn't just stop at making your nails look good. It also helps to improve slow-growing weak nails and shields them against contaminants and bacteria. So not only will your nails look great, they'll be healthy too!
Why settle for ordinary when you can have extraordinary? Try Onsen Cuticle Conditioning Serum today!

So what are you waiting for? Try Onsen's Cuticle Conditioning Serum today!
Gold Bond Cracked Skin Relief
Key Points
Looking for a little relief from those dry, cracked hands? Look no further than Gold Bond Ultimate-Cracked Skin Relief Fill & Protect Cream. This unique formula fills and protects dry, cracked skin while providing temporary relief from minor cuts, scrapes, and burns. Plus, it comes in a conveniently sized tube that fits easily in your purse or pocket.
Things to Remember
Precision is key when it comes to filling in dry skin cracks, and that's exactly what you'll get with the precision tip applicator on every tube of Gold Bond Cracked Skin Fill & Protect Cream. This soothing cream provides long-lasting relief for cracked skin on fingers, knuckles, cuticles, toes, and heels. And because it lasts through handwashing, you can be sure your relief will too.
In just one week 94% of users saw a noticeable improvement in the look of their skin. This protective ointment contains 30% petrolatum, 7 essential moisturizers, and 3 healing and nourishing vitamins that can help penetrate through 10 surface skin layers to promote deep healing from the top down. This dermatologist and clinically tested formula contains biotin for added skin hydration. Ceramides to help repair and regenerate the skin barrier for deep healing. Aloe Vera moisturizes and soothes irritated skin providing comfort to unhappy cuticles. Use this product for a multipronged approach to hands, cuticles and even your feet for great relief across a broad treatment approach to your damaged skin.
So don't wait any longer, protect your cracked skin with Gold Bond Cracked Skin Relief today!
Cuccio Naturale Revitalizing Cuticle Oil
Key Points
This powerful oil penetrates deeply to restore moisture and prevent peeling while healing cracked nails and hands. Formulated with natural ingredients, this oil is 100% paraben free and cruelty-free. It also won't leave a heavy residue, so you can enjoy soft, healthy hands without any greasy feeling.
Things to Remember
Made from high-quality, natural ingredients like cold-pressed safflower oil, winterized sunflower oil, and vitamin E, this light but deeply moisturizing oil will help to replenish and strengthen your nails and cuticles. And because it comes in a variety of delicious scents, like milk and honey, you'll be sure to find one that's just right for you.

This lightweight formula is great for most skin types. It is easily absorbed and smells so refreshing! The healing, humectant properties of honey attract and bind water to skins surface while the lactic acid in the milk help to stimulate and regenerate the skin.

Best Healing Cuticle Products for Cuticles
So whether your looking for the best moisturizer for nails and cuticles or the best hand cream for hangnails, we've provided plenty of options to those looking to help nourish and strengthen their nails.

Thanks for reading our best cuticle lotion guide today!