Benefits of Shea Butter on Skin-Reviewed
Looking for a natural way to improve your skincare routine, shea butter may be the answer. Read our guide today and learn more!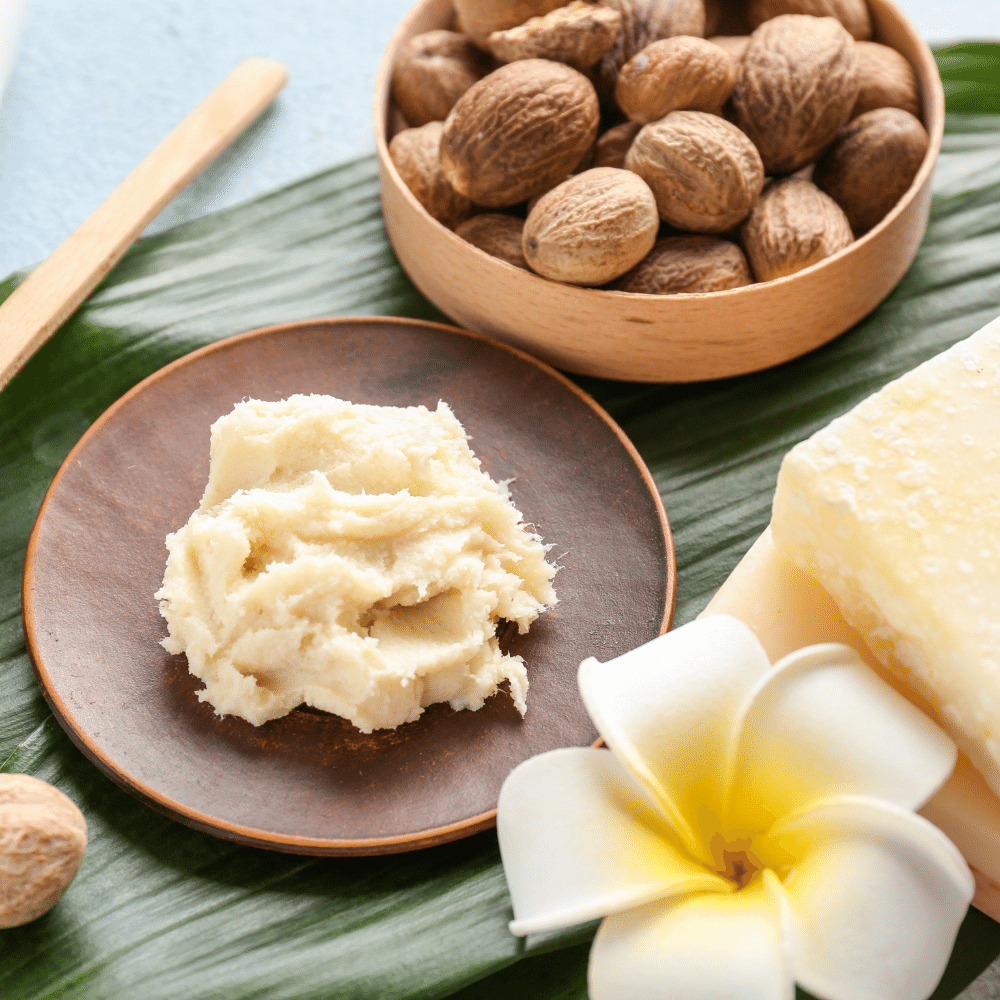 If you're looking for a natural way to improve your skincare routine, shea butter may be the answer. This versatile ingredient has been used for centuries to help heal and protect the skin.
Benefits of Shea Butter
Recent studies have shown that shea butter can help to:
- Reduce inflammation
- Heal wounds
- Protect against UV damage
- Moisturize the skin
- Reduce the appearance of scars and stretch marks

Key Notes
If you're considering adding shea Butter to your skincare routine, there are a few things to keep in mind. First, choose raw, unrefined shea butter. This type of shea butter has not been exposed to harsh chemicals or heat, which can damage its beneficial properties.

Second, always perform a patch test before using any new product on your skin. This will help to ensure that you do not have an allergic reaction to the shea butter.

Finally, remember that a little goes a long way with shea butter. Start by using a small amount of the product and increase as needed.

Where Shea Butter Originated
Shea butter is a natural product that comes from the shea tree, Butyrospermum parkii, or Shea Butter for short. It is a natural moisturizer and anti-inflammatory that also contains antioxidants and can help to prevent skin damage from UV radiation. Considered a natural sunscreen, it can help provide up to an SPF 6 protection. However, we recommend using additional sunscreen protection with an SPF rating of at least 30 if you are going to be out in the sun.

Shea butter is known for its many benefits to the skin. It is a natural moisturizer that helps to improve skin elasticity and can help to reduce the appearance of stretch marks. Shea butter can also help to reduce the appearance of scars and blemishes.

Shea butter is naturally an ivory color. When you see Shea Butter that is not ivory it is sometimes due to an added dye with either borututu root or palm oil that changes the ivory color to a yellow hue. It could also be a light yellow hue as a result of the time of season the nuts were harvested in.

Where Can You Find it
Shea Butter is commonly found in cosmetics, lotions, and salve products for the skin. In some African countries, Shea Butter is used in food preparations. Sometimes Shea butter can be used in combination with other oils as a substitute for cocoa butter also known for its moisturizing properties.

Shea butter is a popular natural remedy for many different conditions, such as acne, burns, dry skin, and eczema. Because it is primarily composed of fatty acids and vitamins, it's often used as a conditioner for the skin and hair while also toning, and soothing the skin.
Main Benefits of Shea Butter for the Face

Shea butter is a great option for your face because it contains healing and anti-inflammatory properties. Rich in Vitamins A & E for healthy skin. Applying Shea products to your face can help soothe redness, inflammation, and swelling on the surface of one's skin while also helping seal in moisture which keeps you feeling soft all day long!

The emollients in this rich fatty acid, mean shea butter can help with dry skin as well as skin that has barrier function impairment.
Our top pick Shea Face Moisturizer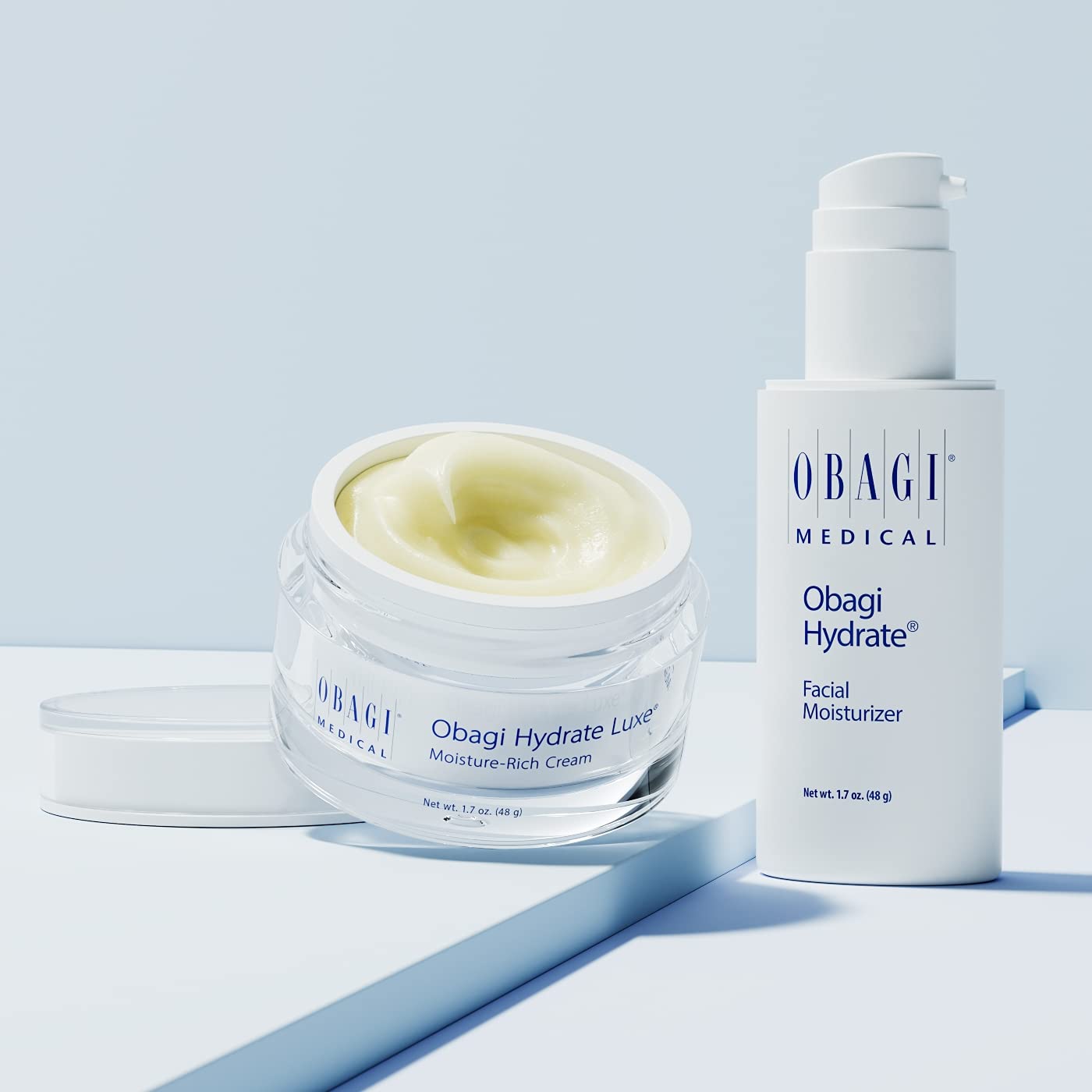 Obagi Medical Obagi Hydrate
Shea Butter 8 Hour Facial Moisturizer
Check Amazon Price
Anti-Aging Skincare Treatment
One of the main benefits of shea butter in anti-aging products is likely due to the potential increase in collagen production while also decreasing the breakdown of collagen already present. For now, we do know the important ability it provides for moisturizing and conditioning the skin and hair.
Dually noted are the anti-inflammatory benefits and healing potentials shea butter can provide making it a great ingredient to add for anyone with dry skin, atopic dermatitis, and rosacea as well as people who want added moisture to the skin.
Shea Butter is generally considered safe for all skin types although if you are prone to oily or acne skin this may be too heavy for you. Sensitive skin can handle this ingredient well also.

While this ingredient comes from tree nuts, the risk is very low for allergic reactions. Many researchers believe this is due to shea nuts having very little of the tree nut proteins making this a very low risk for most people.

How To Make a Simple DIY Shea Body Lotion
To make your moisturizer at home, follow these easy steps:
Combine 10 tbsp of refined or raw shea butter to a glass mixing bowl
Add 20 drops of lavender essential oil or rose essential oil  to the Shea Butter in the mixing bowl
Add 1 tbsp safflower oil to the mixing bowl.
Mix well with a hand immersion mixer until the mixture is smooth but not too thin - about 2 to 3 minutes total mixing time!
Pour into an appropriate container (such as recycled bottles) and use as you would any other body lotion; just don't forget that this one contains highly moisturizing effects inside!
You can use your favorite essential oil for this mix. Just be sure the oil you select is well suited for your skin. We like lavendula augustifolia or Rosa x damascena.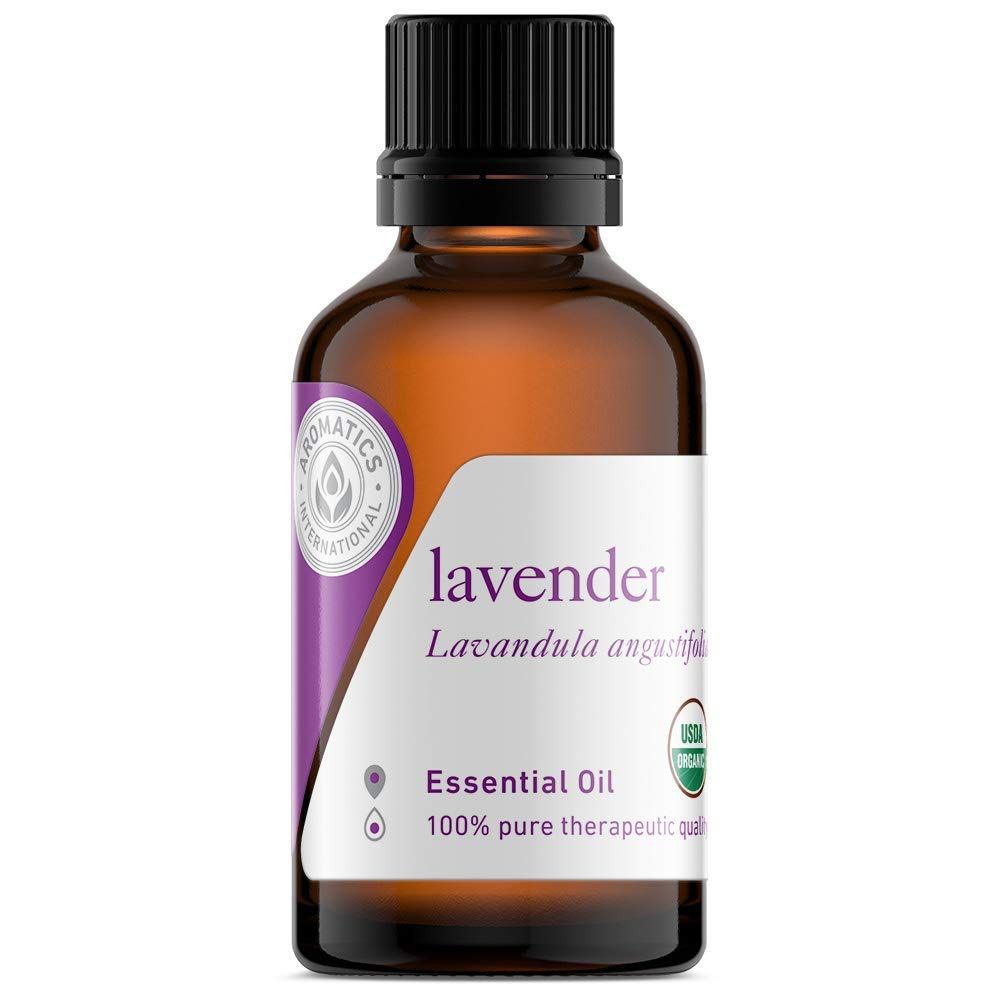 Lavender Aromatics International
Pure Therapeutic Quality Essential Oil
Check Amazon Price
We love the Aromatics International brand of essential oils. They are sustainably sourced, certified organic, and work with artisan crafters from around the world to bring you the best essential oils from true artisan crafts people. Their essential oils are pure, therapeutic grade with no synthetic ingredients and are GC/MS tested for the highest quality standard. We have used this line of essential oils for the last couple of years. Their quality is top notch. This lavender is the cleanest lavender scent we have used in an essential oil. Many lavender essential oils smell heavy and synthetic. This one is as clean as we've come across. We use the Aromatic Essential oils in our steamer for spa treatments for our clients and we won't put just anything on our clients skin. These pass our high quality mark.
If you like essential oils you have to try these. You will notice the difference in how pure and clean these smell as soon as you open the cap. If you are an aromatherapist you will notice each batch is recorded from the quality testing to note all of the chemicals components with percentages so you can be sure your are using the right chemical makeup for yourself or your clients.
We know you will love them as much as we do!
Keri Whole Body Therapy Original Shea Butter Lotion, Continuous Moisturization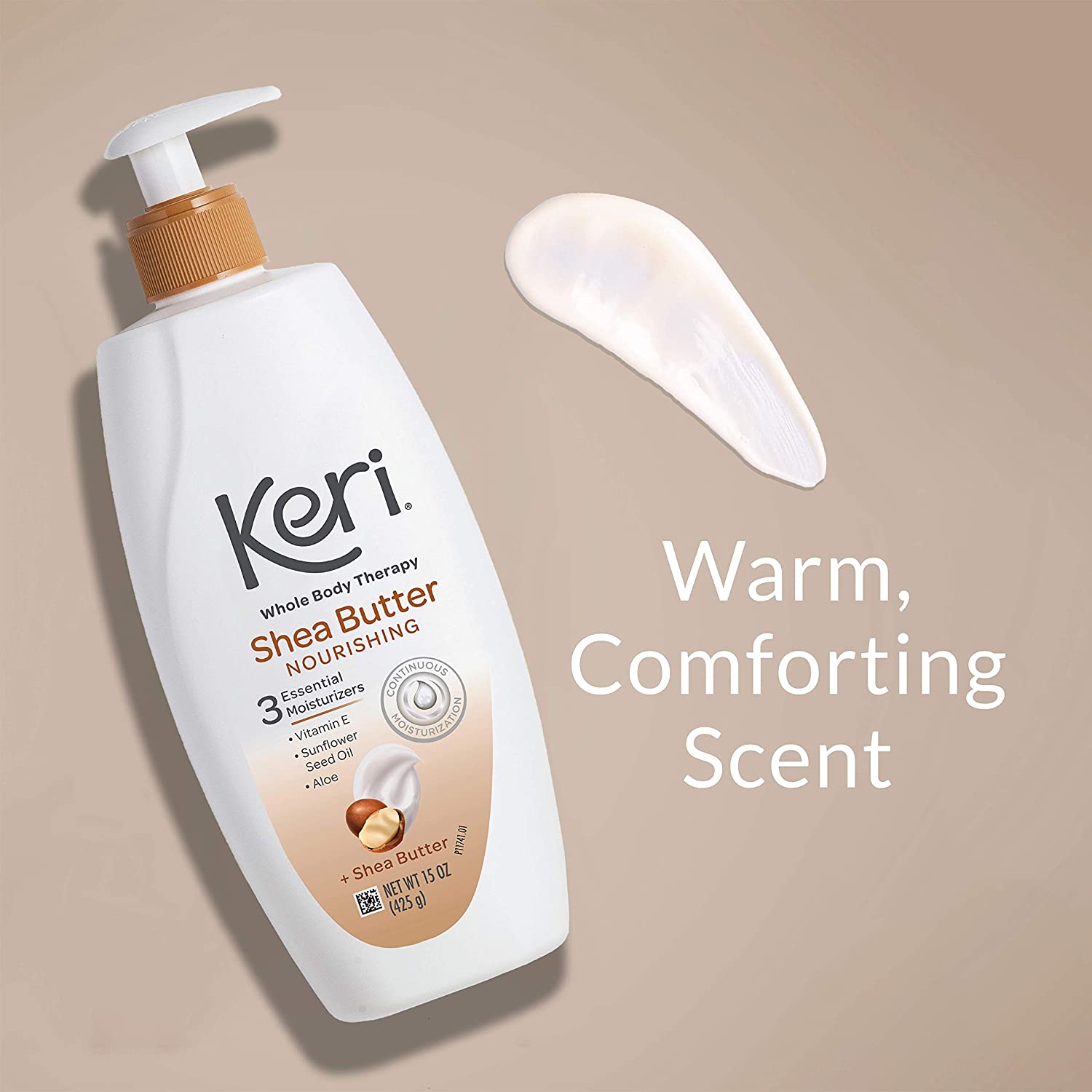 Keri Whole Body Therapy Lotion
Shea Butter Continuous Moisture
Check Amazon Price
Why We Love Keri
As a personal user of the Keri line of products, I may know a thing or two about this product. I can tell you as someone with eczema I have to be more careful than many due to my frequent skin reactions. My dry skin has loved the Keri line for years and is often my go-to recommendation for others with the same type of skin issues.
This Shea Butter Body lotion keeps my skin hydrated. The powerhouse antioxidants of Vitamin E, moisturizing properties of Sunflower oil, and Shea Butter with the calming properties of Aloe Vera make this product a 5-star for my skin. It is lightly fragranced so while we thoroughly enjoy this product even with  eczema and dry skin, we would use caution if you are highly sensitive to anything fragranced. This product does have a light fragrance and it could be too much for someone with heightened sensitivities or allergies to fragrances. Please patch test first. The vast majority of people will not have a problem but we try to error on the side of caution for any fragranced product even if the fragrance is naturally derived.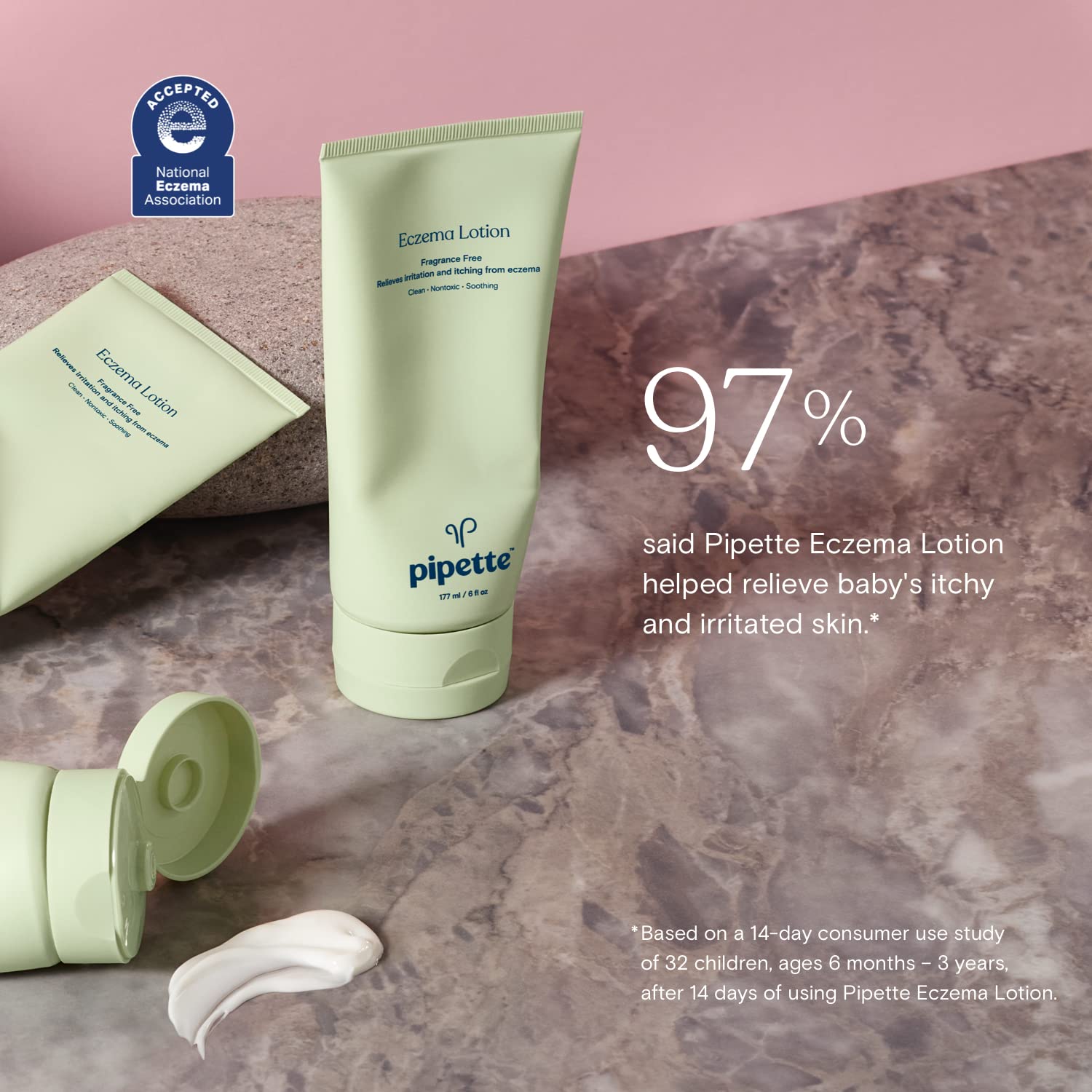 Pipette Eczema Lotion
With Squalane & Shea Butter Lotion-Petroleum & Silicone Free
For those who need something approved by the national eczema association, we recommend Eczema Lotion by Pipette. A body lotion specifically created for eczema. It's fragrance free and can relieve irritation caused by eczema.
For more information on eczema go to https://nationaleczema.org/.

Final Thoughts
We hope this article has provided you with some information to guide you on the multiple benefits of using shea butter in your skincare. If you have enjoyed this article or learned something new, feel free to share with your friends and family or post to social media.
If you would like to sign up to receive articles when they are released go to gottaguide.com and register. Registration is free and your information is never sold. We want to thank you for taking the time today to read our latest article.
Here's to healthy skin!